Over the course of a week, my wife and I drink a bunch o'wine – almost always with food. Since I've always been fascinated by wine at the table with food, I thought it would be fun to recap not only the wines we've been drinking, but also how they pair (or don't pair) with the foods at our table.  It features my pick for Wine of the Week – a  wine I particularly enjoy, whether it's something new and different, is a great value, or from a producer worth checking out; for the week ended July 12th, 2015.
2011 Urban Legend Barbera Cooper Ranch – Retail $27
Dark ruby color with appealing cherry, red currant, damp earth, vanilla and a bit of dried herb aromas. On the palate, it's medium-bodied, intense with very lively acidity and a smooth texture with ample cherry, red currant, cola and baking spice flavors. Has in interesting hint of salinity. Delicious! 14.3% alcohol Very Good to Outstanding; 89-91 pts
2010 Dashe Cellars Zinfandel Dry Creek Valley – Retail $24
Violet color with lifted baked cherry, lavender, dark chocolate, and brambly aromas. With some time in the glass takes on a bit of savory aromatics. On the palate, it's medium-bodied, and well structured showing lively acidity, a smooth texture and soft well-integrated tannins with black cherry, red currant, and spice flavors with a very giving finish. 13.7% alcohol.  This is a well balance food friendly Zinfandel. Very Good to Outstanding; 89-91 pts
2011 Carlisle Grand Noir Dommen Ranch – Retail $19
Inky purple color with black fruit, dried mushroom and white pepper aromas that are more savory than fruity. On the palate it's medium-bodied with vibrant acidity, and slightly tannic with ample blackberry, black currant, plum fruit flavors, along with spicy and earthy notes which give the wine a rustic character. Long finish. Approachable now, but will benefit from further aging. This wine's acidity makes it food friendly, and it has savory character to it. Would have paired nicely with a burger or steak…or a veggie burger made with portobello mushroom! Very Good to Outstanding; 89-91 pts
2014 Château du Rouët Côtes de Provence Cuvée Réservée Tradition – Retail $15.99
Pale salmon color with peach skin, strawberry and cherry aromas. On the palate it's fresh with peach, tart strawberry, and cherry flavors with a bit of minerality and a solid finish. Nice value at $16  I enjoyed this with Very Good; 86-88 pts
Wine of the Week
It was a wonderful week for wine.  I always enjoy trying new to me grapes/wines.  The new to me grape I tried this week was Grand Noir de la Calmette (a.k.a. Grand is a 1855 cross of Petit Bouschet with Aramon noir. It's a teinturier (from French, meaning to dye or to tint) grape, meaning it's red-fleshed and red-juiced (red grapes typically have clear juice). The Carlisle Grand Noir was wonderful, but needs more time IMO.  On the other side of the time equation was the Dashe Cellars Dry Creek Valley Zinfandel, a blend of grape from throughout Dry Creek Valley.  It's their entry-level Zin with a few years aging on it, and it's showing beautifully now!  My first Rosé from Provence this year was very good.  It's one I haven't previously tried.  I'm not sure I'd buy another bottle.  Not because this because I didn't like this one…I've have quite a few more from Provence and other regions I'd like to try…
My Wine of the Week is the 2011 Urban Legend Barbera Cooper Ranch

Urban Legend is a small urban winery located in Oakland, California near Jack London Square.  The winery is owned and operated by husband and wife team of Steve and Marilee Shaffer.  As is so often the case with small wineries, the two had other careers before deciding to pursue their winemaking dream.
Marilee's  past careers include academic research to discover effective bacterial vaccines, development of molecular cloning methods with a focus on DNA sequencing, and biotech equipment sales engineering and marketing (ask about her exhibit at the Smithsonian). Steve had a career in engineering, with designing computer and telecom systems.
Urban legends are remarkable but often apocryphal stories that spread like wildfire. Urban Legend is a winery in a city—almost an apocryphal story in itself—that makes remarkable wines.
What I've appreciated about Urban Legend over the years is their focus on producing wine from Italian grape varieties.  On my first visit, on the strength of a recommendation from a friend, I specifically went to taste there outstanding Teroldego.  I've been a fan ever since.
More recently they've diversified their lineup to include producing wines from Rhone grapes.
If you get a chance, I highly recommend stopping by for a taste!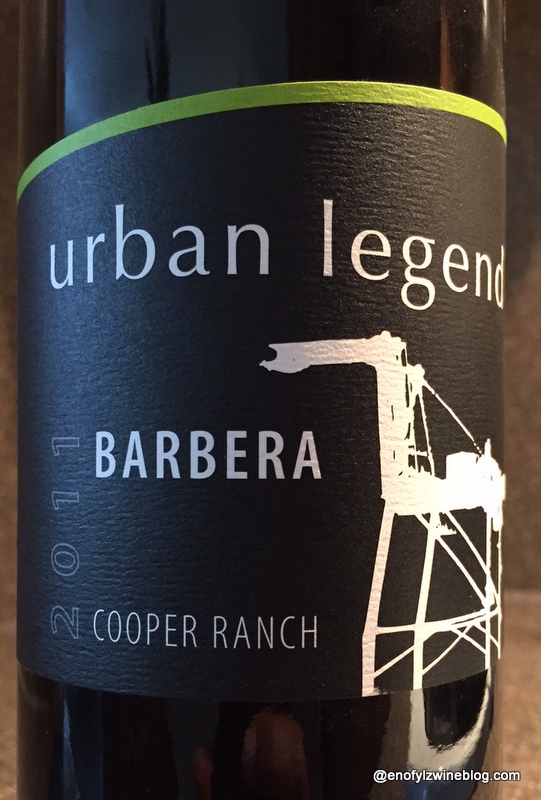 From the winery…Cooper Ranch is set in the rolling hills just outside of Plymouth, California, full of Amador's rocky, red granite soil. Dick's father, Stan, began planting Barbera here in the late '50's, far ahead of everyone else in Amador County. Some of the vines date back more than 50 years to these original plantings. Like an old vine Zin, the Coopers head train their Barbera vines, a strategy that, while labor intensive, concentrates flavors while maintaining bright acidity.
My Food and Wine Pairing of the Week is the 2014 Château du Rouët Côtes de Provence Cuvée Réservée Tradition with Courgette & Goat Cheese Ciabatta.  Rose and Goat Cheese.  Need I say more?
What was your Wine of the Week?  Any killer Food and Wine pairings?
Follow my reviews on Vivino and Delectable
Note. All wines were purchased for review unless otherwise indicated
_________________________________________________________________
Martin Redmond is a Financial Executive by day, and a certified wine geek with latent foodie tendencies the rest of the time. In addition to the wine lifestyle and food he enjoys family, fitness and traveling. He likes to get thoughts of wine off his mind by sharing experiences on his ENOFYLZ Wine blog, which features wine reviews, wine country travel, and wine and food pairings.
Follow me on Twitter @martindredmond for all things wine. Since I'm a wino with latent foodie tendencies, you'll also find food and wine pairings, and food related stuff! Become a fan and join ENOFYLZ Wine Blog on Facebook. Cheers! This article is original to ENOFYLZ Wine Blog.com. Copyright 2015 ENOFYLZ Wine Blog. All rights reserved.