Over the course of  the last several weeks (I have fallen woefully behind to due my usual weekly post due to work and travel. I'll catch up next week) my wife and I drank a bunch o'wine – almost always with food. Here's a recap of the most memorable (wines I particularly enjoyed, whether it's something new and different, is a great value, or from a producer worth checking out) wines we've enjoyed over the last several weeks.
2013 Tablas Creek Patelin de Tablas Blanc – Retail – $20
From the winery – The Tablas Creek Vineyard Patelin de Tablas Blanc is a blend of four white Rhône varietals: Grenache Blanc, Viognier, Roussanne, and Marsanne. The wine incorporates fruit from eleven top Rhone vineyards in Paso Robles, each vineyard selected for its quality. Like many white wines from the Southern Rhône, it is based on the crisp acids and rich mouthfeel of Grenache Blanc, with Viognier added for floral, tropical aromatics, and small additions of Roussanne and Marsanne for structure.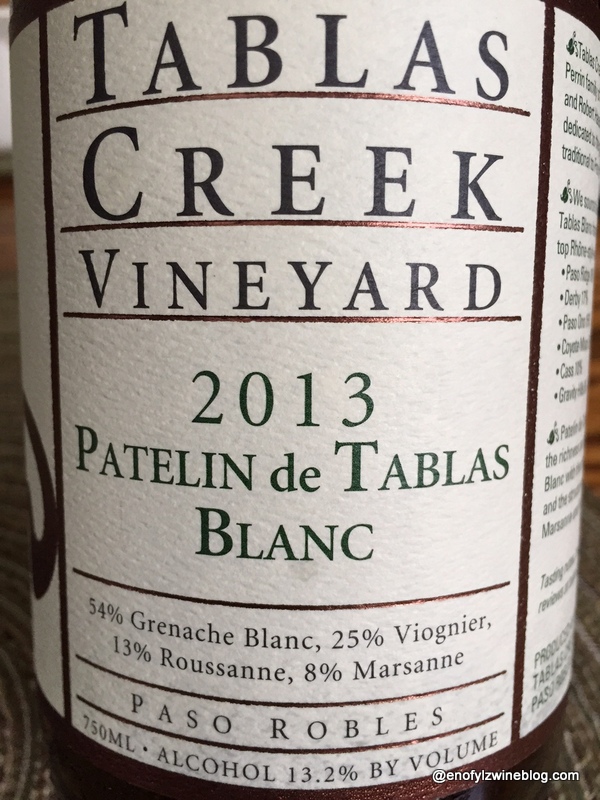 Pale yellow color with appealing stone fruit, melon, white flowers and a bit a mineral aromas. On the palate, it's medium-bodied and well structured with zesty acidity, and a wonderful texture. It shows apricot, peach, and lemon zest flavors with a lingering mineral laced finish. Blend of 54% Grenache Blanc,25% Viognier,13% Roussanne
and 8% Marsanne Superb value at $20! Very Good to Outstanding; 89-91 pts
2014 Bedrock Wine Co. Mourvedre Ode to Lulu Old Vine Rosé – Retail – $19
From the winery – Like the last few years, this rosé comes from vines planted prior to 1940 (or perhaps we should say prior to FDR's third term). Picked specifically for rosé, at lower potential alcohol and whole-cluster pressed, this pale and perfumed rosé belies its lighter color and has plenty of density.  The backbone of the wine is the ancient Mourvedre—with all of its coniferous perfume and spice—with dashes of Cemetary Vineyard Carignane… and Evangelho…
Pink copper color with savory strawberry, blood orange, spice and a hints of mineral aromas. On the palate, it's medium-bodied, fresh and focused with a very appealing hint of tannins. It shows tart, strawberry, tangerine, blood orange, mineral and spice flavors, with a very giving savory finish. Very Good to Outstanding; 89-91 pts
2013 Casale Della Ioria Cesanese del Piglio Tenuta Della Ioria – Retail – $24.99
Cesanese ("chae-sah-NAE-say") is an ancient red wine grape indigenous to Lazio.  It's quite possible that Cesanse was local wine of ancient Rome because the grape existed in the region during pre-Roman times. Cesanese del Piglio DOCG is considered the best Cesanese wine, made with 100% Cesanese grapes from the Frosinone Province.  The wine reminds me of a cross between Pinot Noir and Cabernet Franc.  Among the many things I enjoyed about this wine is that takes a chill quite well. I'll be adding it to my (short) list of chillable reds.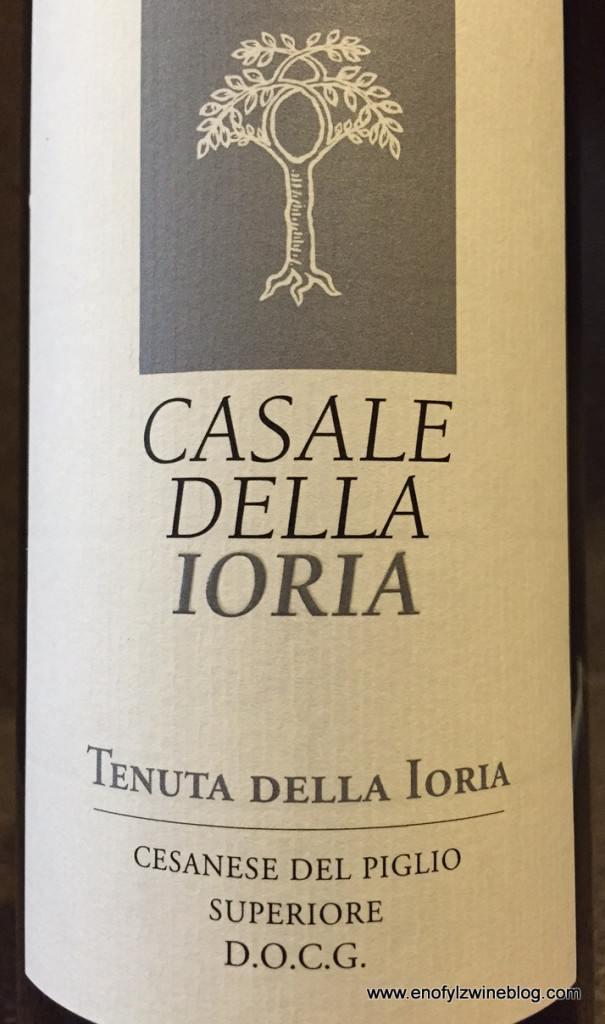 The wine is a dark ruby color with promising red fruit, juniper, and forest floor aromas. On the palate it's medium-bodied and fresh with a very smooth texture, and a subtle savory character. It shows distinctive Morello cherry, red mulberry, hints of red currant, black olive and vanilla flavors with an earthy undertone. Very Good to Outstanding; 89-91 pts
I paired this wine with Sausage, Pepper and Mushroom Spiedini with Grilled Truffled Polenta. It was a fantastic pairing!
2012 Turley Zinfandel Sadie Upton – Retail ~$40
From the winery – We are honored to be working with this jewel of a vineyard in Amador County, whose story is almost as compelling as the wine itself. In 1922, smack-dab in the middle of Prohibition and while her husband was away working for the railroad, a then 21-year-old Sadie Upton decided she was going to plant herself a vineyard near their home at 1500 feet near Plymouth, CA. Now, 92 years later, the vines are still kicking, in the gumption-riddled tradition of their creator.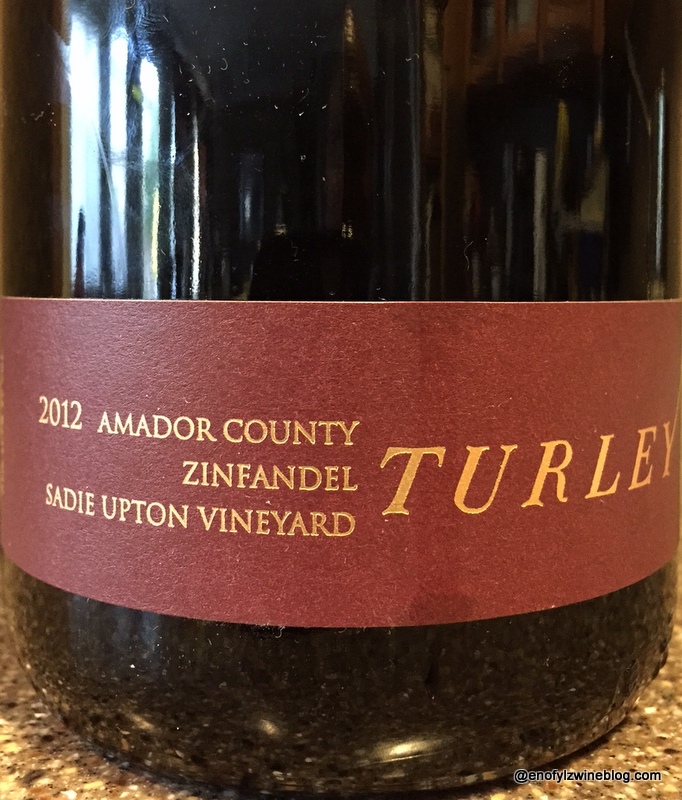 Dark ruby color with black cherry, rose petals, violets, with hints of eucalyptus, and graphite aromas. A bit hot on the nose, but it blew off after a couple of minutes. On the palate, it's medium-bodied with dusty well-integrated tannins, and a supple texture with dried cherry, pomegranate, raspberry, spice, and mineral flavors. Long finish. Outstanding; 92-95 pts
2014 Wind Gap Wines Rosé North Coast – Retail – $19
Wind Gap is one of three labels of Pax Mahle.  After being very impressed with his Syrah at this year's Rhone Ranger tasting, I was eager to try his Wind Gap wines.  We tasted through quite a few of his wine a couple of month's ago.  We picked up this wine.  Wish I'd purchased more!
From the winery –Whole-Cluster pressed Nebbiolo and Dolcetto from the Fox Hill Vineyard give this wine a wild, flamboyant personality. Explosive fruit and delicious acidity make this one hard to put down. The Nebbiolo gives the wine a bit of tannin that elevates this from being a simple wine to one that will compliment most foods. 55% Nebbiolo 35% Dolcetto 10% Pinot Noir/Grenache/Syrah. 70% Concrete Fermentation; 30% Stainless Steel Fermentation. 3-Month élevage in Neutral French Oak and Stainless Steel; Finished in Stainless Steel for 8 weeks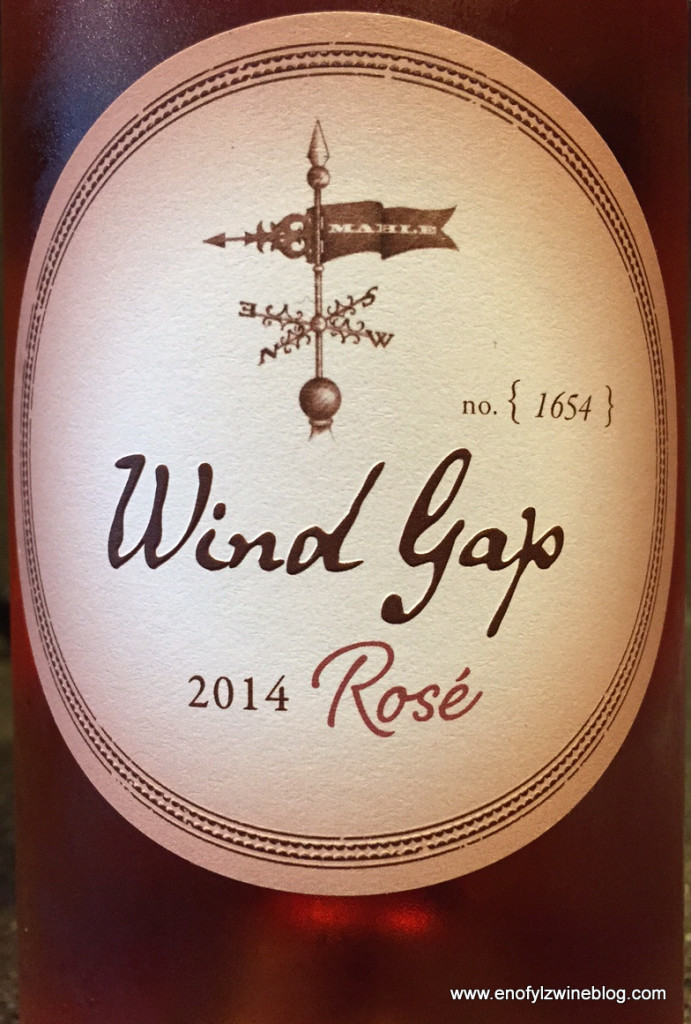 Pink orange color with appealing red fruit, and rose petal aromas. On the palate, it's medium bodied with a wonderful mouth-watering acidity and a nice grip courtesy of the Nebbiolo with tart strawberry and cherry flavors and a lingering finish. Very Good to Outstanding; 89-91 pts . This wine was fantastic with Paella Mixta!
What was your Wine of the Week?  Any killer Food and Wine pairings?
Follow my reviews on Vivino and Delectable
Note. All wines were purchased for review unless otherwise indicated
_________________________________________________________________
Martin Redmond is a Financial Executive by day, and a certified wine geek with latent foodie tendencies the rest of the time. In addition to the wine lifestyle and food he enjoys family, fitness and traveling. He likes to get thoughts of wine off his mind by sharing experiences on his ENOFYLZ Wine blog, which features wine reviews, wine country travel, and wine and food pairings.
Follow me on Twitter @martindredmond for all things wine. Since I'm a wino with latent foodie tendencies, you'll also find food and wine pairings, and food related stuff! Become a fan and join ENOFYLZ Wine Blog on Facebook. Cheers! This article is original to ENOFYLZ Wine Blog.com. Copyright 2015 ENOFYLZ Wine Blog. All rights reserved.