My wife and I do more than our fair share of wine tasting.  We've hit all the major wine regions in California (and a few minor ones too;-), along with some tasting in Oregon, Spain and Champagne.  From time to time we have a wine tasting experience that stands above the rest, and is everything we're looking for – great wine and commendable service in a relaxed unpretentious environment. It's those such experiences that are the focus of this "No Reservations" series.  Why "No Reservations"? Because I can honesty say I have "No Reservations"  about recommending the winery anyone who is looking for a great wine tasting experience.
The latest in this series features Napa Valley icon Heitz Wine Cellars.  My complete review of Heitz Cellar, including history, a recap of the tasting experience, reviews of wines tasted, and insider tipes may be found on the American Winery Guide's website
Here are a five things to you need to know about Heitz
1. Believe it or not…The tasting is free…gratis..nada..zip…zero!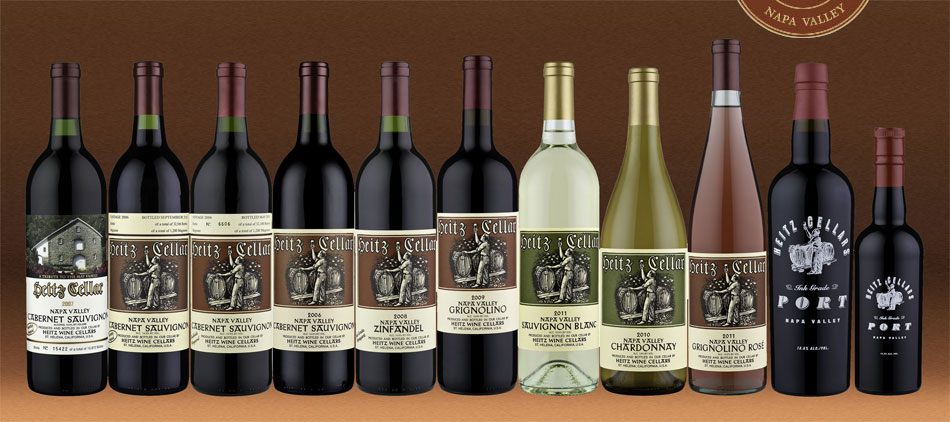 2. It all starts at Gallo
Joe Heitz got his start in industrial winemaking. During World War II, he was an army mechanic at a base near Fresno, and he got a part-time job at Italian Swiss Colony, a maker of bulk wines. He then went to UC Davis and got bachelor's and master's degrees in winemaking, which scored him a job at E&J Gallo. In 1951, he moved to California's best-regarded quality winery, Beaulieu Vineyards, working for André Tchelistcheff. "They wanted Joe to replace Tchelistcheff when he retired," his daughter Kathleen Heitz Myers says. "Joe realized that wasn't going to happen for a while." (Tchelistcheff didn't retire until 1973.) Heitz left to set up the enology program at Fresno State until he got restless to make wine again. (Source)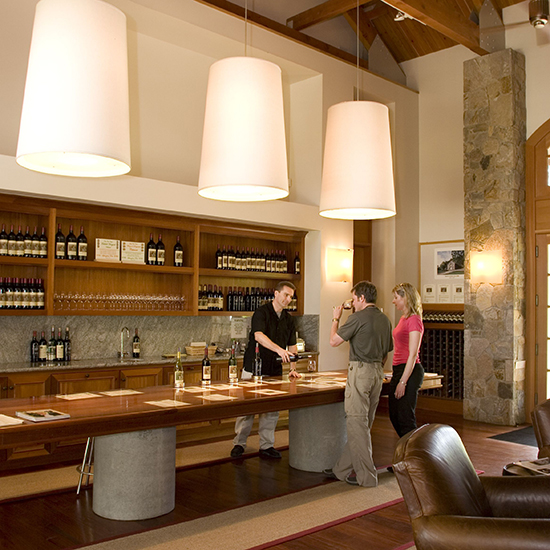 3. A piece of the dream
In 1961, Heitz bought an eight-acre (3.25-ha) vineyard south of St. Helena on Napa Valley's main drag, State Route 29. That land is incredibly valuable now, but then it was planted mostly to Grignolino and Heitz estimated he could earn $4500 a year from it. Joe and his wife Alice put in a lot of sweat equity in the small winery on the property, where Heitz's tasting room is today. The winery still makes a red wine and a rosé from the Grignolino. Alice Heitz, now 90, loves the rosé. "It's my mother's favorite," says Myers, now president and chief executive. "Sure, we'd make more money if we replanted with Cabernet. But if we just produced Cabernet, life wouldn't be as interesting. It's not all driven by the money. It's keeping a variety alive." (Source)

4. Underselling the dust
Heitz is quietly one of the largest certified organic grapegrowers in Napa Valley. "Three-quarters of our vineyards are certified organic," Myers says. But the labels don't reflect that, nor do they all reflect prestigious sub-appellations. Trailside Vineyard, for example, is in Rutherford, but the label just says "Napa Valley". (Source)
© Heitz Wine Cellars; Bill Tucker | David Heitz is the winemaker; the tasting room is at the original Heitz vineyard on Highway 29.
5. Buy an instant vertical!
Heitz Cabernets are older than others in the market. "Joe always wanted it to be a finished product, so you can see what it is," Myers says. Most wineries introduce a vintage, sell it until it's gone, then sell the next vintage. Heitz keeps five vintages on sale at one time for Martha's Vineyard and Trailside Vineyard Cabernet. The most recent vintage of both wines is 2009, but restaurants and wine shops can also buy the previous four vintages. "Restaurants love it because they can have an instant vertical," Myers says. Heitz raises the price for older vintages, but seemingly not enough to make up for the cost of storage. "I don't care, because it builds the brand," Myers says. "It's our belief that wines age." (Source)
_________________________________________________________________
Martin Redmond is a Financial Executive by day, and a certified wine geek with latent foodie tendencies the rest of the time. In addition to the wine lifestyle and food he enjoys family, fitness and traveling. He likes to get thoughts of wine off his mind by sharing experiences on his ENOFYLZ Wine blog, which features wine reviews, wine country travel, and wine and food pairings.
Follow me on Twitter @martindredmond for all things wine. Since I'm a wino with latent foodie tendencies, you'll also find food and wine pairings, and food related stuff! Become a fan and join ENOFYLZ Wine Blog on Facebook. Cheers! This article is original to ENOFYLZ Wine Blog.com. Copyright 2015 ENOFYLZ Wine Blog. All rights reserved.