Last month, I was invited to participate in a virtual wine tasting on Twitter featuring three premium Sauvignon Blanc from Dry Creek Valley. The tasting featured winemakers Tim Bell of Dry Creek Vineyard, Emmett Reed of Gustafson Family Vineyards, and Ed Sbragia of Sbragia Family Vineyards. It was moderated by Michelle McCue, president of McCue Communications
I was delighted to receive the invitation because I'm a fan of Dry Creek Valley Sauvignon Blanc.  My wife and I have attended the Winegrowers of Dry Creek Valley's annual Passport to Dry Creek Valley a handful of times, and we always find a few standout Sauvignon Blanc when we make the round of wineries.  A couple of perennial favorites that come to mind are produced by Quivira Vineyards and Mauritson.
Dry Creek Valley is most renown for Zinfandel, but what you may not realize is that Sauvignon Blanc is the most planted white grape in Dry Creek Valley. More than 25 wineries in the area produce wines from it, and it is widely recognized as a Dry Creek Valley signature white wine.
From the Winegrowers of Dry Creek Valley…
Around 1970, David Stare was the first to plant sauvignon blanc in Dry Creek Valley. He first purchased a prune farm, then took out the prune trees to start the winery project that is nowDry Creek Vineyard. When Stare settled in Sonoma County, there wasn't much enthusiasm for sauvignon blanc in the state of California. In neighboring Napa Valley, Robert Mondavi had begun marketing a dry-style sauvignon blanc by the name of Fume Blanc in 1968. Stare was quick to follow suit, adopting this name for his first Dry Creek Vineyard release, in 1972.
Stare's interest caught the attention of others arriving in Dry Creek Valley. While taking classes at UC Davis, he became friends with fellow student, Lou Preston.  Their vineyard instructor, James Cook, stressed how important it is to match the grape variety to the land and climate on which it grows. Though many harbored doubts about sauvignon blanc's potential for success, Stare prevailed. He convinced Preston to plant sauvignon blanc in his vineyard. Stare and Preston's success growing the grape gradually led to national attention and their wines garnered awards.
The three wines were tasted represented the wonderful possibilities for vinifying Sauvignon Blanc,  One wine was 100% Sauvignon Blanc, another was a blend of Sauvignon Blanc and Sauvigon Musque (a more aromatic clone of Sauvignon Blanc), and 100 % Sauvignon Musque.  Some of the wine were fermented in stainless steel, others in oak, or a combination thereof.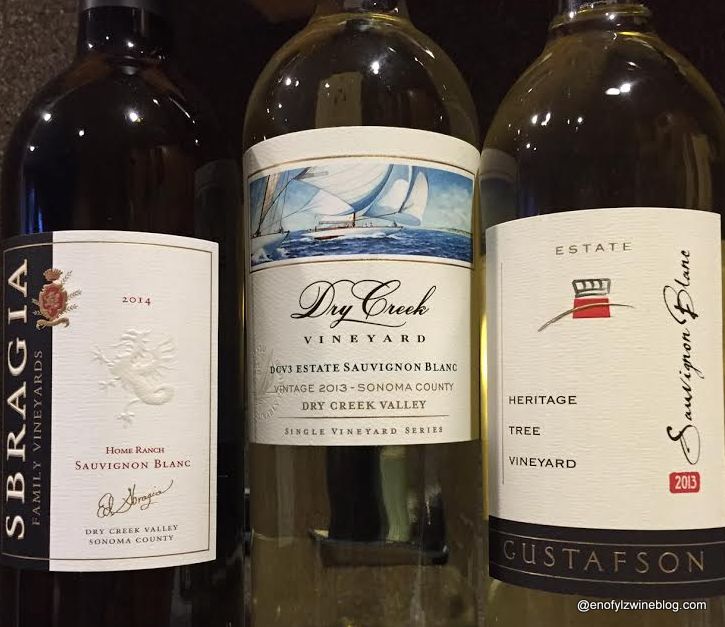 You can check out a recording of the live feed of the #DCVSauvBlanc tasting below:
My tasting notes follow:
2013 Dry Creek Vineyard Sauvignon Blanc DCV3
Very pale yellow-green color and nicely aromatic with grapefruit, passionfruit, and hints of grass and pineapple aromas. On the palate, its medium-bodied and between dry and off-dry with very good acidity and a wonderful texture. It shows grapefruit, lime, mandarin orange, and a kiss pineapple flavors with an appealing minerality. Medium finish. 100% Sauvignon Musque. 417 cases produced. Retail – $25 Very good to Outstanding; 89-91 pts
2013 Gustafson Family Vineyards Sauvignon Blanc Estate Heritage Tree Vineyard 
Yellow gold color with low-key stone fruit, passionfruit, pineapple and a hint of grassy aromas. On the palate, it's medium bodied, and fresh with a wonderful texture, and peach, passionfruit, honeydew, vanilla flavors. Medium + finish. Field blend of 80% Sauvignon Blanc; 20% Sauvignon Musque 14.1% alcohol 350 cases produced Retail – $22 Very good; 86-88 pts
2014 Sbragia Family Sauvignon Blanc Home Ranch 
Pale yellow-green color with pungent gooseberry, grapefruit, green apple and a hint of grassy aromas. On the palate, it light to medium-bodied with bright acidity and grapefruit, passionfruit and lemongrass flavors. Medium finish 100% Sauvignon Blanc. 13.7% alcohol 200 cases produced Retail – $22 Very good; 86-88 pts
It was a delightful tasting!  Though I didn't have time to enjoy any food during the tasting, Sauvignon Blanc is one of the most food friendly wines.  We always have a bottle on hand!
It pairs well with soft goat cheeses, grilled fish, shellfish, poultry, dishes accented, or dominated by green herbs such as dill, chives, or fennel, olive oil or cream-based pasta dishes (Seafood lasagna anyone?), a wide range of vegetarian fare and challenging to pair spring vegetables like asparagus and artichokes.
Discloure of Material Connection:  I received these wines free from the wineries and Winegrowers of Dry Creek Valley as part of #DCVSauvBlanc Twitter Tasting.  I was not required to write a positive review and the opinions I have expressed are entirely my own. 
_________________________________________________________________
Martin Redmond is a Financial Executive by day, and a certified wine geek with latent foodie tendencies the rest of the time. In addition to the wine lifestyle and food he enjoys family, fitness and traveling. He likes to get thoughts of wine off his mind by sharing experiences on his ENOFYLZ Wine blog, which features wine reviews, wine country travel, and wine and food pairings.
Follow me on Twitter @martindredmond for all things wine. Since I'm a wino with latent foodie tendencies, you'll also find food and wine pairings, and food related stuff! Become a fan and join ENOFYLZ Wine Blog on Facebook. Cheers! This article is original to ENOFYLZ Wine Blog.com. Copyright 2015 ENOFYLZ Wine Blog. All rights reserved.