Over the course of a week, my wife and I drink a bunch o'wine – almost always with food. Since I've always been fascinated by wine at the table with food, I thought it would be fun to recap not only the wines we've been drinking, but also how they pair (or don't pair) with the foods at our table.  It features my pick for Wine of the Week – a  wine I particularly enjoy, whether it's something new and different, is a great value, or from a producer worth checking out; for the week ended May 31st, 2015.
2011 Carlisle The Derivative White – Retail $28
Consistent with prior review – Lemon yellow color with intriguing pear, lychee, lemon oil, grapefruit pith, and a subtle bergamot leaf aromas. On the palate, it's medium bodied, and wonderfully textured with very good acidity and charming apricot, orange,and grapefruit and mineral flavors. and fl Blend of 66% Semillon, 24% Muscadelle, and 10% Chaselas (aka Palomino); It's a modern-day version of Hock, a white blend that was popular in the late 1800s and early 1900s 13.7% alcohol Outstanding; 92-95 pts
2009 Copain Pinot Noir Les Voisins – Retail $42
Dark ruby color fading toward tawny at the rim with appealing earthy, savory cardamom laced red fruits, plum, and sandalwood aromas on the palate it's medium bodied and harmonious fruit.acidity and velvety tannins with bing cherry, plum, raspberry spice and a pleasing minerality. Lingering finish.Very Good to Outstanding; 89-91 pts
2011 Buehler Vineyards Cabernet Sauvignon Papa's Knoll – Retail $45
Garnet color, and nicely aromatic with black fruit, leather, spice and toasty oak aromas and just touch of heat. On the palate, it's medium-bodied with a supple texture, very good acidity and soft well-integrated tannins. It shows black currant, blackberry, black cherry, cassis and a bit of spice flavors.  Very good; 86-88 pts
2013 Kosta Browne Chardonnay One Sixteen – Retail $58
Pale golden color with appealing apple, melon, mandarin orange, key lime zest, and a bit of orange blossom aromas. On the palate, it's rich, round, and shows generous acidity with ample melon, mandarin orange, key lime zest, vanilla and a bit of brown spice flavors. Flat out delicious! Long finish. Very Good to Outstanding; 89-91 pts
Wine of the Week
It was a delightful week for wine!  That was due to both the quality of the wines, and the location in which a couple of them were consumed…Kauai!
This is the second time we've brought Carlisle's Derivative on a trip with us.  It's a food friendly delicious white blend that pairs well with seafood, and I knew there would be plenty of that to be had.  Likewise, if you're in BYOB mode for travel, you Pinot Noir is always a good choice, and Copain Pinot Noir is a great choice IMHO!  If you're looking to get off the well-worn and beaten path in Napa Valley, they've got some very good wines, and great property, and you'll get a great tour…for free (well the wines is not free)!
My Wine of the Week is the 2013 Kosta Browne Chardonnay One Sixteen. Sebastopol-based Kosta Browne Winery makes some of California's most in-demand wines.  The winery has made a name for itself by offering high-end pinot noir sold on a direct-to-consumer model, accounting for about 90 percent of sales. The other 10 percent of its wine is sold in restaurants.  They opened a new winery was in 2013 at The Barlow in Sebastopol, occupying three buildings that are customized to suit the winery's needs. The winery is not open to the public.  The winery is operations are run by original partners Dan Kosta, Michael Browne and Chris Costello.
How in demand are the wines?
According to Kosta Browne..."Generally, the wait for the Appellation wines is 2-3 years and the wait for the Single Vineyard wines is another 3-5 years beyond that"  But we spent about 4.5 years on the wait list before we were able to order the Appellation wines (two Pinot Noirs; one each from the Russian River Valley and Sonoma Coast, and this wine)
We spent about 4.5 years on the waiting list before we were able to order our first wines
Flavorful, intense wines – that is our goal. We believe every wine should be bursting with flavor. This intensity should be part of a greater balance. We find that each of our vineyards has its own "sweet spot" of balance. It is our charge to guide each vineyard to its optimum flavor potential. – Kosta Browne
The wine is named after the Gravenstein Highway 116 which cuts through the town of Sebastapol.  Grapes for this wine were sourced from  various vineyard sites in Russian River Valley including, Boudreaux, Charles Ranch, El Diablo, Keefer, Ritchie, Ulises Valdez and Zio Tony vineyards. Multiple clones are utilized depending on the vineyard. It's  95% barrel fermented and aged in 39% new French oak for 15 months, 5% concrete fermented. ·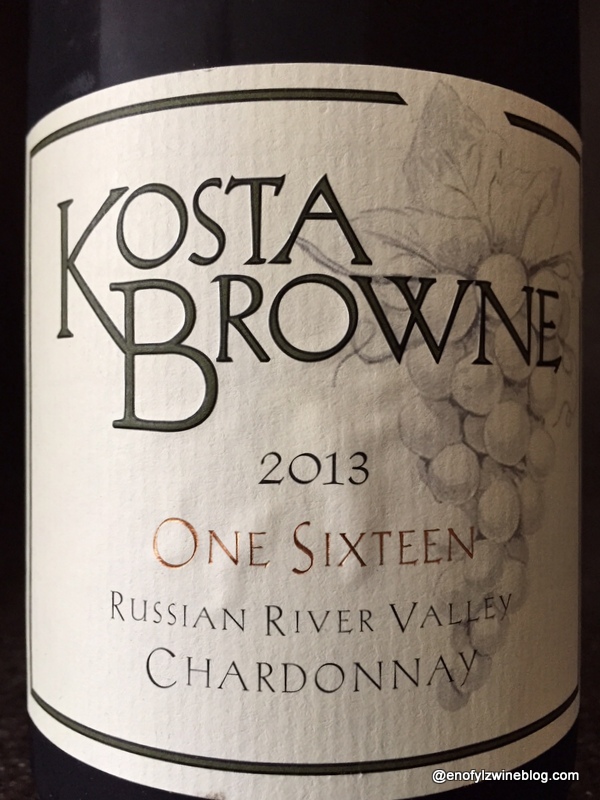 This wine paired very well with Spicy Tuna Poke!
What was your Wine of the Week?  Any killer Food and Wine pairings?
Follow my reviews on Vivino and Delectable
Note. All wines were purchased for review unless otherwise indicated
_________________________________________________________________
Martin Redmond is a Financial Executive by day, and a certified wine geek with latent foodie tendencies the rest of the time. In addition to the wine lifestyle and food he enjoys family, fitness and traveling. He likes to get thoughts of wine off his mind by sharing experiences on his ENOFYLZ Wine blog, which features wine reviews, wine country travel, and wine and food pairings.
Follow me on Twitter @martindredmond for all things wine, and since I'm a wino, with latent foodie tendencies, you'll also find food and wine pairings, and food related stuff! Become a fan and join ENOFYLZ Wine Blog on Facebook. Cheers! This article is original to ENOFYLZ Wine Blog.com. Copyright 2015 ENOFYLZ Wine Blog. All rights reserved.