Over the course of a week, my wife and I drink a bunch o'wine – almost always with food. Since I've always been fascinated by wine at the table with food, I thought it would be fun to recap not only the wines we've been drinking, but also how they pair (or don't pair) with the foods at our table.  It features my pick for Wine of the Week – a  wine I particularly enjoy, whether it's something new and different, is a great value, or from a producer worth checking out; for the week ended May 24th, 2015.
My wife and I are vacationing in Kauai this week.  I thought I might take a week off from writing.  But here I am, on this lazy afternoon, after getting up to catch the sunrise and a strenuous hike up the Sleeping Giant Trail…
Writing!
2011 Loring Wine Company Pinot Noir Sta. Rita Hills – Retail $25
Dark ruby color with raspberry, pomegranate, cherry, cardamom and baking spice aromas. On the palate, it's medium bodied, and fresh with a very supple texture with raspberry, cherry, pomegranate and spice flavors. Satisfying finish. Very Good to Outstanding; 89-91 pts
2013 Stage Left Cellars Central Coast Rosé – Retail $20
Vivid pink with an orange hue and slightly cloudy color with red fruit, blood orange, and hints of spice and floral aromas. On the palate, it's medium/full-bodied with tangy acidity, a touch of savory character, dusty soft tannins that enhance its supple texture. It shows wild strawberry, raspberry, cranberry and piquant spice flavors with a bit of minerality on the lingering tart finish.  Very Good to Outstanding; 89-91 pts
2009 Viña Eguía Rioja Reserva – Retail $8
Dark ruby color with appealing red fruit, tobacco, dried herb, vanilla and spice aromas. On the palate it's medium-bodied, and smooth with soft tannins, and good acidity. It shows fresh dark red cherry, vanilla,and spice flavors and a lingering finish. Very good; 86-88 pts
Wine of the Week
For a change, it was an easy call for which wine would be my Wine of the Week!  As I mentioned we're vacationing in Kauai.  We, as is our wont when we travel, brought along several bottles of wine.
This bottle of wine disappeared all too quickly one afternoon.  If that's not a Wine of the Week, I don't know what is!
The wine is the 2013 Stage Left Cellars Central Coast Rosé.  Stage Left Cellars is located in Oakland California.  It's among of the best of what I consider to be the best urban wine region in the US, the East Bay.
From the winery…
So you found us. That must mean you share a passion for great wine, great friends, and new experiences. Or you're just lost.
Basically, making wine is our gig. We don't make much, but that whole quality over quantity thing tends to rule the Stage Left wine roost. As crazy as we are with quality, it's only one piece of the puzzle at Stage Left. The real name of the game is to make wine that moves you. Sure, it's a lofty goal. But bridging the gap between mere drink and lasting memories is why we got into this crazy business in the first place. Besides, everyone needs an exit strategy.
Stage Left handcrafts small lot wines from our favorite varietals like Syrah, Viognier, Grenache, and Mourvedre. And Petite Sirah. And a little Roussanne. Boy do we like Roussanne. But we admit, even though we focus on Rhone varietals, other varietals like Cabernet and Zinfandel may make a cameo appearance every now and then. That way we can keep you on your toes.
From me…
I've been digging these wines for years.  I don't exactly recall how I was introduced to their wine, but over the years, I've tasted the wines at many events.  They're only open the first weekend of the month, and I'm usually hanging out with my daughter that weekend.  So I don't visit as often as I'd like (probably better for the budget though;-)
The wine is a blend of 90% Syrah, 5% Grenache, 5% Carignane; Camp 4 Vineyard, Santa Barbara County. 13% alcohol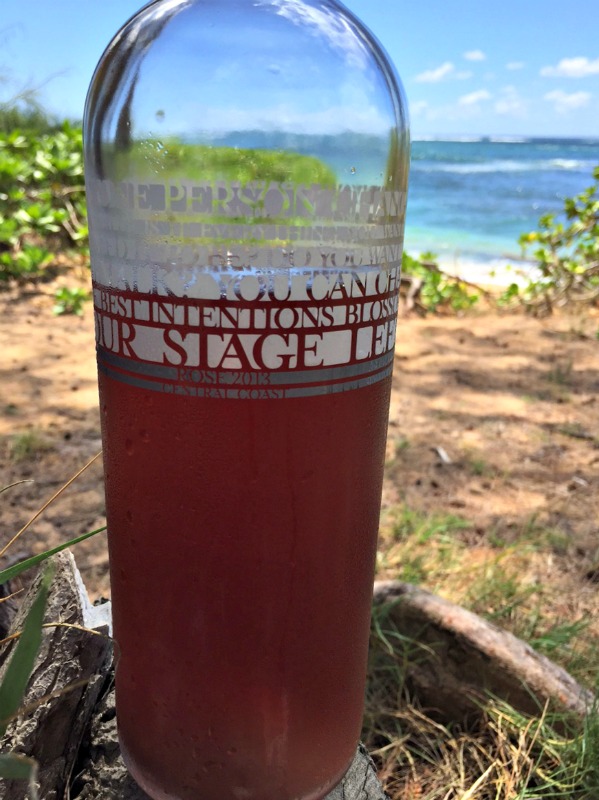 We paired this wine with Ahi Tuna Fish Tacos!  It was an awesome pairing and my Food and Wine Pairing of the Week!
What was your Wine of the Week?  Any killer Food and Wine pairings?
Follow my wine reviews on Vivino and Delectable
Note. All wines were purchased for review unless otherwise indicated
_________________________________________________________________
Martin Redmond is a Financial Executive by day, and a certified wine geek with latent foodie tendencies the rest of the time. In addition to the wine lifestyle and food he enjoys family, fitness and traveling. He likes to get thoughts of wine off his mind by sharing experiences on his ENOFYLZ Wine blog, which features wine reviews, wine country travel, and wine and food pairings.
Follow me on Twitter @martindredmond for all things wine, and since I'm a wino, with latent foodie tendencies, you'll also find food and wine pairings, and food related stuff! Become a fan and join ENOFYLZ Wine Blog on Facebook. Cheers! This article is original to ENOFYLZ Wine Blog.com. Copyright 2015 ENOFYLZ Wine Blog. All rights reserved.