I enjoy celebrating the various "wine" days. #ChampagneDay is my favorite, but in the last few years, I've come to enjoy Chardonnay and #ChardonnayDay very much
I've not always been a fan of Chardonnay. In fact I was on the verge of being an "ABC"er (Anything But Chardonnay).
The I went to a Pure Chablis tasting a couple of years ago that changed my relationship with Chardonnay forever
Chardonnay is a great grape that produces such a diverse style of wines. I guess I just had to find my style….
Being the promiscuous wine lover I am, I was looking for something new, and different.
First stop – my favorite wine store K&L Wine Merchants. There I came across the 2013 Jean-Paul Brun "Terres Dorees" Chardonnay Beaujolais Blanc.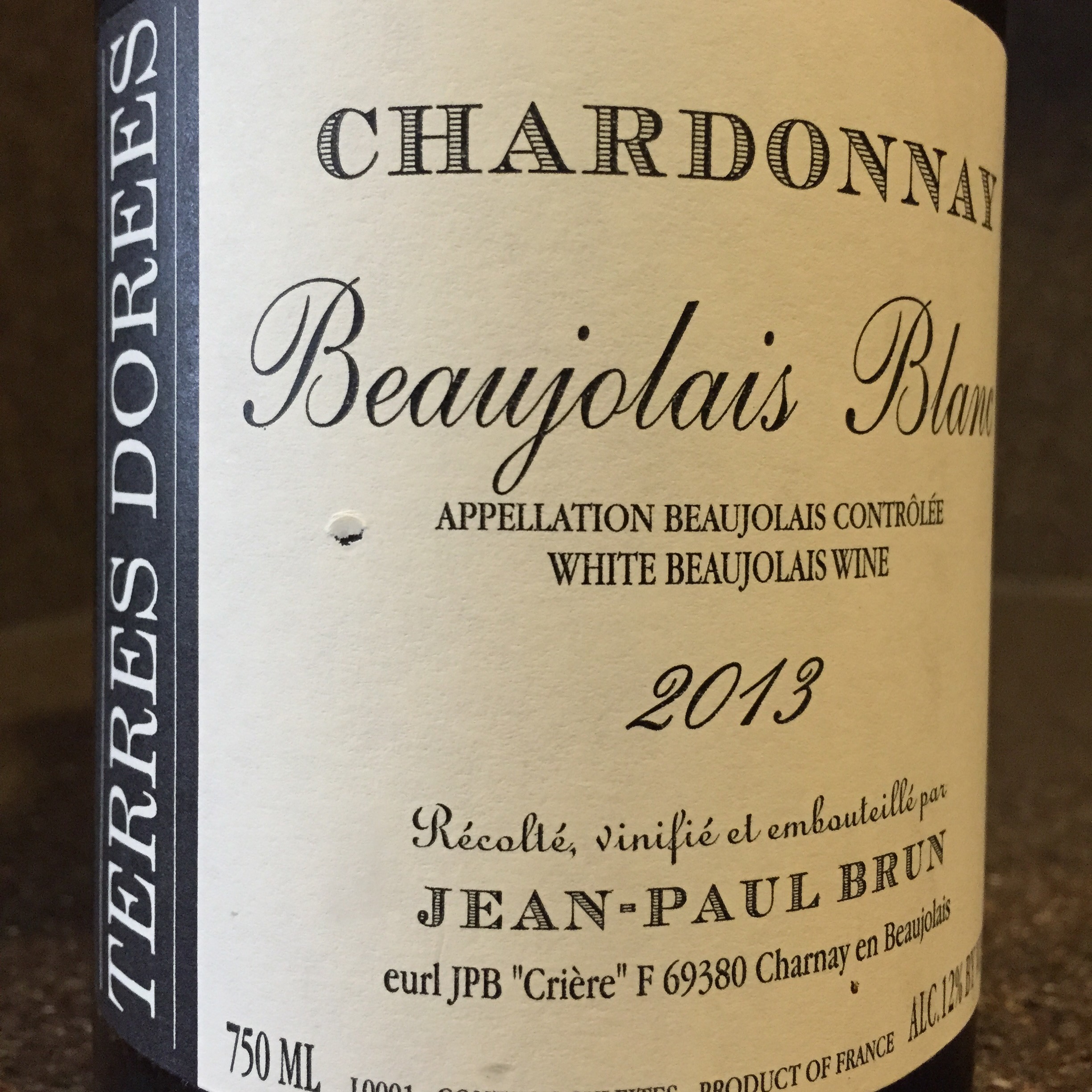 I'd never heard of it before!
Here some info from wine searcher.com…
Beaujolais Blanc is, perhaps not surprisingly, a term reserved for white wines grown in Beaujolais from the Chardonnay grape variety. A part of the wider Beaujolais appellation (which also covers red and rosé wines), Beaujolais Blanc makes up just a tiny portion of the region's production. White wines from Beaujolais are light and fresh, with characteristic aromas of stone fruit, pears, and melon.
While large swathes of Beaujolais are planted to Gamay (that variety being most suited to the granitic terroir of the region), plantings of Chardonnay fare well in the limestone soils in northern Beaujolais. Here, the rolling hills are essentially a continuation of the southern Maconnais, and the wine styles produced in both areas are very similar. In fact, the vineyard areas of the Macon appellation overlap those of Beaujolais Blanc, and many white wines made in northern Beaujolais are sold under the better-known Macon appellation
Here what K&L's wine buyer says about his particular producer and wine:
Jean Paul Brun is located in Charnay, a village in the Southern Beaujolais just north of Lyons, in a beautiful area known as the "Region of Golden Stones." Brun is the owner and winemaker at this 40-acre family estate and has attracted the attention of the French and American press for the wonderfully fruity and delicate wines he produces.
In the far southern end of Beaujolais that magical limestone resurfaces. He was able to acquire some 80 year old Chardonnay vines on just this soil. he makes the wine in stainless steel, with no oak influence. The result is an interesting Chardonnay of great richness, with pear and citrus notes. It finishes with bright and refreshing acidity and a rich buttery note. A charming wine for a song.
Here are my tasting notes:
Shows green apple, peach, under ripe melon white flower and lime zest aromas. Palate follows with the addition of an appealing chalky minerality. Round with very good concentration. Raised in SS and concrete. Drinks quite a bit over its $16 price! 
This is indeed a charming wine! I'm looking forward to pairing it with some fish, shellfish, or maybe some sushi!
Will buy more!
Happy #ChardonnayDay!
_________________________________________________________________
Martin Redmond is a Financial Executive by day, and a certified wine geek with latent foodie tendencies the rest of the time. In addition to the wine lifestyle and food he enjoys family, fitness and traveling. He likes to get thoughts of wine off his mind by sharing experiences on his ENOFYLZ Wine blog, which features wine reviews, wine country travel, and wine and food pairings.
Follow me on Twitter @martindredmond for all things wine, and since I'm a wino, with latent foodie tendencies, you'll also find food and wine pairings, and food related stuff! Become a fan and join ENOFYLZ Wine Blog on Facebook. Cheers! This article is original to ENOFYLZ Wine Blog.com. Copyright 2015 ENOFYLZ Wine Blog. All rights reserved.