Over the course of a week, my wife and I drink a bunch o'wine – almost always with food. Since I've always been fascinated by wine at the table with food, I thought it would be fun to recap not only the wines we've been drinking, but also how they pair (or don't pair) with the foods at our table.  It features my pick for Wine of the Week – a  wine I particularly enjoy, whether it's something new and different, is a great value, or from a producer worth checking out; for the week ended May 17th, 2015.
2013 Château La Canorgue Luberon Rosé – Retail – $20
Pink orange color with promising red fruit, lavender, anise and a bit of mineral aromas. On the palate it's medium-bodied and fresh with tart cherry, red currant, and spice flavors and a lingering tangy mineral driven finish. 50/50 Blend of Grenache/Syrah Very good; 86-88 pts
Scharffenberger Brut Excellence – Retail – $16
Pale gold color with appealing brioche, soft red fruits, pear, citrus and a kiss of spice aromas. On the palate, it's medium-bodied with a creamy mousse, and a soft harmonious character. It shows pear, strawberry , mandarin orange, just a bit of plum and cinnamon flavors with a clean satisfying finish. Very good; 86-88 pts
2013 Casa D'Ambra Biancolella Ischia Frassitelli – Retail – $28
Pale golden color with restrained honey, yellow apple, sea breeze and wet stone aromas. On the palate, it's light-bodied, and focused with a wonderful texture and good acidity with apricot, yellow apple, honey, and a bit of almond flavors with a mineral driven lingering finish. Very good; 86-88 pts
2008 Bisceglia Aglianico del Vulture Gudarrà – Retail – $20
Very dark crimson color with a black fruits, tar, dark chocolate, and glimpses of truffle and violet aromas. On the palate, it's medium-bodied with astringent tannins and black currant, black cherry, plum and bittersweet chocolate flavors. Long finish. Very Good to Outstanding; 89-91 pts
Wine of the Week
It was a week of "firsts" for me.  I tried a couple of Italian wines from Campania region for the first time.  One made from Biancolella, a new to me, grape that is usually blended with Forestera for Ischia Bianco.   But my bottle was 100% Biancolella. The other was a  red made from ,arguably, southern Italy's most important variety Aglianico, (specifically Aglianico del Vulture – a region known as It is one of southern Italy's greatest wines and has been dubbed the 'Barolo of the South')  I enjoyed both, though, I would have enjoyed the Aglianico more had it not been as tannic as it was.
It was also my first time trying a Rose from Luberon region of the France.  Also quite enjoyable.
In fact, I enjoyed all the wines pretty much equally.  In such a situation, I ask myself "Which wine would you buy again?" 
This week, the answer, and my Wine of the Week is the Scharffenberger Brut Excellence.
From the winery…
The history of Scharffenberger Cellars begins in 1981 in the heart of California's Anderson Valley. Situated only miles from the coastal influences of the Pacific Ocean, Scharffenberger Cellars also enjoys the deep soils and sunshine within the protected valley. Originally founded by John Scharffenberger, the company has gone through many transitions, including a name change when it was formally known as Pacific Echo from 1998 until July 2004. Today, the name has been restored back to Scharffenberger Cellars under the new management of Maisons Marques & Domaines (Champagne Louis Roederer, and Roederer Estate among others).
With the many changes at Scharffenberger Cellars, what has remained consistent is the quality and the original philosophy behind the winemaking. Tex Sawyer, winemaker since 1989 continues to manage the winemaking program and today works with the new ownership to restore the glory of the original brand name.
The Brut Excellence is made from Schraffenberger's own 120-acre vineyards in the Anderson Valley. In addition, Scharffenberger Cellars has long-term contracts with select vineyards in the greater Mendocino County
The Scharffenberger Brut is blended with two-thirds Pinot Noir and one-third Chardonnay. All the fruit for Scharffenberger Brut undergoes 100% malolactic fermentation.  It is aged two years on lees. 1% RS. 12% alcohol.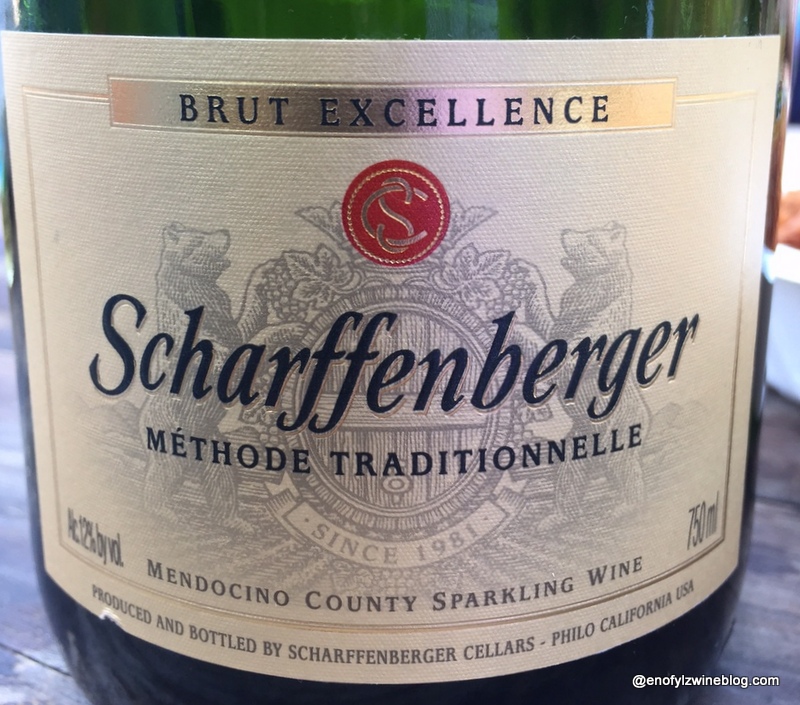 It would be interesting to taste this wine blind back to back with its Anderson Valley stable mate the Roederer Estate Brut.  The primary difference between the two are that the Schraffenberger undergoes malolactic fermentation, while the Roederer Estate Brut doesn't.  The Roederer has slightly higher RS at 1.2% and retails for $4 more.  
We paired this wine with fried chicken, as well a pulled pork sandwich. If you haven't tried sparkling wine and fried chicken together…you're missing a treat. That make the Scharffenberg and Fried Chicken my Food and Wine Pairing of the Week!
What was your Wine of the Week?  Any killer Food and Wine pairings?
Follow my wine reviews on Vivino and Delectable
Note. All wines were purchased for review unless otherwise indicated
_________________________________________________________________
Martin Redmond is a Financial Executive by day, and a certified wine geek with latent foodie tendencies the rest of the time. In addition to the wine lifestyle and food he enjoys family, fitness and traveling. He likes to get thoughts of wine off his mind by sharing experiences on his ENOFYLZ Wine blog, which features wine reviews, wine country travel, and wine and food pairings.
Follow me on Twitter @martindredmond for all things wine, and since I'm a wino, with latent foodie tendencies, you'll also find food and wine pairings, and food related stuff! Become a fan and join ENOFYLZ Wine Blog on Facebook. Cheers! This article is original to ENOFYLZ Wine Blog.com. Copyright 2015 ENOFYLZ Wine Blog. All rights reserved.