From time to time, I receive wines samples for review from wineries or their public relations agencies.  I feature such samples on here on #WineWednesday Review. This week I'm featuring (a.k.a. catching up on samples;-) trio of current releases from  Robert Mondavi Winery collection of Napa Valley wines.  

The Winery
The Robert Mondavi Winery was established in 1966 by Robert Mondavi, one of the most influential and esteemed winemakers in California history (Click here for his story).  It was the first major winery built in Napa Valley. For decades it was California's most famous winery.  It was acquired by Constellation Brands in 2004.
It's a beautiful property with classic California mission-style architecture, with an expansive archway and bell tower.  I must confess I haven't been in a long time.  I recall visiting on one of my first trips to Napa.  Nowadays, I tend to visit the smaller wineries.  But, I've been impressed with their reserve wines.  I've also been impressed with a few of their entry-level wines  In particular the Napa Valley Merlot, and the Private Selection Meritage provide very good to great price quality performance.
The wines
Robert Mondavi's original vision was to produce wines from the Napa Valley that would stand in the company of the world's finest. These wines are sourced from the finest appellations in the Napa Valley including Oakville, Stag's Leap, Carneros and other select vineyard sites. The wines are blended together to create wines of complexity and elegance made possible by the diversity of these vineyard sites.
2013 Robert Mondavi Winery Fumé Blanc
The Original Fumé Blanc. Robert Mondavi created the term in 1966 to distinguish his dry Sauvignon Blanc from the sweeter-styled Sauvignon Blanc wines made at the time. It's a blend of 90% Sauvignon Blanc & 10% Semillon. Napa Valley – 89% (61% Wappo Hill Vineyard, 20% To Kalon Vineyard) and Mendocino County – 11%.  14.5% alcohol; Retail – $20
Sixty percent of the juice was barrel fermented for added richness and complexity, with eight percent in new French oak. The balance underwent a cool fermentation in stainless steel to heighten the vibrant fruity and herbal flavors. The new wine was aged for five months in 60-gallon French oak barrels, sûr lie (on the yeast lees) and hand stirred twice a month for a creamy texture and seamless integration of flavors. The addition of 10% Semillon gives the final blend a broader mouth feel and enhanced complexity.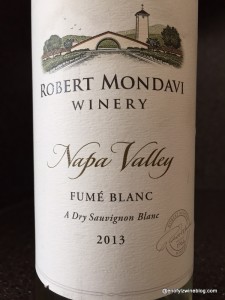 My tasting notes follow:
Pale yellow with a green hued color with grapefruit, white flower, and low-key grassy aromas. On the palate, it's light-bodied, fresh and nicely balanced with grapefruit, key lime, and a kiss of herbal flavors. Lengthy finish.  This is my kind of Sauvignon Blanc! Very Good to Outstanding; 89-91 pts
Pair with: Mussels in White Wine.  We did, and it was a fabulous pairing!
2012 Robert Mondavi Winery Cabernet Sauvignon Napa Valley
The wine is a blend of 88% Cabernet Sauvignon, 6% Cabernet Franc, 4% Merlot, 1% Petit Verdot, & 1% Malbec  14.5 alcohol. Retail – $28 
The new wine was drained and gently pressed into 15% new French oak barrels for malolactic fermentation, assuring seamless integration of fruit and oak. The final blend was assembled through repeated tasting trials over the 16 months of barrel aging, and bottled in June of 2014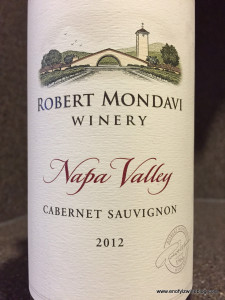 My tasting notes follow:
Dark ruby color with aromatic, blackberry, black currant, a bit of tobacco, eucalyptus and violet aromas. On the palate it's medium-bodied, and well made with an appealing texture, dusty tannins, and good acidity with blackberry, black currant, black cherry, and a hint of dark chocolate flavors. Lingering sweet finish.  Approachable now, it should age well in the short-term (2-5 years)   Very Good to Outstanding; 89-91 pts
Pair with: Short Ribs Bourguignon or your favorite burgers!
2013 Robert Mondavi Winery Pinot Noir
Sourced from the Napa Valley side of the Carneros growing area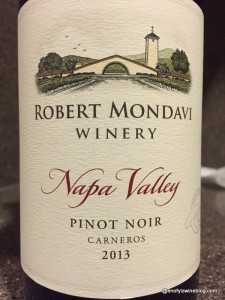 My tasting notes follow:
Ruby color with restrained raspberry, red plum, earth and a bit of spice aromas. On the palate it's medium-bodied showing a nice balance of fruit, acid and tannins with raspberry, strawberry, a bit of plum, earth and pronounced spice flavors. Med finish. Very good; 86-88 pts
Pair with: Herb Crusted Pork Tenderloin or Cedar Plank Salmon
These wines are a great example of the advantages of a winery the size of Robert Mondavi – economy of scale, and breadth of their offerings. They produce wines at all price/quality levels along the wine spectrum from budget to super-premium wines.  There's something for everyone!
I want to highlight the value these wines offer. I was especially impressed with the value both the Sauvignon Blanc and the Cabernet Sauvignon offer. Both are wines I'd highly recommend!  
Wines provided as a samples for review.  Many thanks to Folsom & Associates & Robert Mondavi Winery
Follow my wine reviews on Vivino and Delectable
__________________________________________________________________
Martin Redmond is a Financial Executive by day, and a certified wine geek with latent foodie tendencies the rest of the time. In addition to the wine lifestyle and food he enjoys family, fitness and traveling. He likes to get thoughts of wine off his mind by sharing experiences on his ENOFYLZ Wine blog, which features wine reviews, wine country travel, and wine and food pairings.
Follow me on Twitter @martindredmond for all things wine, and since I'm a wino, with latent foodie tendencies, you'll also find food and wine pairings, and food related stuff! Become a fan and join ENOFYLZ Wine Blog on Facebook. Cheers!
This article is original to ENOFYLZ Wine Blog.com. Copyright 2015 ENOFYLZ Wine Blog. All rights reserved.