Over the course of a week, my wife and I drink a bunch o'wine – almost always with food. Since I've always been fascinated by wine at the table with food, I thought it would be fun to recap not only the wines we've been drinking, but also how they pair (or don't pair) with the foods at our table.  It features my pick for Wine of the Week – a  wine I particularly enjoy, whether it's something new and different, is a great value, or from a producer worth checking out; for the week ended May 10th, 2015.
Opaque violet color with appealing kirsch, blackberry, Herbs de Provence, and white pepper aromas. On the palate, medium-bodied, with good acidity and fine-grained well-integrated tannins with baked black cherry, blackberry, black raspberry and espresso flavors, and a bit of minerality, and a lingering finish. Russian River fruit. 50/50 Grenache and Syrah. Very Good to Outstanding; 89-91 pts
Pale golden-yellow color with appealing white peach, apricot, honey, and a hint of floral aromas. On the palate it's medium-bodied, fresh, and persistent with focused peach, melon, apricot, and honey flavors. Lingering finish Very Good to Outstanding; 89-91 pts
Opaque violet color with appealing roasted meat, roasted black fruit, smoke and a hint of truffle aromas. On the palate it's medium bodied with very good acidity and soft well-integrated tannins and a hint of minerality with concentrated roast boysenberry, plum, blueberry and hickory flavors. Long finish. Very Good to Outstanding; 89-91 pts
Pale straw yellow color with abundant tiny bubbles with bread crust, baked apple, and hazelnut aromas. On the palate, it shows a delicate creamy mousse with mineral accented baked apple and pear, toasted hazelnut, apricot and a hint of spiced vanilla flavors. Long finish. 12.1% alcohol –  Outstanding; 92-95 pts
Wine of the Week 
The Campovida Viognier is one of our favorite Viognier.  Campovida is interesting because it's a family owned and operated certified organic farm and working vineyard. With a retreat center. I had, what I think was, the last of my 2008 vintage wines that was smoke-tainted by the wild fires in California that year, Big Basin did a good job of making lemonade out of lemons, and I found the smokiness to be appealing.  
My Wine of the Week is the 2003 Roederer Estate L'Ermitage Brut.
Roederer Estate is the American outpost of Champagne Louis Roederer.  Their Estate Brut is my favorite under $20 (when on sale) multi-vintage California sparkling wine. We picked up this wine during our last visit to their beautiful winery a couple of years ago.
Their 580-acre family owned estate vineyard and winery are located in the Anderson Valley.  It's a blend of  52% Chardonnay, 48% Pinot Noir with 4% aged reserve wine (vintage '99). It was aged 5.5 years in French oak cask + at least 6 month in bottle prior to release.  It's an outstanding vintage bottle of California sparkling wine that a relative bargain too! The latest release can be found for $39.99 at K&L Wine merchants.
I had the pleasure of meeting Chef de Caves and  Executive Vice-President in charge of the production Jean-Baptiste Lecaillon while visiting Champagne Louis Roederer last fall. He told us that he checks in on Roederer Estate a couple of time a year.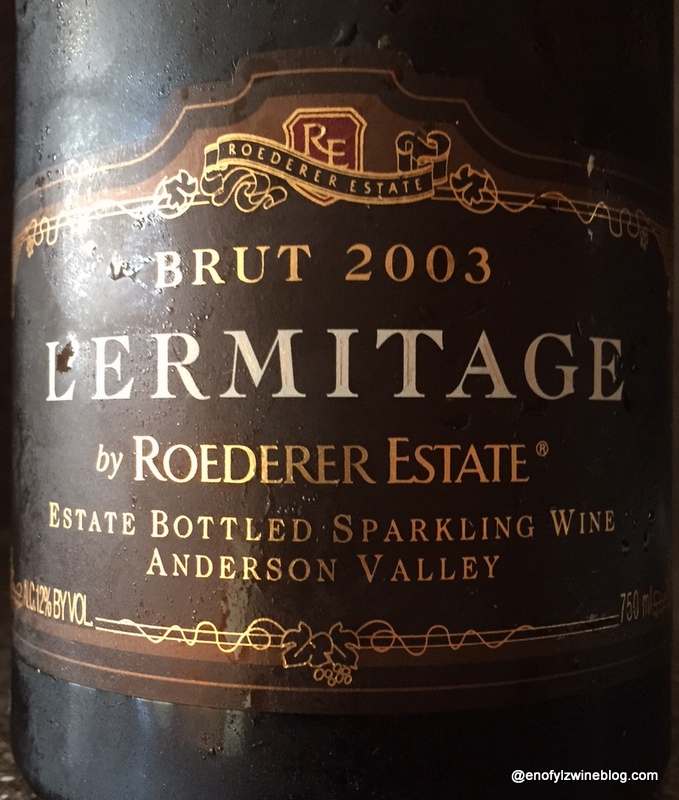 The Roederer winemaking philosophy has guided the development of Roederer Estate, located 125 miles north of San Francisco near the Mendocino Coast. Since 1982, Roederer Estate winery has been quietly developing its own vineyards and crafting fine wines from the Anderson Valley. Roederer Estate's Anderson Valley Brut debuted in October 1988 followed by the winery's first vintage cuvée,L'Ermitage, in 1989, released in the fall of 1993.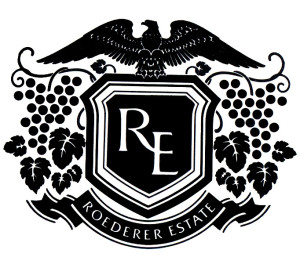 L'Ermitage, Roederer Estate's special Tête de Cuvée, is a sparkling wine made only in exceptional years from pre-selected, estate-grown grapes. Carrying on the tradition of Champagne Louis Roederer in France, Roederer Estate produces its sparkling wines in the traditional French methode and adds special oak-aged reserve wines to each blend. 
What was your Wine of the Week?  Any killer Food and Wine pairings?
Follow my reviews on Vivino and Delectable
Note. All wines were purchased for review unless otherwise indicated
_________________________________________________________________
Martin Redmond is a Financial Executive by day, and a certified wine geek with latent foodie tendencies the rest of the time. In addition to the wine lifestyle and food he enjoys family, fitness and traveling. He likes to get thoughts of wine off his mind by sharing experiences on his ENOFYLZ Wine blog, which features wine reviews, wine country travel, and wine and food pairings.
Follow me on Twitter @martindredmond for all things wine, and since I'm a wino, with latent foodie tendencies, you'll also find food and wine pairings, and food related stuff! Become a fan and join ENOFYLZ Wine Blog on Facebook. Cheers! This article is original to ENOFYLZ Wine Blog.com. Copyright 2015 ENOFYLZ Wine Blog. All rights reserved.