One of the things I love most about food and wine is their ability to transport one to a different place.  And a  place's people, culture, and customs are reflected in its food and wine.  In that sense, one can virtually travel the world through food and wine.  And that is exactly what we are doing through Italian Food Wine and Travel (#ItalianFWT).  We taking a virtual tour of Italy by exploring its food and wines.  This month we're exploring Marche (a.k.a Le Marche)!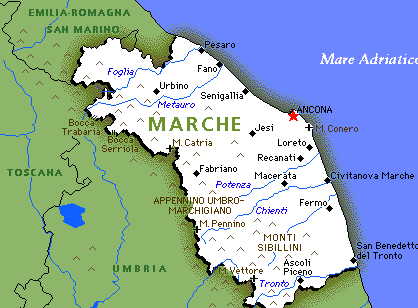 Marche (pronounced Mar-kay), is the third region, alongside Tuscany and Umbria, that makes up Central Italy. It located between the Adriatic coast and the Apennine Mountains with Emilia-Romagna to the north.
It is a lesser known and lightly traveled hidden gem rich in history with walled hilltop villages, castles, spectacular limestone caves, rolling farms, craggy hillsides, and amazing sandy beaches. If you're looking to get off the beaten path, and away from the ravages of mass tourism, check out Le Marche!
While cuisine of Marche is lesser known than that of its neighboring regions of Tuscany and Emilia Romagna, highlights include  the appetizer olive ascolane which are crispy fried stuffed olives, ciascolo, a soft smoked pork sausage flavored with fennel and garlic, brodetto, a classic fish stew, and the epic baked pasta dish vincisgrassi that is similar to the well-known lasagna.
On my plate
Chicken in Potacchio is a traditional chicken dish from the Marche region of Italy. Potacchio is a cooking method specific to Le Marche which involves braising fish, chicken or rabbit in white wine, garlic, tomato and rosemary.
After perusing various recipes, most of which featured braising, I found this recipe and video.  It's a bit of twist on the traditional recipe in that the chicken is roasted rather than braised.  Additionally, the addition of potatoes and onions make it  a one-pan meal. It's my kind of recipe…
Easy.
I like easy. Especially on weeknights!

Roasted Chicken in Potacchio
Recipe type:
Entree; One Pan Meal
Prep time:
Cook time:
Total time:
The key to a mess-free meal is to keep it simple, and it doesn't get much simpler than a full meal in one pan!
Ingredients
1 (3½ - 4 pound) chicken (trimmed and patted dry)
2 - 3 tablespoons extra virgin olive oil
Kosher salt and freshly ground black pepper
6 medium new potatoes (quartered)
6 small sprigs rosemary
1 large onion (cut into 8 wedges)
1 cup crushed canned tomatoes
1 cup dry white wine
Pinch of cayenne pepper
Instructions
Heat the oven to 375°F.
Rub the chicken all over with a tablespoon or two of olive oil and season it well with salt inside and out. Add a pinch of cayenne to inside and outside of chicken. Put the chicken in a large roasting pan (you want some room around the chicken to hold the vegetables in a single layer). Add the potatoes, rosemary, onion, tomatoes, and wine to the roasting pan around the chicken. Drizzle a tablespoon or so of olive oil.
Roast the chicken until done, periodically basting it with the liquid that accumulates, 1 to 1½ hours depending on the size of the bird. (When cooked through, the juices that result from pricking the thigh will run clear and a thermometer inserted in the thigh will read 170°F.) Let the bird sit for 10 minutes before carving.
To serve: Serve the chicken pieces with the potatoes and onions from the pan. Spoon out some of the tomato "sauce" and add that to the plate, too.
Notes
If you watch the video, red pepper flakes are used to season the bird, but the recipe calls for cayenne pepper (which I took to mean as crushed red pepper). I seasoned the bird inside and out with the crushed cayenne, then sprinkled red pepper flakes over the bird, tomatoes, onions and potatoes before roasting.

Let the chicken come to room temperature before roasting to ensure even cooking and moistness
The chicken turned out beautifully.  Roasting the tomatoes, wine, and red pepper transformed them into a chili sauce like sauce that's a little sweet and a little spicy. Likewise roasting the onion and potatoes carmelizes them and makes them a bit sweeter and tastier.
Whenever I roast a chicken I'm concerned the breast meat will dry out, but the even the breast meat was moist and juicy!
It's was delicious…and easy…I'll be making it again!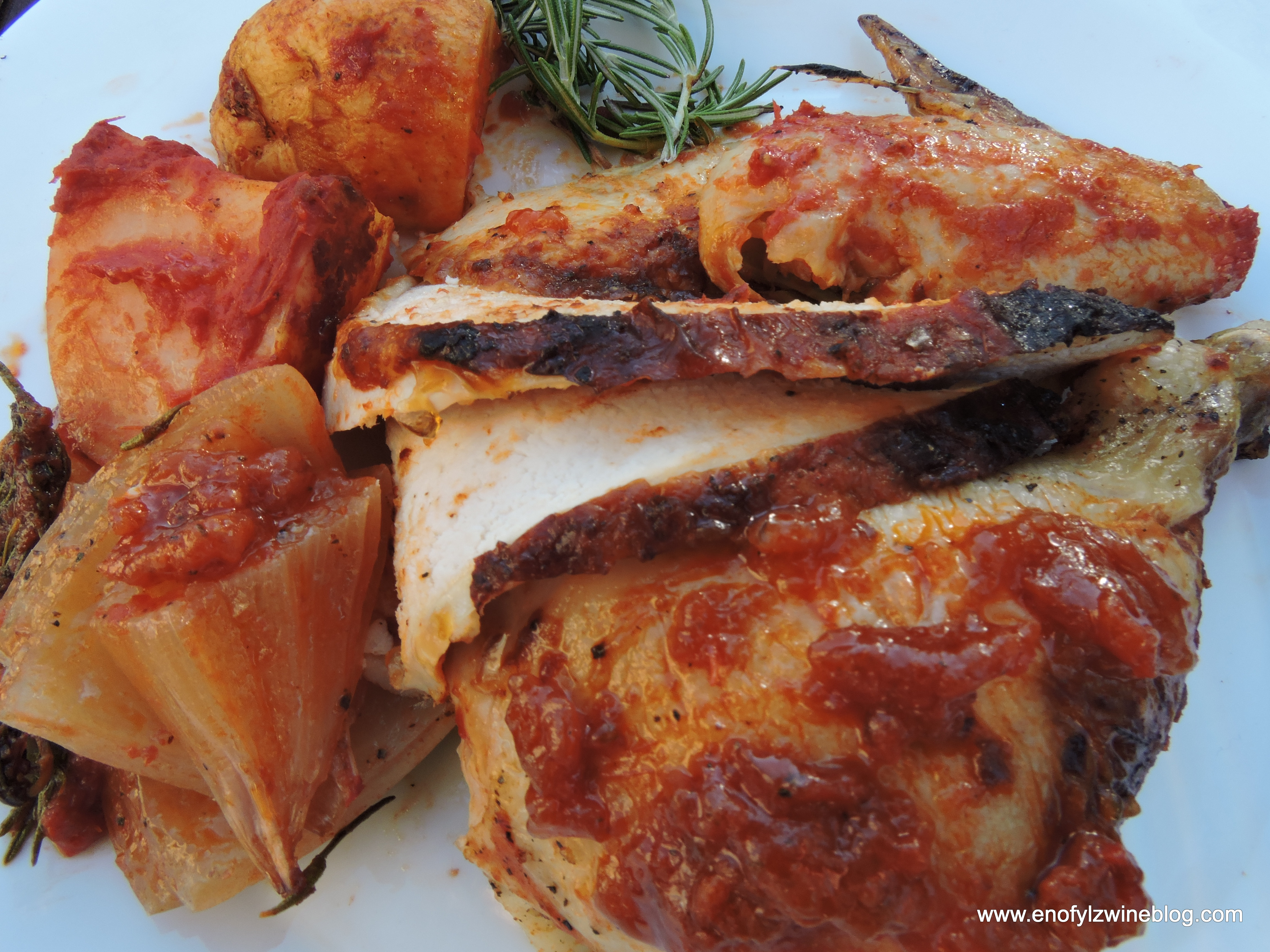 In my Glass
I often use my Wine Bible by Karen MacNeil as a resource when researching wine regions.
Le Marche wasn't in the Wine Bible.
The wine for which Marche is best known, Verdicchio wasn't in the Wine Bible.
I checked my "Concise World Atlas of Wine" by Huge Johnson and Jancis Robinson.   The Marche didn't do much better there. It warranted a paragraph about Verdicchio dei Castelli di Jesi, which, at least,  included this:
..it is the Verdicchio grape that is responsible for the most exciting white wines.
This might be because the most well-known wine from the Marche used to be wine in green bottles shaped like fish…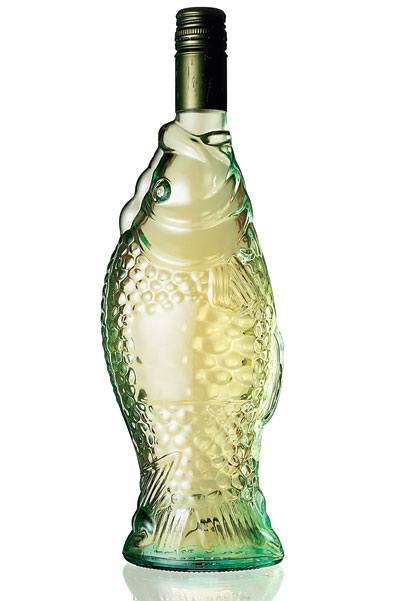 But that's the way Verdicchio used to be back in the day. It was cheap, easy, and cleverly packaged. Ultimately, it suffered the same indignity as Chianti in straw bottles.
However, the world's diminished interest in the wine was a blessing.  Winemakers had spent those lost years quietly improving their grape quality, equipment, and techniques. Today, thanks to push toward quality and renewed interest in native Italian grape Verdicchio is to be taken more seriously.
Relatively unknown outside of Italy, Le Marche is a thriving wine production region boasting 12 DOC and 2 DOCG wines. The best known of these wines is the Verdicchio dei Castelli di Jesi, an outstanding white wine from the province of Ancona. – winesearcher.com
My wine the 2011 Sartarelli Verdicchio dei Castelli di Jesi "Tralivio" is produced by Sartarelli, a Verdicchio specialist based in the village of Poggio Dan Marcello.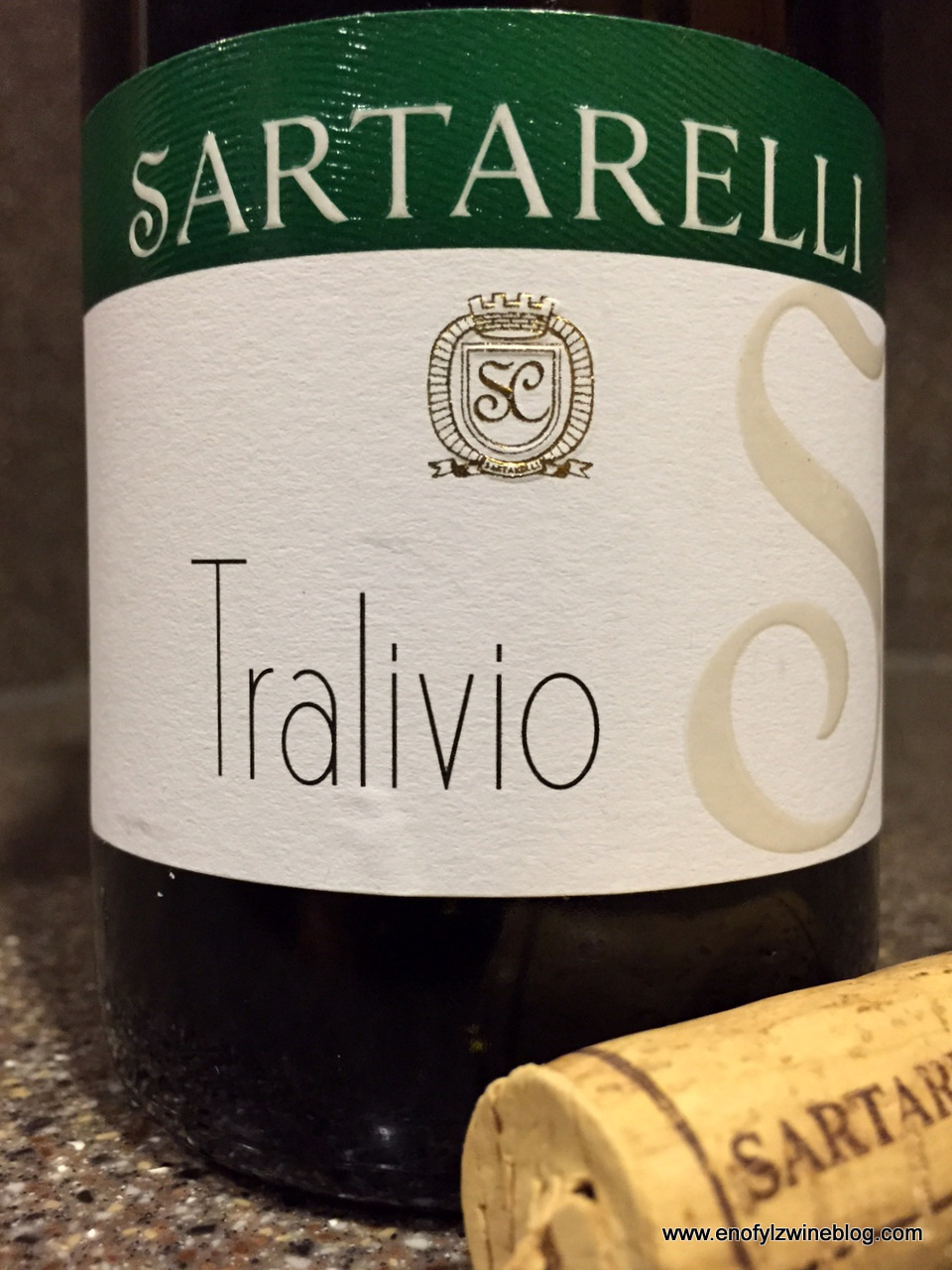 My tasting notes follow:
Deep straw yellow color with green nuances in the glass with low-key stone fruit, apple, almond skin, lees, and crushed rock aromas. On the palate it's medium-bodied, and dry, with vibrant acidity and a luscious mouth-feel. A wonderful combination of refreshment and substance.  It shows white peach, apple and lemon zest flavors balanced by a mineral tang with a lingering finish 13.5% alcohol. $15 retail
I was a bit apprehensive about pairing a white wine with a tomato sauce based dish, but the Verdicchio was a fine pairing with the Chicken in Potacchio!  I'd say it's a classic "what grows together, goes together" match!
Join us live on Twitter today at 8am PST and throughout the weekend at #ItalianFWT and share your experiences of the Marche region in Italy.
Want more of Marche? Check out what my fellow #ItalianFWT bloggers have
Join us next month Saturday June 6th as we explore the Campania region in Italy.  If you would like to join our group email Vino Travels directly at vinotravels at hotmail dot com.  Ciao ciao for now!
_________________________________________________________________
Martin Redmond is a Financial Executive by day, and a certified wine geek with latent foodie tendencies the rest of the time. In addition to the wine lifestyle and food he enjoys family, fitness and traveling. He likes to get thoughts of wine off his mind by sharing experiences on his ENOFYLZ Wine blog, which features wine reviews, wine country travel, and wine and food pairings.
Follow me on Twitter @martindredmond for all things wine, and since I'm a wino, with latent foodie tendencies, you'll also find food and wine pairings, and food related stuff! Become a fan and join ENOFYLZ Wine Blog on Facebook. Cheers! This article is original to ENOFYLZ Wine Blog.com. Copyright 2015 ENOFYLZ Wine Blog. All rights reserved.