Over the course of a week, my wife and I drink a bunch o'wine – almost always with food. Since I've always been fascinated by wine at the table with food, I thought it would be fun to recap not only the wines we've been drinking, but also how they pair (or don't pair) with the foods at our table.  It features my pick for Wine of the Week – a  wine I particularly enjoy, whether it's something new and different, is a great value, or from a producer worth checking out; for the week ended April 19th, 2015.
2011 Loring Wine Company Pinot Noir Santa Lucia Highlands – Retail $25
Ruby color with muted earth, plum, cranberry and spice aromas. A tad hot. On the palate, it's medium-bodied with a supple texture and plum, cranberry, and spice flavors. Medium finish. Very good; 86-88 pts
2013 Copain P2 – Retail $25
Interesting 50/50 blend of Pinot Noir and Pinot Gris. Reminds me a bit of Beaujolais. Strawberry, a bit of cherry and hints of floral and spiced orange rind aromas. Strawberry, spice mineral palate with a bit of tannins. Very nice chillable red that very good on its own, but really shines with food! Very Good to Outstanding; 89-91 pts
2010 Bedrock Wine Co. Syrah Sonoma Coast – Retail $20
Dark ruby color with black fruit, charcoal, olive and a bit of violet aromas. On the palate, it's fresh with well-integrated dusty tannins and an appealing smooth texture with high-toned blackberry , plum, a hint of black raspberry, bittersweet chocolate flavors, and a lingering savory graphite laced finish. 14.4 alcohol Very Good to Outstanding; 89-91 pts
Wine of the Week 
It was a busy week for us!  We went out three night to either an event or dinner with friends.  Which means we didn't drink as much wine as we usually do.  The standout Wine of the Week is the 2010 Bedrock Wine Co. Syrah Sonoma Coast. 
Bedrock Wine Co. ("BWC") was founded in 2007 by Morgan Twain-Peterson in a 550 square-foot, former chicken coop with 8 foot ceilings and no fermentation space. After six years of Bedrock being a one-man-show, Morgan was able to talk his best friend, Chris Cottrell, into moving to California from New York to join him a couple of years ago.  They now happily have a little more space to move around in but share the same objectives that guided the winery at the start.
The winery's objectives are:
To channel the fruit of ancient vines into powerful, elegant, and distinctly Californian wines. They make fabulous field blends!
To spread the gospel of Syrah in California by sourcing fruit from great terroirs throughout the North Coast. This wine is exhibit "A" .  It offers amazing value, and makes me want to drink more Syrah
To proclaim the greatness of Sonoma Valley Cabernet Sauvignon by sparing no expense on wines of uniqueness and personality.  A Bedrock Cab won our wine tasting clubs blind tasting a couple of months ago in a landslide!
To reclaim rose' from the excesses of saignee and focus on precision, delicacy, aromatics, and food friendliness.  BWC makes a vin gris style  rosé that is a perennial favorite!
To make fascinating and quixotic white wines from unique sites and interesting varietals.  BWC makes an outstanding Albariño, as well as other distinguished white wines
To dream big but keep production low!  Not mentioned here, but they've managed to keep the prices very fair (so far) even as demand for their wines is increasing.
I'm a fan…Bedrock is crushing it in my book!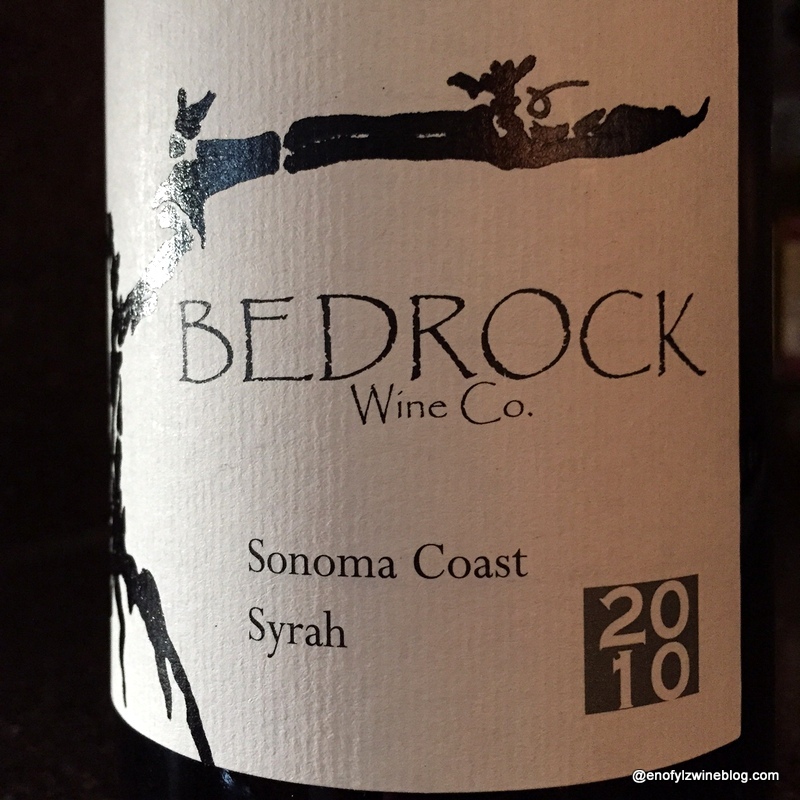 What was your Wine of the Week?  Any killer Food and Wine pairings?
Follow my wine reviews on Vivino and Delectable
Note. All wines were purchased for review unless otherwise indicated
_________________________________________________________________
Martin Redmond is a Financial Executive by day, and a certified wine geek with latent foodie tendencies the rest of the time. In addition to the wine lifestyle and food he enjoys family, fitness and traveling. He likes to get thoughts of wine off his mind by sharing experiences on his ENOFYLZ Wine blog, which features wine reviews, wine country travel, and wine and food pairings.
Follow me on Twitter @martindredmond for all things wine, and since I'm a wino, with latent foodie tendencies, you'll also find food and wine pairings, and food related stuff! Become a fan and join ENOFYLZ Wine Blog on Facebook. Cheers! This article is original to ENOFYLZ Wine Blog.com. Copyright 2015 ENOFYLZ Wine Blog. All rights reserved.