My wife and I do more than our fair share of wine tasting.  We've hit all the major wine regions in California (and a few minor ones too;-), along with some tasting in Oregon and Spain, and Champagne.
From time to time, we have a wine tasting experience that stands above the rest, and is everything we're looking for – great wine and commendable service in a relaxed unpretentious environment. It's those experiences that are the focus of this No Reservations series.
Why No Reservations?  Because I can honesty say I have no reservations about recommending the winery to anyone who is looking for a great wine tasting experience!
The latest in this series features Smith Madrone Vineyard and Winery in the Spring Mountain District of the  Napa Valley. 

My complete review of Smith-Madrone, including history, a recap of the tasting experience – including reviews of wines tasted may be found at the American Winery Guide's website.
From the winery…At Smith-Madrone our goal is to make artisanal wines which are distinctive and are an expression of both the vintage and us, as vintners, but above all else, are wines which bring pleasure to the senses. Every year our wine is made from the same vineyards, pruned by the same people in the same way, cultivated in exactly the same manner and harvested at similar levels of maturity, yet Mother Nature stamps each vintage with a unique set of flavors, senses and character. Vintage dating is a celebration of that uniqueness and diversity.
 All wines made entirely from the winery's estate vineyards surrounding the winery on top of Spring Mountain in the Napa Valley. Stuart Smith chose specific slopes with different exposures for specific varietals when planting the vineyards: eastern exposure for Riesling, southern and western exposures across flat stretches for the Cabernet Sauvignon and the coolest north-facing slopes for the Chardonnay. There are numerous historical sights on the ranch, as well as the huge array of natural beauty and wildlife.
The vineyards sit at elevations between 1,300  and 2,000 feet, on steep slopes which range up to 34%.
Current Releases
The current releases and my tasting notes follow:
2011 Smith Madrone Cabernet Sauvignon
A blend of Cabernet Sauvignon 83%, Merlot 7% & Cabernet franc 10% from 39 year-old vines. Aged 19 months in French oak barrels; 1,070 cases produced; 14.3% alcohol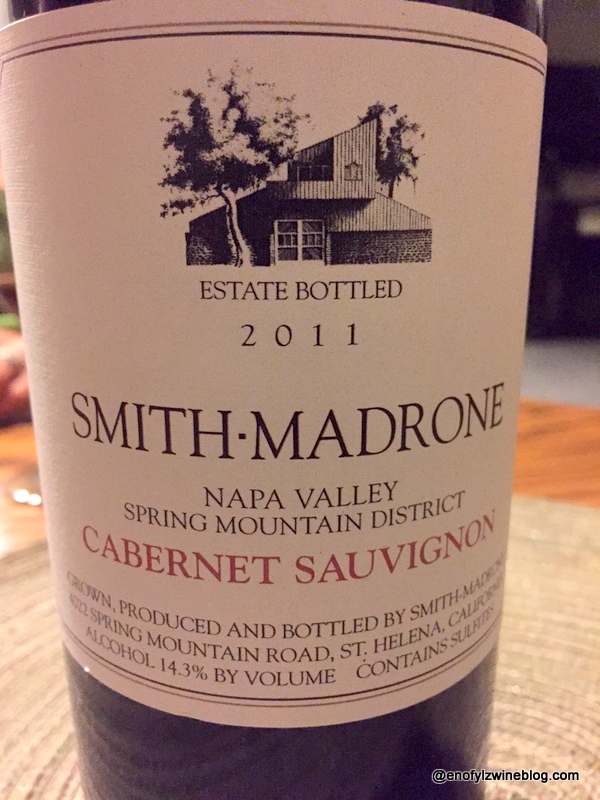 Dark Ruby color with exuberant cassis, tobacco, cedar, plum, spiced black cherry, and a bit of eucalyptus aromas. On the palate it's medium-bodied and well-structured with ample cassis, black cherry, tobacco, and a bit of mineral flavors. Medium-Long finish  Outstanding; 92-95 pts
 2012 Smith Madrone Chardonnay
100% Chardonnay from 40 year-old vines.  Aged 8 months in 100% new French Oak.  779 cases produced; 14.2% alcohol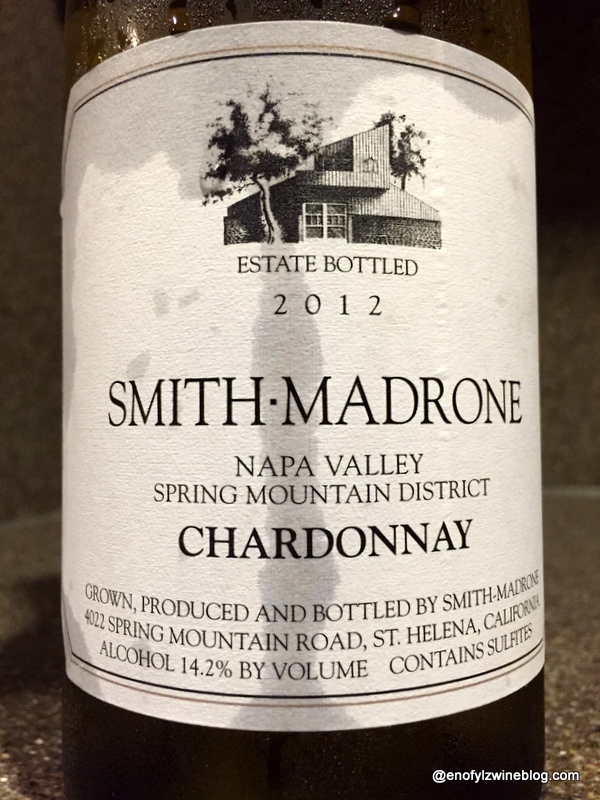 Pale lemon yellow color with promising green apple, pear. lemon cream, and limestone aromas. On the palate it's medium-bodied, fresh and harmonious with a creamy texture, and apple, pear, lemon zest, vanilla, a kiss of tropical fruit, and subtle spice flavors. Lingering finish  Outstanding; 92-95 pts
2013 Smith Madrone Riesling
100% Riesling from 41 year-old vines; 1,288 cases produced; 12.6% alcohol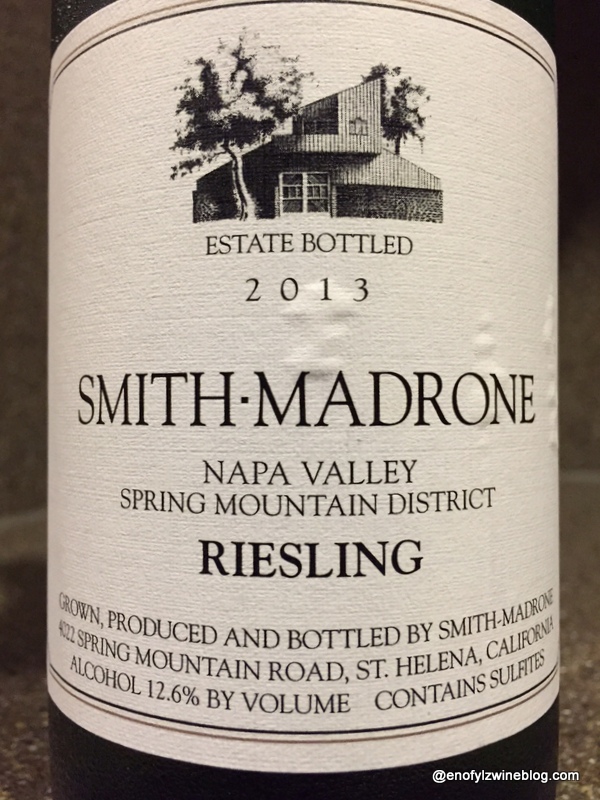 Very pale green color with wet stone. lime, stone fruit, quince and a hint of lychee aromas. On the palate medium-bodied, elegant, and harmonious with mouth-watering acidity and a great texture with very appealing white peach, lime, melon, a bit of lemon and apricot flavors and a complementary minerality. Lingering finish.Very Good to Outstanding; 89-91 pts
I highly recommend these wines and a visit to Smith-Madrone!
Samples provided for review. Many thank to Julie Ann Kodmur!
_________________________________________________________________
Martin Redmond is a Financial Executive by day, and a certified wine geek with latent foodie tendencies the rest of the time. In addition to the wine lifestyle and food he enjoys family, fitness and traveling. He likes to get thoughts of wine off his mind by sharing experiences on his ENOFYLZ Wine blog, which features wine reviews, wine country travel, and wine and food pairings.
Follow me on Twitter @martindredmond for all things wine, and since I'm a wino, with latent foodie tendencies, you'll also find food and wine pairings, and food related stuff! Become a fan and join ENOFYLZ Wine Blog on Facebook. Cheers! This article is original to ENOFYLZ Wine Blog.com. Copyright 2015 ENOFYLZ Wine Blog. All rights reserved.