Over the course of a week, my wife and I drink a bunch o'wine – almost always with food. Since I've always been fascinated by wine at the table with food, I thought it would be fun to recap not only the wines we've been drinking, but also how they pair (or don't pair) with the foods at our table.  It features my pick for Wine of the Week – a  wine I particularly enjoy, whether it's something new and different, is a great value, or from a producer worth checking out; and my Food and Wine Pairing of the Week for the week ended April 12th, 2015.
2012 Broc Cellars Cabernet Franc Central Coast – Retail $20
Dark ruby color with low-key cherry, cassis, bell pepper, and some herbal notes. On the palate, it approaches medium-bodied and is fresh, and soft with juicy black cherry, and cassis flavors with dusty sweet tannins. Gulpable and delicious! Very good value at $20
Blend of 85% Cabernet Franc and 15% Cabernet Sauvignon 12% alcohol Very good; 86-88 pts

2011 Tablas Creek Côtes de Tablas Blanc – Retail $27
Pale gold color with honeysuckle, peach, melon, honey aromas. On the palate it's medium-bodied, dry and broad with racy acidity and an appealing hint of tannins. It shows peach, melon, honey, and a hint of spice flavors with an appealing combination of salinity and wet stone minerality on the long finish. Blend of 27% Viognier, 26% Grenache Blanc, 25 % Marsanne, and 22% Roussanne. 13.1% alcohol Very Good to Outstanding; 89-91 pts
2013 Dashe Cellars Zinfandel Les Enfants Terribles Heart Arrow Ranch – Retail $24
Dark ruby color with earthy plum, and black cherry aromas. On the palate it's light-bodied, fresh, gulpable with fine-grained tannins adn black cherry, black raspberry flavors and a pleasing crushed rock minerality. Very good; 86-88 pts
2011 Under The Wire Chardonnay Sparkling Brosseau Vineyard – Retail $55
Pale gold color with tiny bubbles and apple, spiced ginger, peach, and pastry dough aromas. On the palate, it s light, refreshing and appealing with tart apple, peach, and hints of pear, lemon and ginger flavors with an appealing minerality. It improved with some time in the glass to warm up. It's young. My bet is that given time it will improve with age. Very Good to Outstanding; 89-91 pts
Wine of the Week + Food and Wine Pairing of the Week 
My Wine of the Week is the 2012 Broc Cellars Cabernet Franc Central Coast.  Broc Cellars is a small urban winery located in Berkeley, California.  Click here for a NYT piece on Broc Cellars and Chris Brockway, the proprietor, by Eric Asimov.
I became acquainted with Broc Cellars a couple of years ago when a fellow wino recommended his 2012 Broc Cellars Zinfandel White Zinfandel Arrowhead Mtn.  Broc's version is anything but the overly sweet, overly confected White Zins which have given White Zin a bad reputation.  It was fantastic stuff. In fact, it's one of the best White Zins I've ever had. I picked up a few other bottles that day. All were wonderful and all offered tremendous value. 
Fast forward to V-Day this year.  My wife and I stomped in to check out their new digs, taste some wine and an art show.  We picked up a few bottles including this one.
From the winery…"sourced from 2 vineyards located within the Central Coast appellation, Happy Canyon in Santa Barbara and Santa Margarita in Paso Robles. The 2012 Cab Franc is 100% whole cluster giving the wine a softer/fleshier texture, plus 15% 2013 Cabernet Sauvignon that's completely destemmed.  This give the wine more medium bodied, Bordeaux nuance as opposed to my single vineyard bottlings of Cabernet Franc which are more Loire – inspired".
I'm a huge fan of Cabernet Franc and this was such an alluring and delicious wine for me. It's offers great value too.  wish I'd bought more!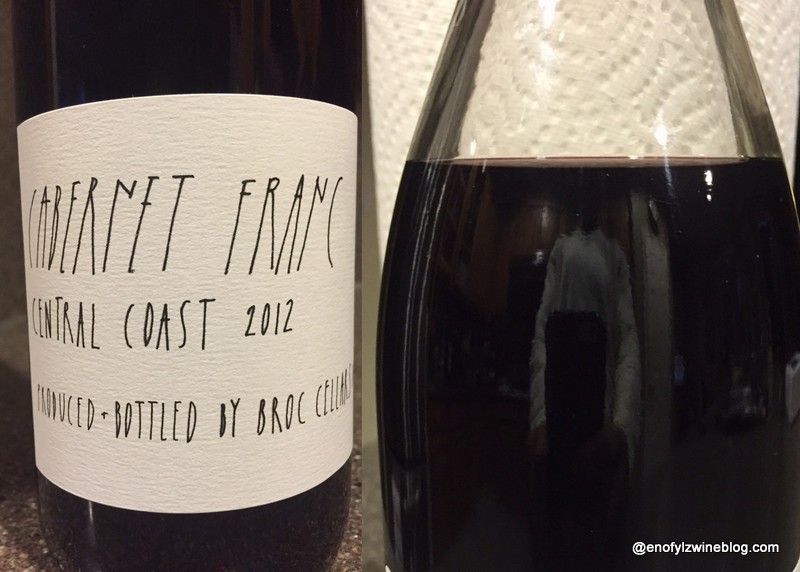 My Food and Wine Pairing of the Week was a pleasant surprise.  It was a crazy week with a lot of long hours.  We ended up eating out a couple of times.  We had Bánh mì one night.  I had Tofu and my wife had chicken.  The 2013 Dashe Cellars Zinfandel Les Enfants Terribles Heart Arrow Ranch was fantastic paired with the Bánh mì!. This wine is though isn't your classic California Zin.  It tastes like a richer version of a Beaujolais.  It shows an appealing earthiness and minerality, blended with the warm, sweet red fruit. It's a great food wine.  Plus it's chillable.  It's one of my favorite spring/summer reds! 

What was your Wine of the Week?  Any killer Food and Wine pairings?
Follow my reviews on Vivino 
Note. All wines were purchased for review unless otherwise indicated
_________________________________________________________________
Martin Redmond is a Financial Executive by day, and a certified wine geek with latent foodie tendencies the rest of the time. In addition to the wine lifestyle and food he enjoys family, fitness and traveling. He likes to get thoughts of wine off his mind by sharing experiences on his ENOFYLZ Wine blog, which features wine reviews, wine country travel, and wine and food pairings.
Follow me on Twitter @martindredmond for all things wine, and since I'm a wino, with latent foodie tendencies, you'll also find food and wine pairings, and food related stuff! Become a fan and join ENOFYLZ Wine Blog on Facebook. Cheers! This article is original to ENOFYLZ Wine Blog.com. Copyright 2015 ENOFYLZ Wine Blog. All rights reserved.