I attended the 18th Annual Rhone Rangers Celebration of American Rhone Wines  held March 27th and 28th at the Craneway Pavilion & Conference Center.  I attended the events held at the on March 28th, which featured a  two course Seminar Series and the Grand Tasting.
I'll cover my experience at the two seminars: "Rosés made from Rhone Varietal Grapes" and "American Rhone Wines: See How They Age" in this post.
I'll recap the Grand Tasting in a separate post.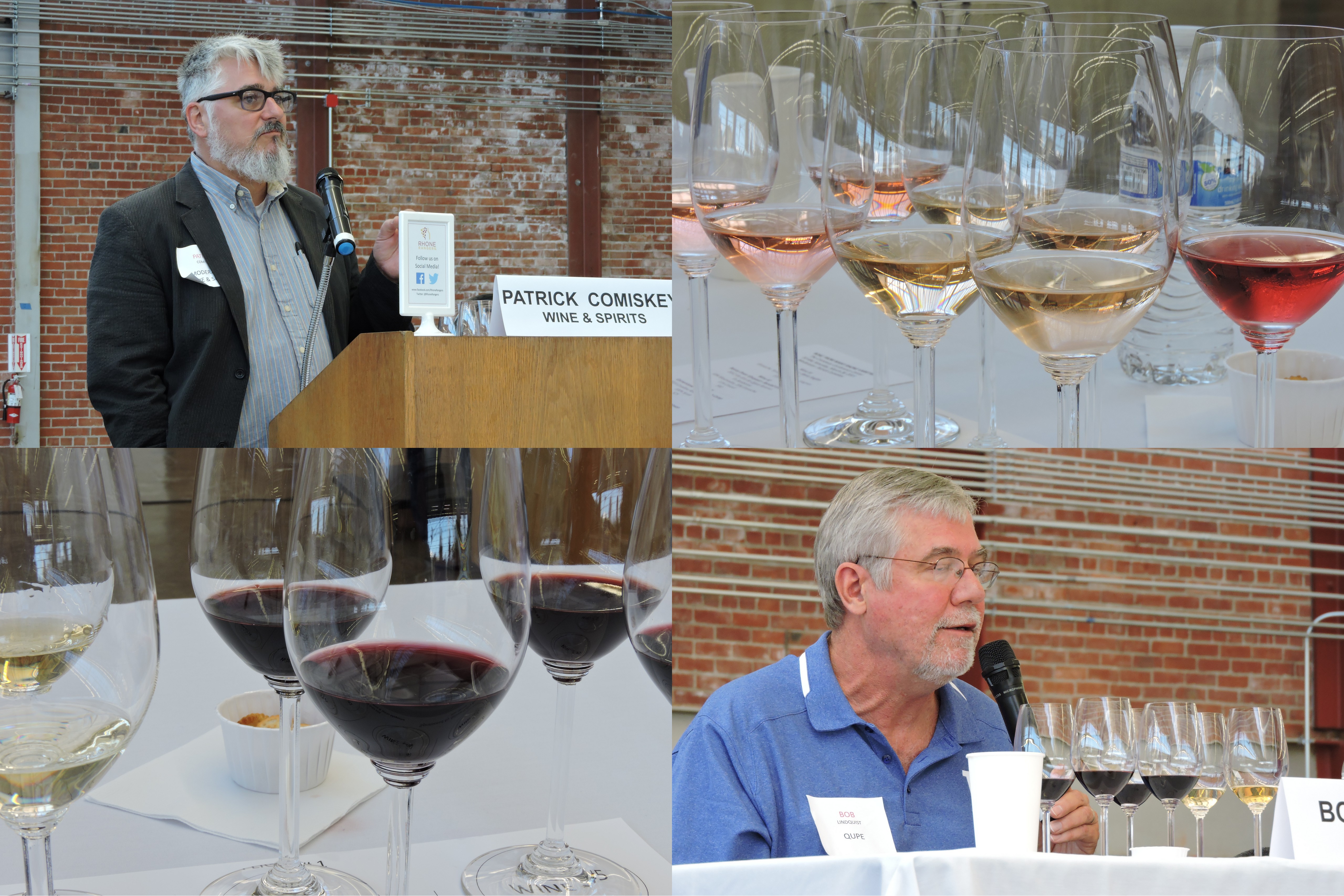 The seminars were moderated by Patrick Comiskey, of Wine & Spirits Magazine. Both seminars featured distinguished panelists interacting with both Patrick and the audience.
While Rose is made all over the world, the Rhone Valley seems to be the home of its heart and soul – Patrick Comiskey
Rosés made from Rhone Varietal Grapes
First let me say that if you adore rosé wines, as I do, there are not many better ways to start your day than tasting 8 wonderfully delicious and diverse rosés!
Good rosé must quench the thirst, first of all. Even better, it ought to energize, inspire an appetite and induce the desire for another sip. -Eric Asimov
There was geographic diversity with the wines sourced from fruit from Paso Robles, Monterey County, Contra Costa County, Napa Valley, Sonoma County, El Dorado County, Santa Barbara County and Oregon.  While most of the wines were blends of various Rhone grape varieties, there were a few that were made from a single Rhone grape variety.
The seminar panelists were as diverse as their wines.   While most have been making rosé for decades and before it was "cool", there were a few who've been making rosé a relatively short period of time.
The seminar (and panelists) featured the following rosés
2014 Anglim Rosé (Steve Anglim)
2012 Bonny Doon Vineyard Vin Gris de Cigare Reserve (Randall Grahm)
2013 Cornerstone Cellars Syrah Stepping Stone Corallina Rosé (Craig Camp)
2014 Field Stone Petite Sirah Rosé Heritage Block (Jason Robinson)
2013 Kale Wines Rosé (Ranko Anderson)
2014 Quady North (Herb Quady)
2014 Sierra Vista Grenache Rosé (John MacCready)
2014 Tercero Mourvedre Rosé (Larry Schaffer)
Patrick's first question to the panelist was"Why do you making rose and what are you after when you're making it?
The answers were interesting.  But essentially, I'd break down the responses into those who make rosé out of passion and those who are capitalizing on the rising popularity of rosé.
It was interesting to note that regardless of the motivation behind the genesis for making rosé, many of the winemakers have evolved over the years (and continue to do so) from making one style of rosé to another.
I started out making rosé for the wrong reasons, luckily I managed to correct that misguided behavior.  I originally started making pink wines as a way of making my red wines darker, more profound, and more critic friendly  This was misguided in retrospect – Randall Grahm
Another aspect of the seminar I found interesting was the distinction being drawn between vin gris (which some rosé are called) and rosé.  Randall Grahm of Bonny Doon Vineyards, and one of the pioneers of the Rhone movement in California since the late 1980s,  described a "proper vin gris" as the lightest pressings of red grapes made from grapes that are bespoke for the wine, you actually end up making a more subtle, complex, and interesting wine..that intrigues your customer that actually beguiles them and draws them into the wine rather than hits them over the head.  He went on to elaborate about the difference between vin gris and rosé by stating Vin gris and rosé are different. They have different meanings.  Some of it is regional.  Vin gris is a style that typically originates in Provence.  It's paler in color, lower in alcohol, a little higher in acidity, and not as overtly fruity.
So…Is vin gris about how the wine is produced, or about style? I think for Grahm it's both.  My sense of it is that most winemakers, nor consumers are not nearly as persnickety about the distinction as Grahm.
As I considered Grahm's definition of vin gris, and began to think about some of my favorite pink wines,  I realized that most are in fact what Grahm would define as vin gris (though most are not labeled as such). In that sense, the distinction is meaningful for me.
Having said that, I've also had some saignée rosé that I enjoyed more than certain vin gris rosé because I found the vin gris too austere for my palate.
Of course,  no seminar with winemakers would be complete with out some geeking out about wine – stuff like terroir, pH, residual sugar, clone selection, rootstock, vineyard slope orientation and the almost obligatory suitcase clone tale complete with the promise of anonymity.
My favorite wines from the tasting were the Bonny Doon Vineyard Vin Gris de Cigare Reserve, the Sierra Vista Grenache Rosé , and the Tercero Mourvedre Rosé.
As I recollect upon favorites,  which foods I think they'd pair well with comes to mind. The Bonny Doon was so savory, and broad with a great mouth feel. It's a rosé I'd pair with Oyster Po'Bao, a mash-up of an Oyster Po Boy and a Chinese Bao with pork belly and plum sauce along with the fried oyster. The Sierra Vista on the other hand showcased a combination of red fruit, plenty of spice, a bit of smoke and interesting umami to the party and brought goat cheese mac and cheese to mind.  I loved the roundness, lively red fruit, and spice of the Tercero and would love to have it with Shrimp and Grits!
The seminar was a fantastic showcase for the diversity of Rhone-based rosés.
American Rhone Wines: See How They Age
This seminar featured both new releases and library releases from six wineries, so that one can see how the wines age over time.
The wines were presented in two flights of 3 presenters/6 wines for each flight as follows:
Flight #1
2005 Qupé Marsanne
2013 Qupé Marsanne
2002 Lagier Meredith Syrah
2012 Lagier Meredith Syrah
1998 Domaine de la Terre Rouge Syrah Pyramid Block Sentinel Oak
2008 Domaine de la Terre Rouge Syrah Pyramid Block Sentinel Oak
Flight #2
2003 Silver Wines SyrahTrentotto File
2010 Silver Wines Syrah Trentotto File
2003 Tablas Creek Esprit de Beaucastel
2012 Tablas Creek Esprit de Beaucastel
2002 Ridge Petite Sirah Lytton Estate
2012 Ridge Petite Sirah Lytton Estate
Before I go any further, I must make a confession…
I had my recorder turned on for the Rosé seminar. But I forgot to turn it on for the Aging seminar until the last couple of wines from Ridge were being discussed.  Therefore, no quotes from the winemakers or detailed notes about their wines.
My excuse?  Well it least it's a good one…
I was too busy enjoying the outstanding wines presented!
Here what I can tell you. For nearly every wine, I preferred the more mature wine.
My favorites from the tasting were
2005 Qupé Marsanne
1998 Domaine de la Terre Rouge Syrah Pyramid Block Sentinel Oak
2003 Tablas Creek Esprit de Beaucastel
2002 Ridge Petite Sirah Lytton Estate
It rare that one gets to taste a library side by side with the new release of the same wine.  I certainly appreciated the opportunity to do so at the seminar.
Now if I only had the discipline to lay down my Rhone wine!  Until then…I need to start asking about library wines!
Coming soon…my recap of the Grand Tasting!
Related posts your might enjoy: