Over the course of a week, my wife and I drink a bunch o'wine – almost always with food. Since I've always been fascinated by wine at the table with food, I thought it would be fun to recap not only the wines we've been drinking, but also how they pair (or don't pair) with the foods at our table.  It features my pick for Wine of the Week – a  wine I particularly enjoy, whether it's something new and different, is a great value, or from a producer worth checking out; and my Food and Wine Pairing of the Week for the week ended April 5th, 2015.
2010 Steven Kent Winery Cabernet Sauvignon – Retail $48
Dark ruby color with plum skin, dark cherry, low-key spice, dark chocolate, and cedar wood aromas. On the palate it's medium-bodied, lush and concentrated with solid acidity and plum, blackberry, black cherry, cassis, dark chocolate and vanilla flavors with well-integrated dusty sweet tannins. Medium finish. Blend of 85% Cabernet Sauvignon (from the Home Ranch, Ghielmetti Estate, and Smith vineyards), 12% Petit Verdot, and 3% Merlot. Aged 24 months in 75% new oak, a blend of 52% French, 43% American, and 5% Hungarian barrels. Very good; 86-88 pts
2013 Urban Legend Barbera Rosato di Barbera Holland Landing – Retail $19
Deep pink color with wild strawberry and low key wet stone aromas. It's more interesting on the palate. It approaches medium-bodied and is dry and fresh with strawberry, tart cherry,spice and mineral flavors. Medium finish Very good; 86-88 pts
2012 Smith Madrone Riesling – Retail $27
Very pale slightly green tinged straw color with appealing petrol, stone fruit, lime, wet stone, and a hint of lychee aromas. On the palate it approaches medium-bodied and is dry, clean, focused, and well-structured with peach, lime, passion fruit and mineral flavors. Long persistent finish. 12.5% alcohol. Made from 40 year old vines. Very Good to Outstanding; 89-91 pts
2010 Big Basin Vineyards Odeon – Retail $48 
Opaque violet color with very appealing baked and fresh dark fruit, smoke,marzipan and violet aromas. On the palate, it's full-bodied, and well structured, with very good acidity, dusty well-integrated tannins and a supple texture. It shows ample high-toned red currant, baked blackberry, black raspberry, spice and vanilla flavors with a roast coffee finish. 14.5% alcohol. Outstanding; 92-95 pts
2012 Vigneto San Vito – Orsi Pignoletto Colli Bolognesi Classico Vigna del Grotto – Retail $23
Slightly cloudy gold color (unfiltered) with lime zest, honeysuckle,and stone fruit aromas. On the palate, it's full-bodied, fresh, and very persistent with a wonderfully supple texture. Flavor-wise it shows white peach, lime, honey, a bit of lemon and a suggestion of persimmon flavors with a long mineral laced finish. Bottled unfiltered. Battonage during 6 months sur lie aging in large oak casks impart some complexity and a wonderful creaminess. 13% alcohol Very good; 86-88 pts
Wine of the Week + Food and Wine Pairing of the Week 
My Wine of the Week is from Big Basin Vineyards, which is a family owned and operated winery. Founder Bradley Brown is Winemaker and Proprietor (and Vineyard Manager)
Big Basin Vineyards was founded in 1998 on a historic site in the Santa Cruz Mountains next to Big Basin Redwoods State Park.  That's the location of their estate and winery.  They also have a tasting room in Saratoga, which is where I've always gone to taste and pick up wine (Note to self: I must make it up to the estate in the SC Mountains!).
Big Basin Vineyards is among the 32 of California's top Pinot Noir and Chardonnay producers to be represented at In Pursuit of Balance – one of the only wine tasting organizations in the US today that carefully selects it's members through juried blind tastings by respected professionals.
The 2010 Big Basin Vineyards Odeon is a blend of Cabernet Sauvignon and Syrah. The Cab was sourced from the Betchart Vineyard, directly across the road from Ridge's Vineyard's world famous Monte Bello vineyard, at 2,200 feet of elevation above Cupertino. The Syrah is from Coastview Vineyard at 2,300 feet in the Gabilan Mountains.
It's one of the best Cab/Syrah blends I've ever had!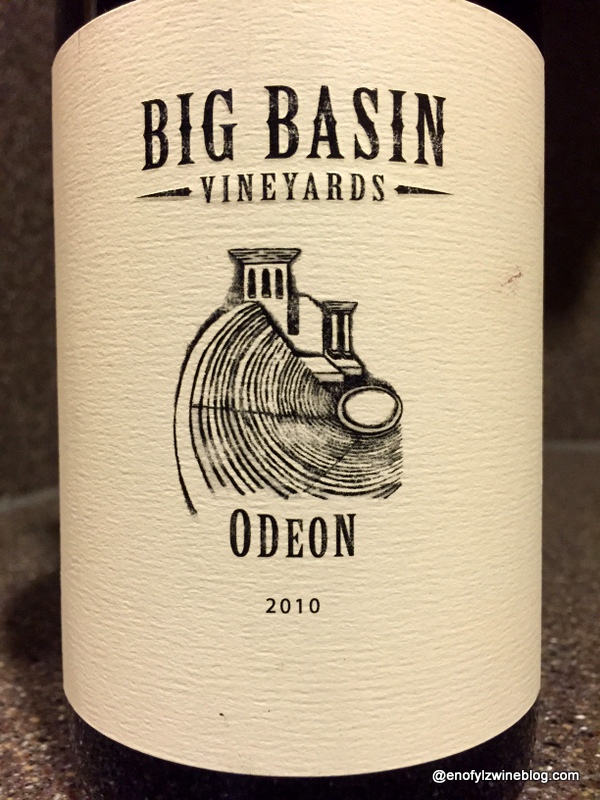 My Food and Wine pairing of the Week was the wine we had for our Easter dinner – the 2012 Vigneto San Vito – Orsi Pignoletto.  It paired beautifully with our dinner of Roasted Halibut, King Crab legs and a Spinach Salad. It's a wine a wine I discovered during my virtual tours of Italian wine regions with the #ItalianFWT group of food, wine and travel bloggers.  This Pignoletto, is a white grape variety indigenous to the Emilia-Romagna region. It's a fantastic wine – full-bodied, creamy and fresh.  Highly recommended!

What was your Wine of the Week?  Any killer Food and Wine pairings?
Follow my reviews on Vivino 
Note. All wines were purchased for review unless otherwise indicated
_________________________________________________________________
Martin Redmond is a Financial Executive by day, and a certified wine geek with latent foodie tendencies the rest of the time. In addition to the wine lifestyle and food he enjoys family, fitness and traveling. He likes to get thoughts of wine off his mind by sharing experiences on his ENOFYLZ Wine blog, which features wine reviews, wine country travel, and wine and food pairings.
Follow me on Twitter @martindredmond for all things wine, and since I'm a wino, with latent foodie tendencies, you'll also find food and wine pairings, and food related stuff! Become a fan and join ENOFYLZ Wine Blog on Facebook. Cheers! This article is original to ENOFYLZ Wine Blog.com. Copyright 2015 ENOFYLZ Wine Blog. All rights reserved.