One of the things I love most about food and wine is their ability to transport one to a different place.  And a  place's people, culture, and customs are reflected in its food and wine.  In that sense, one can virtually travel the world through food and wine.  And that is exactly what we are doing through Italian Food Wine and Travel (#ItalianFWT).  We taking a virtual tour of Italy by exploring its food and wines.  This month we're exploring Sicily!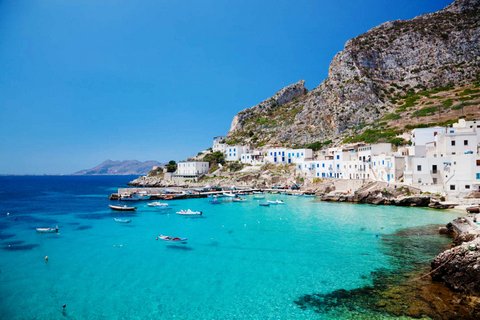 My #ItalianFWT journey has been amazing so far!  We've virtually traveled to Tuscany (with which I was familiar), Emilia-Romagna, and Alto-Adige (which I knew nothing or next to nothing about). And now Sicily – which I thought I knew something about,  but  it turns out, I knew very little about!
Among the island's innumerable charms, here are a few personal favorites: the ever-present scent of lemon trees, the purity of dawn light on terracotta walls, the colourful decrepitude of Palermo's markets, the drama of Stromboli erupting against a darkening sky, the sense that history lurks always just around the next corner, the reflective marble glow of late-night Ortygia and Marsala streets, the lonely majesty of Segesta, the exotic flavours of Sicilian food and the kindness of its people. – Gregor Clark for Lonely Planet
Admittedly, the first thing that came to mind when I thought of Sicily was the Mafia (thank you "The Godfather")
On how little I knew.
I knew about a few Sicilian dishes, that it is an island, Marsala, and of course the Mount Etna (a wine region on the rise!)  But once I started researching it…
Wow!  Such an amazing place (check out 10 Amazing Things You Should Know About Sicily, or for my foodie friends – 23 Sicilian Dishes To Die For)!
On my plate
Inspired by an episode of Giada de Laurentiis' Everyday Italian entitled "Sicilian Summer", and the summer-like temperatures in California these days (it was sunny and 80 degrees last weekend), I brought a bit of Sicily to California with this menu:
Tuna and Seabass Spiedini

 

(

the word spiedini is derived from an Italian food term for skewered meat, sort of like shish kebab)
I modified Giada's recipe by substituting half of the tuna with some great looking Chilean Sea Bass I found at Whole Foods, and cooking the dish on my Weber grill instead of the oven. 
Before…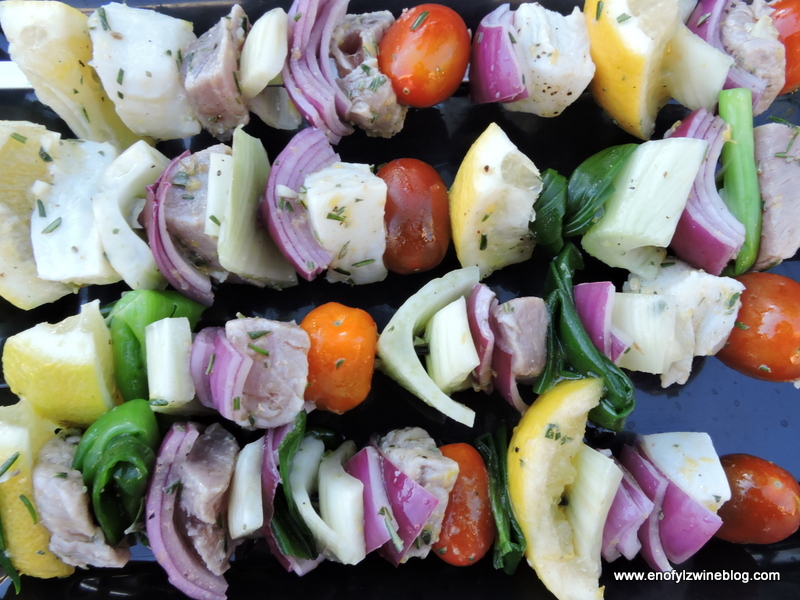 After…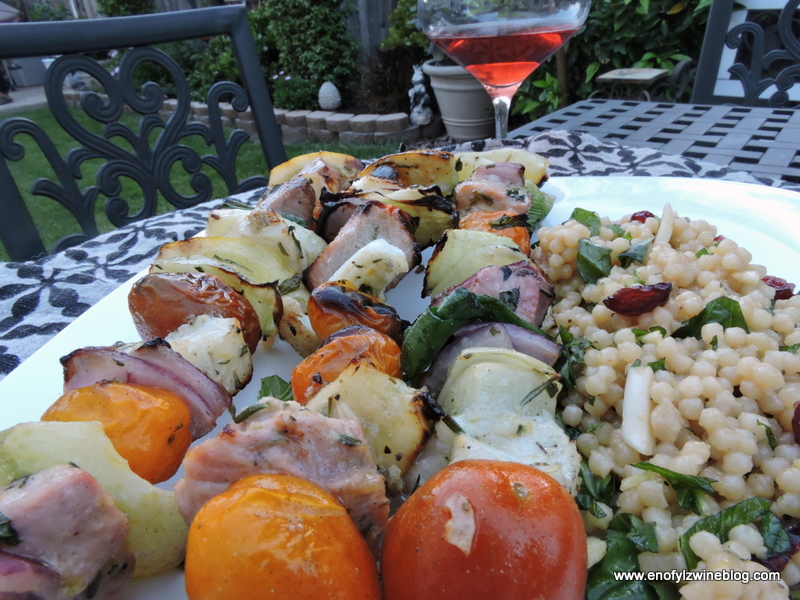 This was a perfect light meal for al fresco dining!
And the Spiedini served on top of the Mediterranean Salad?
Wow! The combination offers a tour de force of contrasting tastes and flavors!
You get little explosions of sweetness from the grilled tomatoes and the dried cranberries in the salad that are the perfect foil for the unami of the seafood.
You get the crunch of the almonds, and the grilled fennel, and onions.
There's a nice textural contrast between the grilled tuna which is firm,and the seabass which was more tender and succulent.
And the lemons (90% of Italy's lemons come from Sicily btw…) used for both the marinade for the seafood, and the salad adds a delightful citrusy brightness to the meal.
Despite my ongoing challenge with kebabs (I can never seem to get the meat, and veggies the same size – tips anyone?), this is definitely a "make again" for me!
The Talenti Sicilian Pistachi Gelato?  OMG!
In my Glass
I was fortunate to find a Sicilian Rosé at my favorite wine store.
I adore Rosés. They combine the best of white and red wines, while maintaining their own unique charm. They offer the crisp acidity, delicacy and freshness of white wines, and the body, and flavors of red wines.  And they're great at the table!
The  2013 Antichi Vinai "Petralava" Rosato hails from the Etna D.O.C.  It's a blend of Nerello Mascalese, and Nerello Cappuccio grapes grown in vineyards on the slopes of Volcano Etna in Castiglione di Sicilia and Randazzo districts.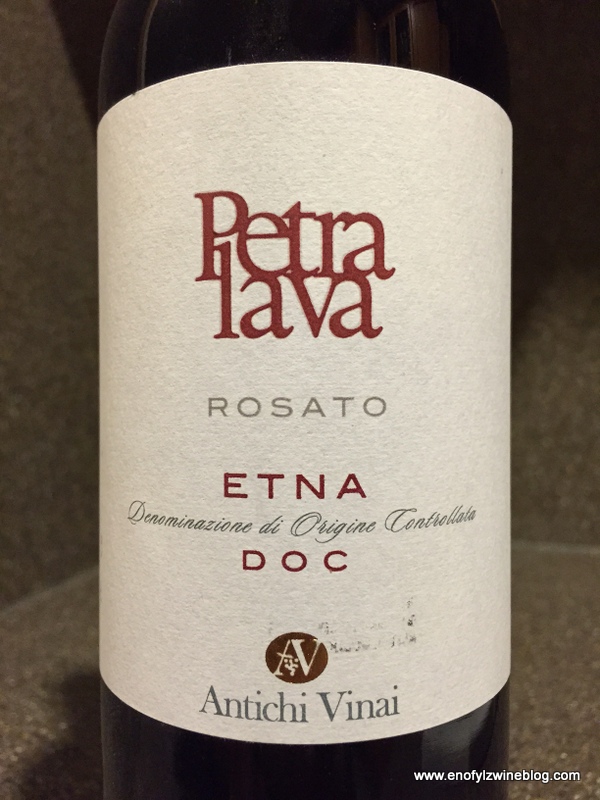 My tasting notes follow:
Ruby color with vinous red fruit, spice, wet gravel, and a hints of floral aromas. On the palate it's medium-bodied, dry and fresh with abundant cherry jolly rancher, strawberry, and spice flavors with complemented by an appealing minerality and fine-grained tannins. Lingering finish.  13% alcohol  Retail – $15
It paired wonderfully with our salad and entrée. What a great meal!
Ti amo la Sicilia! I'm hereby officially adding Sicily to my bucket list!
If you're ready to fall in love with Sicily too, there are lots more where that came from.  Check out my fellow bloggers and what they have to share on their sites.
We are live on twitter today and throughout the weekend at #ItalianFWT.  Join us and share your food, wine and travel experiences in Sicily; We'd love to hear from you!
_________________________________________________________________
Martin Redmond is a Financial Executive by day, and a certified wine geek with latent foodie tendencies the rest of the time. In addition to the wine lifestyle and food he enjoys family, fitness and traveling. He likes to get thoughts of wine off his mind by sharing experiences on his ENOFYLZ Wine blog, which features wine reviews, wine country travel, and wine and food pairings.
Follow me on Twitter @martindredmond for all things wine, and since I'm a wino, with latent foodie tendencies, you'll also find food and wine pairings, and food related stuff! Become a fan and join ENOFYLZ Wine Blog on Facebook. Cheers! This article is original to ENOFYLZ Wine Blog.com. Copyright 2015 ENOFYLZ Wine Blog. All rights reserved.