Over the course of a week, my wife and I drink a bunch o'wine – almost always with food. Since I've always been fascinated by wine at the table with food, I thought it would be fun to recap not only the wines we've been drinking, but also how they pair (or don't pair) with the foods at our table.  Includes my picks for  Wine of the Week; and Food and Wine Pairing of the Week for the week ended March 29th, 2015.
2013 Dashe Cellars Grenache Blanc – Retail $22
Gold color with a just a hint of haziness with quince paste, honey, sweet spice, baked stone fruits, aromas with a bit of earthiness. On the palate, it's full-bodied with a lush mouthfeel and lively acidity with ample quince, baked peach, honey and spice flavors with an appealing vein of minerality and a lingering sweet finish. 13.9% alcohol Very good QPR at $22! Very Good to Outstanding; 89-91 pts
2007 Ehlers Estate Merlot St. Helena – Retail $45
We purchased a couple of bottles of this wine while in Napa a few years back.  We consumed the other bottle about 2.5 years ago.  The wine has aged well. It's a violet color with blueberry, leather, graphite red currant, caramel and vanilla aromas. On the palate it's medium-bodied, elegant with great texture and good acidity with ample blueberry, red currant, vanilla and graphite flavors, and a lingering sweet finish Very Good to Outstanding; 89-91 pts
2010 Loring Wine Company Pinot Noir Santa Lucia Highlands – Retail $20
Ruby color with a hint of heat and cherry, spice, and caramel aromas on the palate its medium bodied and fresh with ample baked cherry, cranberry, cola, caramel and spice flavors. Med sweet finish. While I enjoyed it this wine, it was showing its age. Very good; 86-88 pts
2013 Antichi Vinai Etna Petra Lava – Retail $19.99
Ruby color with vinous red fruit, spice, wet gravel, and a hint of violet aromas. On the palate it's medium-bodied, dry and fresh with abundant cherry jolly rancher, strawberry, and spice flavors with complemented by an appealing minerality and fine-grained tannins. Lingering finish Very good; 86-88 pts
Wine of the Week + Food and Wine Pairing of the Week 
My Wine of the Week is the 2013 Dashe Cellars Grenache Blanc.  Dashe Cellars is an urban winery located in Oakland, CA.  My wife and have been in their wine club for many years. Come to think of it, it's the wine club we've been in the longest.
I think Dashe flies under the radar a bit, but Mike and Anne Dashe are great winemakers. They make very good to excellent wines that are well-structured and fairly priced.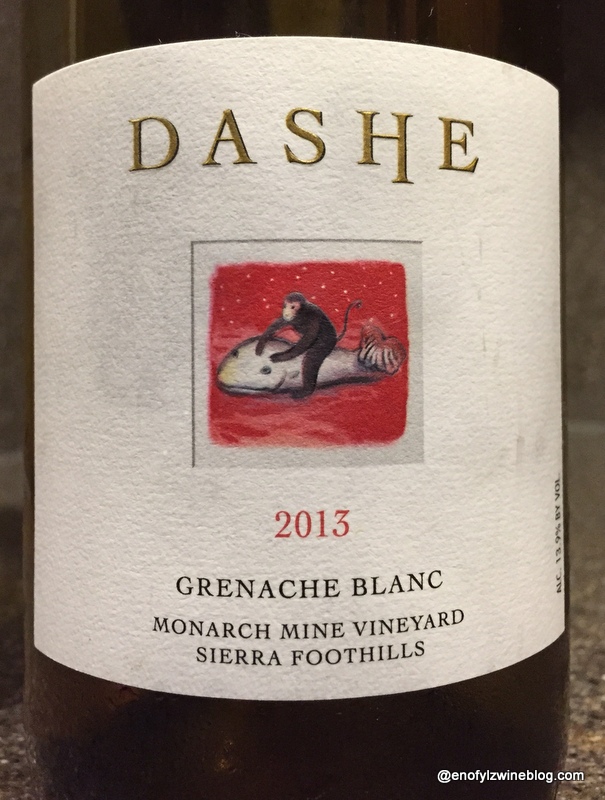 This wine is a great example.  It's the first time Dashe has produced Grenache Blanc (which seems to be trending).  The fruit for the wine is sourced from the Monarch Mine Vineyard, almost 3000 feet up in the foothills of the Sierra Nevada Mountains.
It's a visually impressive vineyard, with extremely steep slopes and bright red, rocky soil onto which the vines cling. The altitude and climate allow the grapes to mature while keeping a bright acidity, ideal conditions for creating this wonderful wine.   It a blend of 95% Grenache Blanc, and 5% Roussanne.
Our Food and Wine Pairing of the Week featured this wine paired with a salad and Stuffed Pasta Shells with Shrimp, Crab and Lobster.  This is such a food friendly wine because of its acidity.
And hey – It's not everyday I get to use quince paste as a description for a wine's aromas and flavors!
What was your Wine of the Week?  Any killer Food and Wine pairings?
Follow my reviews on Vivino 
Note. All wines were purchased for review unless otherwise indicated
_________________________________________________________________
Martin Redmond is a Financial Executive by day, and a certified wine geek with latent foodie tendencies the rest of the time. In addition to the wine lifestyle and food he enjoys family, fitness and traveling. He likes to get thoughts of wine off his mind by sharing experiences on his ENOFYLZ Wine blog, which features wine reviews, wine country travel, and wine and food pairings.
Follow me on Twitter @martindredmond for all things wine, and since I'm a wino, with latent foodie tendencies, you'll also find food and wine pairings, and food related stuff! Become a fan and join ENOFYLZ Wine Blog on Facebook. Cheers! This article is original to ENOFYLZ Wine Blog.com. Copyright 2015 ENOFYLZ Wine Blog. All rights reserved.