Last week, the most recent tasting of the Pacific Point Wine Tasting Club("PPWTC") featured a blind-tasting of Cabernet Sauvignon.  Our wine-tasting club has done tastings of Cabs before, but this tasting was a bit different because we increased the purchase price limit to $40 (It's usually $25).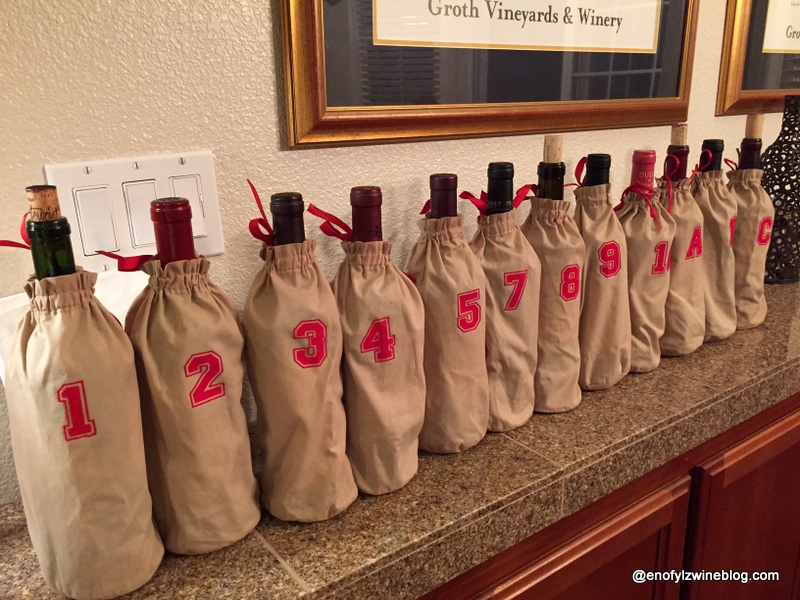 We had a very good turn out for the tasting.  After our "Happy Hour", where we socialize, eat and drink, we got to tastin'!
Here's how our tasting went down:
Club members asked to bring a wine of their choice priced up to $40
All wines are tasted blind
Tasters are required to score all wines
The wines are scored based on 4 criteria (aroma, body, taste, and finish) – each on a scale of 1-5 (1-low; 5-high). Therefore minimum score = 4 points and maximum = 20 points
Both average and median scores are calculated.  The winner determined by highest average score.  The median score used as tie breaker, if necessary
We tasted 12 Cabs.  Napa Valley dominated the field (7), with one each from Sonoma Mountain, Sonoma Valley, Paso Robles, Washington State (Columbia Valley), and Bordeaux (St. Julien)
We had 18 tasters including two "newbies" who enjoy wine, but are just getting started on their wine journey.  The vast majority of tasters were experienced wine lovers who have been enjoying wine for many years.
And the winner with an average score of 16.6 was… 
2010 Bedrock Wine Co. Cabernet Sauvignon Bedrock Vineyard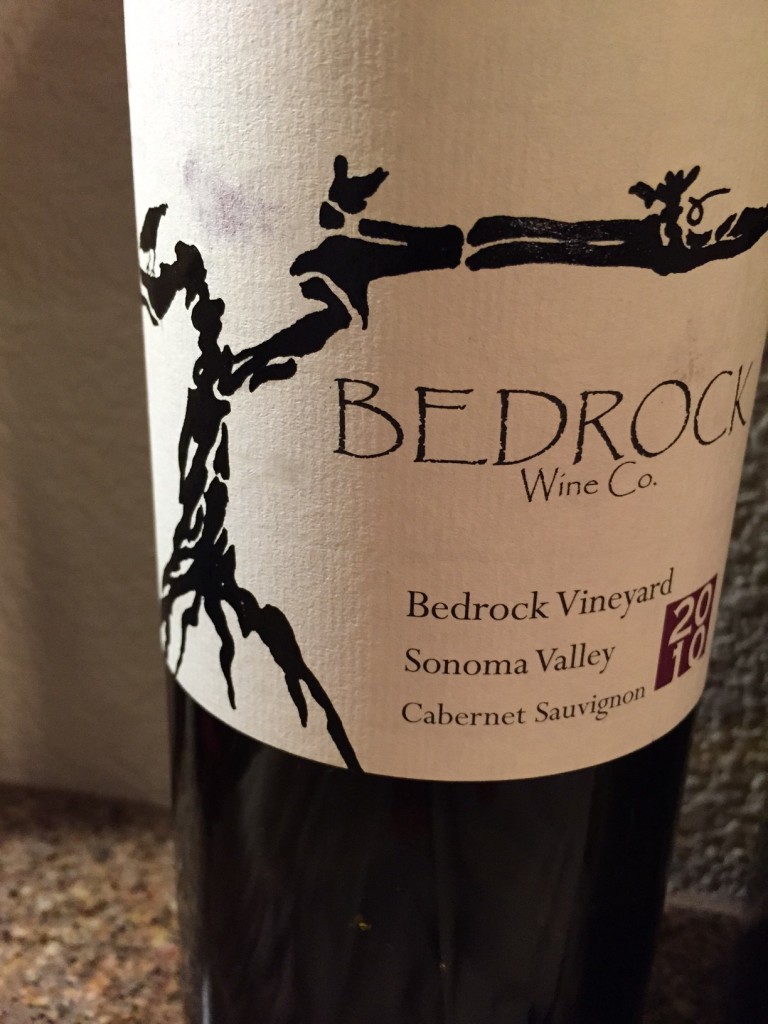 The runners-up in the order of finish (including average score) were: 
2010 Moonstone Cellars Cabernet Sauvignon Reserve Westside (13.6)
2007 Beaulieu Vineyard Cabernet Sauvignon Rutherford (13.2 )
2012 Rodney Strong Cabernet Sauvignon (13.1)
2012 Girard Cabernet Sauvignon (12.7)
2012 Frank Family Vineyards Cabernet Sauvignon Napa Valley (12.3)
2012 Stags' Leap Winery Cabernet Sauvignon (11.6)
1997 Counterpoint Cabernet Sauvignon Sonoma Mountain (11.6)
2012 Stag's Leap Wine Cellars Cabernet Sauvignon Artemis (11.5)
2010 Silverado Vineyards Cabernet Sauvignon Napa Valley (11.1)
2010 Chateau Ste. Michelle Cabernet Sauvignon Columbia Valley (10.6)
2009 Duluc de Branaire-Ducru (10.2)
I enjoy blind tastings.  It removes preconceptions about  wines while presenting the opportunity to rate wines in a peer group setting.
Ah, but where there is a blind tasting, there is virtually always a surprise. That is the nature of blind tasting, a capricious endeavor if there ever was one
What was most surprising about this tasting was the dominance of the Bedrock over the other wines.  Not only did it receive the highest average score in the 5 year history of our wine tasting club, the margin of victory over the #2 wine was the largest we've had.  Finally, it was the favorite of 2 out of every 3 tasters! And that never happens!
Further, if you consider the fact that over half the wines were from Napa Valley (and some well-regarded names too – B.V., Frank Family, and Stag's Leap Wine Cellars come immediately to mind), and the fact the first and second place wines were from Sonoma Valley, and Paso Robles respectively…Well that was unexpected!
To use an analogy from Cabernet's heartland on the Left Bank of Bordeaux—if Napa Valley is Pauillac, St. Julien, Margaux, and even St. Estephe, then Sonoma Valley is Pessac-Leognan. There are few excellent spots for Cabernet varietals to thrive, but when they are right, the can climb to their own unique organoleptic heights. – Bedrock Wine Co.
On this Cab Night, Bedrock ascended the mountain, vaulted the competition, and planted the Sonoma Valley flag at the top!
_________________________________________________________________
Martin Redmond is a Financial Executive by day, and a certified wine geek with latent foodie tendencies the rest of the time. In addition to the wine lifestyle and food he enjoys family, fitness and traveling. He likes to get thoughts of wine off his mind by sharing experiences on his ENOFYLZ Wine blog, which features wine reviews, wine country travel, and wine and food pairings.
Follow me on Twitter @martindredmond for all things wine, and since I'm a wino, with latent foodie tendencies, you'll also find food and wine pairings, and food related stuff! Become a fan and join ENOFYLZ Wine Blog on Facebook. Cheers! This article is original to ENOFYLZ Wine Blog.com. Copyright 2015 ENOFYLZ Wine Blog. All rights reserved.