Over the course of a week, my wife and I drink a bunch o'wine – almost always with food. Since I've always been fascinated by wine at the table with food, I thought it would be fun to recap not only the wines we've been drinking, but also how they pair (or don't pair) with the foods at our table.  Includes my picks for  Wine of the Week; and Food and Wine Pairing of the Week for the week ended March 8, 2015.
2013 Cantina Terlan Terlano Terlaner Classico – Retail $22
Pale yellow-green color with pear, lemon, white flower and lemongrass aromas. On the palate, it's dense and tangy with bright acidity.  It shows white peach, lemon, hint of apple flavors with a wonderful mineral note and a lingering sweet finish. Blend of 60% Pinot Bianco, 30% Chardonnay and 10% Sauvignon Blanc from the Alto Adige region of Italy. The winery has been making the blend since 1893! 14.1% alcohol. Very Good to Outstanding; 89-91 pts
2010 Alta Colina Syrah Toasted Slope – Retail $45
Opaque violet color with appealing graphite, toast, smoke, black fruit, and spice aromas. On the palate it medium-bodied, fresh and harmoniously structured with a supple texture, and well-integrated fine tannins with black cherry, black raspberry, a hint of dark roast coffee, and subtle spice flavor accented with a wonderful minerality. Long finish. 15.5% alcohol Outstanding; 92-95 pts
2012 Stags' Leap Winery Chardonnay – Retail $30 (gift)
Very pale green color with yellow highlights and under ripe white peach, tropical fruit, and citrus aromas. lemon aromas. On the palate, it's medium-bodied, fresh and nicely balanced with white peach, pineapple, pear and a bit of spice flavors and a lemony minerality. Medium finish  Very Good to Outstanding; 89-91 pts
2007 Three Saints Sixty-Seven – Retail Unknown (gift) 
Opaque violet color with dark fruit, tobacco, and sweetened cacao aromas. On the palate, it's medium-bodied with dusty tannins, and cassis, fresh cherry, blackberry, and bittersweet chocolate flavors. Medium finish. Blend of 67% Cabernet Sauvignon, 15% Cabernet Franc, 8% Merlot, 5% Syrah, 4% Petit Verdot, and 1% Malbec. 14.5% alcohol Very good; 86-88 pts
2011 Hubert Meyer Pinot Noir Fut en Chene – Retail $25
A lovely Pinot Noir from Alsace! Medium ruby color with restrained red fruit,spice and mineral aromas. On the palate, it's well-balanced, and fresh with cherry, and  cranberry flavors with a nice minerality and dusty well-integrated tannins Very Good to Outstanding; 89-91 pts
2010 Justin Vineyards & Winery Cabernet Sauvignon – Retail $22
Opaque very dark ruby color, and medium-bodied this wine offers baked black and red fruit, dark chocolate, spice and subtle cedar wood aromas. On the palate it shows a supple texture with chalky well-integrated tannins and blackberry, black cherry, vanilla, dark chocolate and a kiss of cassis flavors. 13.9% alcohol. Spends 18 months in 225-liter American oak barrels. Very good; 86-88 pts
Wine of the Week 
I always enjoy it when I "get around" a bit in the wine world. Such was the case this week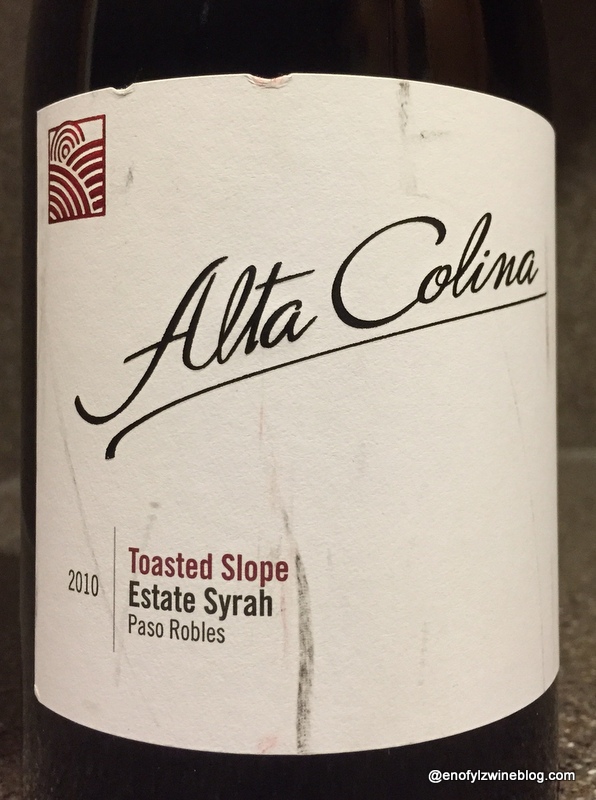 because I enjoyed my first wine from the Trentino-Alto Adige region of Italy and my first Pinot Noir from Alsace. Both wines are wonderful examples of "Old World" wines.
But my Wine of the Week – the 2010 Alta Colina Syrah Toasted Slope, is from the "New World".  Specifically Paso Robles, which has built a well deserved reputation for being "Rhone Central" in California, if not the U.S. The producer, Alta Colina, is a relative newcomer to the Paso Rhone scene (after planting their estate vineyard in 2005, their first vintage was 2007. They are exclusively focused wine produced from Rhone grape varieties.  I introduced to Alta Colina a couple of years ago at the Rhone Rangers annual tasting in San Francisco.  Since I really enjoyed the wines, I made to sure to stop by the winery to taste during my last visit to Paso in 2013.  Since they they've opened a new tasting room. I highly recommend their wines! 

My food and wine pairing of the week was, hands-down, the 2013 Cantina TerlanTerlano Classico with Seafood Lasagna (killer recipe btw…I highly recommend; I modified slightly by substituting seafood stock for the clam juice and chicken stock;and I used real crab meat rather than imitation),which I also tried with the Stag's Leap Chardonnay. While that pairing was good the Cantina was significantly better. For me it was a classic case of the sum of the parts of a blend being greater than the whole.  In this case I believe contributions of both Pinot Blanc and Sauvignon Blanc made the Seafood Lasagna taste better than it tasted with the 100 % Chardonnay.
What was your Wine of the Week?  Any killer Food and Wine pairings?
Follow my reviews on Vivino 
Note. All wines were purchased for review unless otherwise indicated
_________________________________________________________________
Martin Redmond is a Financial Executive by day, and a certified wine geek with latent foodie tendencies the rest of the time. In addition to the wine lifestyle and food he enjoys family, fitness and traveling. He likes to get thoughts of wine off his mind by sharing experiences on his ENOFYLZ Wine blog, which features wine reviews, wine country travel, and wine and food pairings.
Follow me on Twitter @martindredmond for all things wine, and since I'm a wino, with latent foodie tendencies, you'll also find food and wine pairings, and food related stuff! Become a fan and join ENOFYLZ Wine Blog on Facebook. Cheers! This article is original to ENOFYLZ Wine Blog.com. Copyright 2015 ENOFYLZ Wine Blog. All rights reserved.