Over the course of a week, my wife and I drink a bunch o'wine – almost always with food. Since I've always been fascinated by wine at the table with food, I thought it would be fun to recap not only the wines we've been drinking, but also how they pair (or don't pair) with the foods at our table.  Here are my Wine of the Week; and Food and Wine Pairing of the Week for February 15, 2015.
2012 Kosta Browne Pinot Noir Sonoma Coast – Retail $64
Ruby color with restrained black cherry, blueberry, dried rose and damp earth aromas. On the palate, its medium-bodied, concentrated, persistent and fresh with silken black cherry, red currant, plum and a hint of pomegranate flavors. Delicious wine! Medium-long finish. 14.5% alcohol Outstanding; 92-95 pts
2012 Kosta Browne Pinot Noir Russian River Valley – Retail $64
Dark ruby color with dried herb, raspberry, cherry, and a bit of spice aromas. On the palate it approaches medium-bodied, with a harmonious, elegant character and silky texture with dark chocolate covered cherries, pomegranate, and a bit of cola flavors. Med long finish.  14.6% alcohol. Very Good to Outstanding; 89-91 pts
2013 Carić Bogdanuša – Retail $16
First time trying this grape. It showed appealing white peach, light dried herb, wet stone and a hint of floral aromas. On the palate it's light and fresh with white peach, apricot and lime flavors an appealing minerality with a lingering finish. The name Bogdanjusa is based on the name of the grape variety used for this wine (Bogdanusa), which means "a godsend"which is explained by its traditional use during church holidays and festivities. 13% alcohol. Very good; 86-88 pts
2009 Viña Eguía Rioja Reserva – Retail $8
Dark ruby color with appealing red fruit, tobacco, dried herb, vanilla and spice aromas. On the palate it's medium-bodied, and smooth with soft tannins, and good acidity. It shows fresh dark red cherry, vanilla,and spice flavors and a lingering finish. Very good, but not as good as the '07 which burst on the scene a few years ago. Still – wonderful QPR at $8! Very good; 86-88 pts
N.V. Warre Porto Otima 10 Year Old Tawny – Retail $23
Pretty red orange color fading to a thin clear meniscus with toffee, baked red fruits, roast coffee and honey aromas. On the palate it medium-bodied and rich with baked cherry and raspberry, toffee and honey flavors. Medium long finish. Bottled in 2012. Wonderful pairing with a chocolate chip cookie Very Good to Outstanding; 89-91 pts
2012 Tablas Creek Picpoul Blanc – Retail $27
Pale yellow-green color with restrained pineapple, lemon, and a hint of white flower aromas. On palate, it's medium-bodied with fantastic acidity and pronounced pineapple, lemon, sweet spice, and mineral flavors that belies the nose. Lingering finish. Very Good to Outstanding; 89-91 pts
Wine of the Week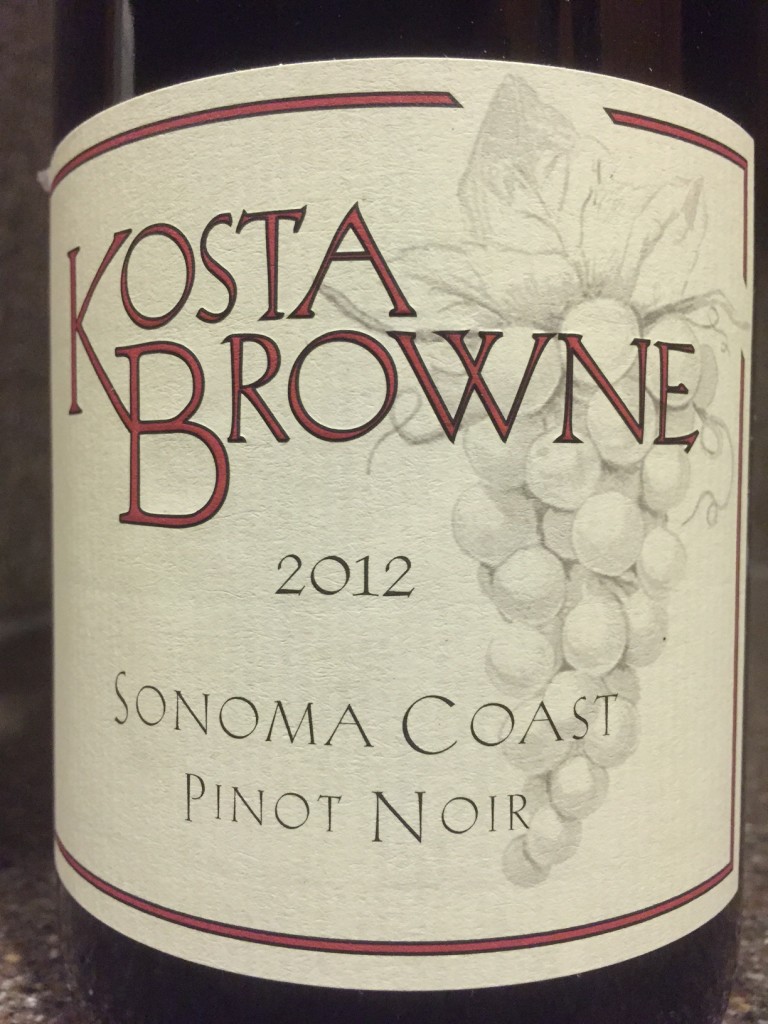 We received the Croatian wine from friends who visited Croatia a few months ago (although the wine was purchased here) This was my 3rd or 4th time enjoying Croatian wine and this one was very enjoyable. Definitely a wine for seafood!  And speaking of seafood, we were in New Orleans for Mardi Gras! We knew we'd be having a bunch of seafood, so we did the B.Y.O.B thing and brought along a few bottles of wine. We very much enjoyed the Tablas Creek Picpoul Blanc with a diverse selection of seafood on our first night in New Orleans. Our dinner included raw oysters (yeah we pretty much ate oyster every day!), BBQ blue crab claws and catfish and shrimp creole!  My Wine of the Week is the Kosta Browne Sonoma Coast Pinot Noir. We waited about 5 years to get on their mailing list.  a lot has changed in that 5 years including new ownership and an evolution of my taste in Pinot Noir. I definitely appreciate the more nuanced feminine version of Pinot now.  But this was is flat-out delicious well-made wine! It expensive Pinot (at least by my standards) so the jury is still out for me.  I wonder if we couldn't get something that we like just a much or more for less, so I'm not sure if we'll buy more…
My Food and Wine pairing of the Week? The Otima Tawny Port with a Chocolate Chip cookie!
What was your Wine of the Week?  Any killer Food and Wine pairings?
Follow my reviews on Vivino 
Note. All wines were purchased for review unless otherwise indicated
_________________________________________________________________
Martin Redmond is a Financial Executive by day, and a certified wine geek with latent foodie tendencies the rest of the time. In addition to the wine lifestyle and food he enjoys family, fitness and traveling. He likes to get thoughts of wine off his mind by sharing experiences on his ENOFYLZ Wine blog, which features wine reviews, wine country travel, and wine and food pairings.
Follow me on Twitter @martindredmond for all things wine, and since I'm a wino, with latent foodie tendencies, you'll also find food and wine pairings, and food related stuff! Become a fan and join ENOFYLZ Wine Blog on Facebook. Cheers! This article is original to ENOFYLZ Wine Blog.com. Copyright 2015 ENOFYLZ Wine Blog. All rights reserved.