Over the course of a week, my wife and I drink a bunch o'wine – almost always with food. Since I've always been fascinated by wine at the table with food, I thought it would be fun to recap not only the wines we've been drinking, but also how they pair (or don't pair) with the foods at our table.  Here are my Wine of the Week; and Food and Wine Pairing of the Week for February 8, 2015.
2012 Jacuzzi Family Vineyards Barbera – Retail $28
Opened with restrained baked raspberry, spice, cherry and earthy aromas and flavors. On the palate, it's between light and medium-bodied with mouth-watering acidity. It got better with some time in the glass. This is one my wife's faves, but I don't think it delivers on the value front. Very food friendly. It was a surprisingly good pairing with Beef Bulgogi.  Very good; 86-88 pts
2011 Onesta Cinsault Bechthold Vineyard – Retail $29
Consistent with prior tasting note. Dark red color with an appealing mixture of musk, black cherry, strawberry aromas with a hint of caramel. On the palate it light-bodied moderate to very good acidity and fresh raspberry, strawberry, spice and a bit of mineral flavors. Medium finish. Paired well with Asian Style BBQ Chicken! Sample received for review. Very Good to Outstanding; 89-91 pts
2010 Carlisle Zinfandel Martinelli Road Vineyard – Retail $38
This is a beautiful wine!  It's aromatically complex with raspberry, cherry, tons of spice, and whiffs of candied citrus rind, and dust. Raspberry, cherry, and intense baking spice flavors aromas that explode on the palate are nicely balanced by very good acidity, and dusty soft tannins. Elegant character with a supple texture. Long finish. Last tasted 2 years ago. Just got better with time.  Outstanding; 92-95 pts
N.V. Franck Bonville Champagne Blanc de Blancs Extra Brut Grand Cru – Retail $40
Pale yellow-green color with abundant tiny bubbles and pretty white flower, green apple, brioche, citrus, chalk, and a hint of sweet spice aromas. On the palate, it's light-bodied and very dry with a delicate mousse, and a soft, fresh lemony with a bit of lime acidity that's intermingled with a bit a salinity and with golden apple, pear and lemon rind flavors.  Long finish.  Very Good to Outstanding; 89-91 pts
Wine of the Week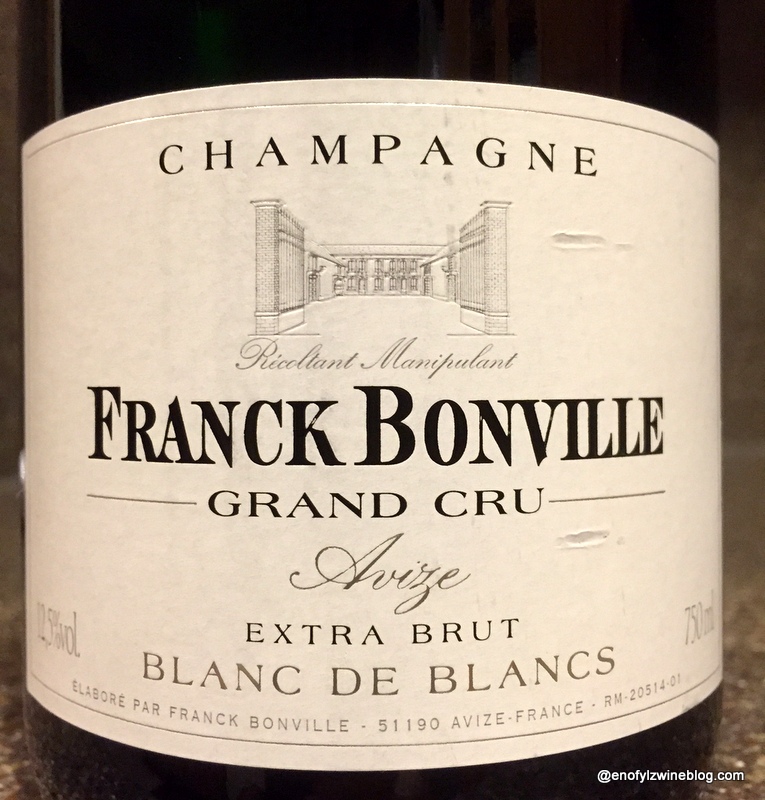 It's rare that my wife and I have wildly different opinions about wine, but that was the case with the Jacuzzi Barbera.  She loved the wine and I think it's "Good" but overpriced. Having said that Barbera is a great food wine and it paired very well with left over Beef Bulgogi.  The Onesta Cinsault is produced from the 129 year-old
Bechtold Vineyard
.
I first "accessed" the wine in September last year using my Coravin
.  It  tasted just as fresh as that first sample I accessed. I'm a fan of Carlisle Winery & Vineyards.  They make some "big" wines, but they always seem enough acidity to keep the fruit on the rails. Such was the case with the Martinelli Road Zinfandel, the only wine I rated outstanding this week. My Wine of the Week though was the
Franck Bonville Champagne Blanc de Blancs Extra Brut Grand Cru
.
It's a grower Champagne located in Avize. They farm about 50 acres of vines in the
Grand Cru districts of Cramant, Avize, and Oger
. It's a Blanc de Blanc style made with 100% Chardonnay.  It was dosed at only 2.5 g/L, and aged about 5 years on its lees. Such a harmonious, and pure wine. It was a fantastic paired with our Sunday afternoon lunch –
Oysters on the Half Shell.
The two are my
Food and Wine Pairing
of the Week.
In fact, the Champagne was too good! We polished off the bottle for lunch!  If that's not a Wine of the Week, I don't know what is!
What was your Wine of the Week?  Any killer Food and Wine pairings?
Follow my reviews on Vivino 
Note. All wines were purchased for review unless otherwise indicated
_________________________________________________________________
Martin Redmond is a Financial Executive by day, and a certified wine geek with latent foodie tendencies the rest of the time. In addition to the wine lifestyle and food he enjoys family, fitness and traveling. He likes to get thoughts of wine off his mind by sharing experiences on his ENOFYLZ Wine blog, which features wine reviews, wine country travel, and wine and food pairings.
Follow me on Twitter @martindredmond for all things wine, and since I'm a wino, with latent foodie tendencies, you'll also find food and wine pairings, and food related stuff! Become a fan and join ENOFYLZ Wine Blog on Facebook. Cheers! This article is original to ENOFYLZ Wine Blog.com. Copyright 2015 ENOFYLZ Wine Blog. All rights reserved.