One of the things I love most about food and wine is their ability to transport one to a different place.  And a  place's people, culture, and customs are reflected in its food and wine.  In that sense, one can virtually travel the world through food and wine.  And that is exactly what we are doing through Italian Food Wine and Travel (#ItalianFWT).  We taking a virtual tour of Italy by exploring its food and wines.  This we're exploring Tuscany!
Exploring Tuscany Through Food and Wine
Unlike last month's "tour" of Emilia-Romagna, I'm pretty familiar with Tuscany.  It's one the largest wine regions in Italy,and arguably its most well known.  Tuscany is situated in central Italy and stretches from the Apennines in the east to the emerald Tyrrhenian Sea in the west.  It famous for its endless rolling hills, artistic heritage, medieval villages and stand-out cities like Florence.  Tuscany's reputation as of one of  Italy's foremost wine regions is based on iconic wines such as Chianti, Brunello di Montalcino , Vino Nobile di Montepulciano, and Super Tuscans.
On My Plate
Being familiar with Tuscan red wines, I wanted to try something different and try a Tuscan white wine.  A search of my favorite wine shop came up with Vernaccia.  And when I looked for a dish to pair with Vernaccia, my attention was drawn to the less well-known Tuscan Coast.  There in the port city of Livorno, you will find Caccuicco alla Livorna, a popular traditional seafood dish with a history that stretches back at least five hundred years. Its name probably comes from the Turkish for 'minute' which is 'kuciuk'. It reminds me of my beloved Cioppino, which is believed to have its origins in San Francisco. Game on!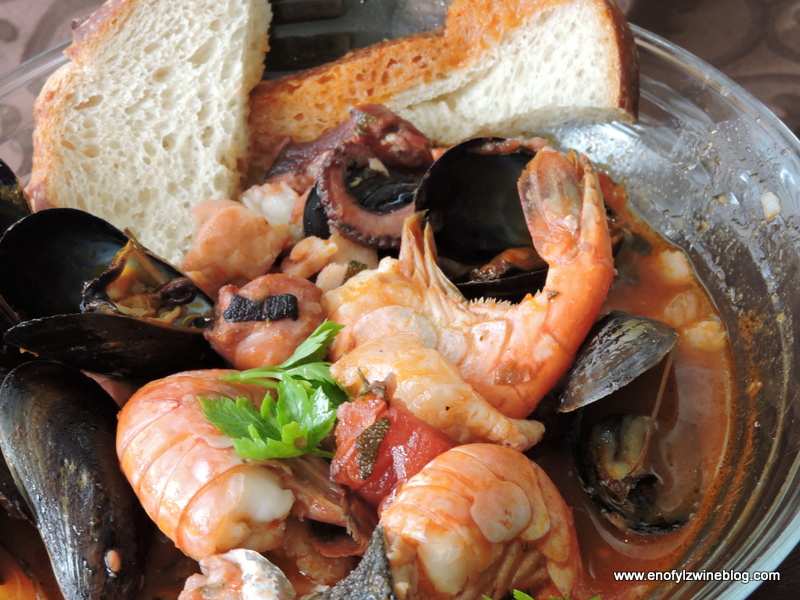 This "bottom of the boat" seafood stew delivered "top shelf" flavor (especially the octopus)! I think it has an earthier, more savory character than Cioppino, which I really enjoyed.  And the recipe is definitely a keeper!

Cacciucco (Tuscan Seafood Stew)
This Tuscan soup traditionally uses fish considered "bottom of the boat"—those left behind after more valuable fish have sold.
Ingredients
¼ cup extra-virgin olive oil
1 tbsp. minced parsley
1 tbsp. minced fresh sage leaves
½ tsp. red chile flakes
5 cloves garlic
12 oz. calamari, cleaned and cut into 1″ pieces
12 oz. baby octopus, cleaned and cut into 1″ pieces
1 tbsp. tomato paste
1 cup dry white wine
1 (14-oz.) can chopped tomatoes with juice
Kosher salt and freshly ground black pepper, to taste
1 cup fish stock
1 (1-lb.) monkfish filet, cut into 2″ pieces
1 (1-lb.) red snapper filet, cut into 2″ pieces
12 oz. large shell-on shrimp
12 oz. mussels, scrubbed and debearded
8 (1″-thick) slices country-style white bread
Instructions
Heat oil in a 6-qt. saucepan over medium heat. Add parsley, sage, chile flakes, and 4 cloves garlic, minced, and cook until fragrant, about 1 minute. Add calamari and octopus, and cook, stirring occasionally, until opaque, about 4 minutes. Add tomato paste, stir well, and cook until paste has darkened slightly, about 1 minute. Add wine, and cook, stirring often, until the liquid has evaporated, about 20 minutes.
Add tomatoes along with their juice, season with salt and pepper, and cook, stirring occasionally, until seafood is tender, about 10 minutes. Stir in stock, cover, and simmer for 10 minutes. Add monkfish, and cook, covered, until just firm, about 5 minutes. Add snapper and shrimp to the pot and scatter mussels over top. Cook, covered, without stirring (so as not to break up the seafood), until the snapper is just cooked through and the mussels have just opened, about 10 minutes.
Toast bread, and rub liberally with remaining garlic clove. Ladle stew between bowls, over bread or with bread on the side.
Notes
I made a few substitutions due to lack of availability of ingredients. I substituted sablefish, wild dover sole, and Alaskan spot prawns for monkfish, red snapper and shrimp.
In My Glass
I headed back inland to the small medieval village of San Gimignano for my wine.  San Gimignano, located north of Siena in the heart of Tuscany is home to Vernaccia di San Gimignano (Vehr-NAHCH-ya dee Sahn Jee-mee-NYAH-noe). The "city of the beautiful towers", as it is often called, has been a recognized UNESCO World Heritage Site since 1990. 


Vernaccia-based wine from San Gimignano has a long history, and since the Renaissance period has been considered one of Italy's oldest and most noble wines.  (Source)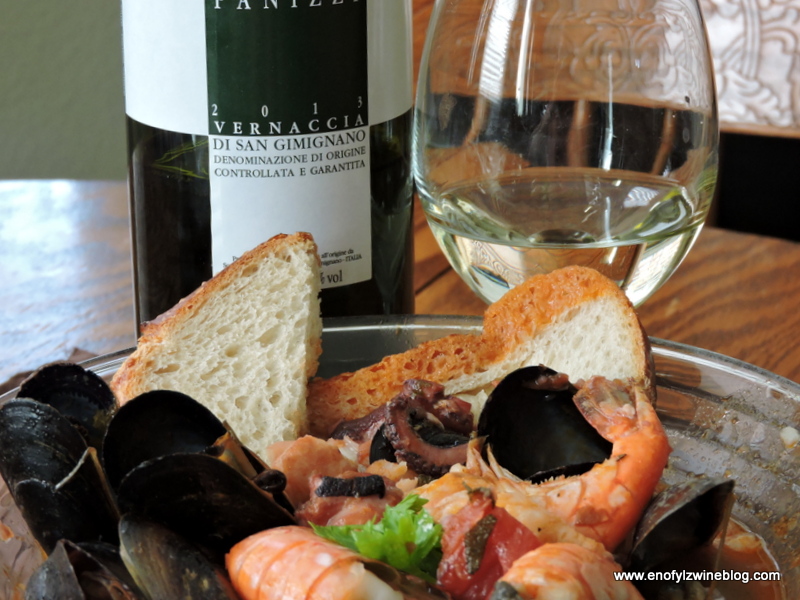 The Vernaccia di San Gimignano was a milestone of Tuscan wine-making.  It was the first national wine (1966) to get the DOC classification, (Appellation of Controlled Origin). In  upgraded to DOCG status in 1993.  It's the only white wine DOCG in Tuscany.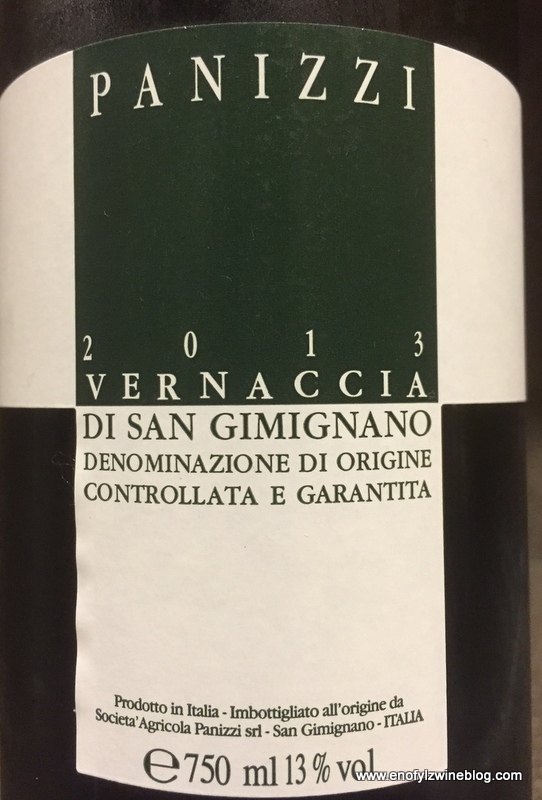 My tasting notes follow:
Light yellow-green with lime, and tangerine, wet stone and a hint of floral aromas. On the palate it's medium-bodied, and fresh with an ample texture,  with lime, tangerine, and a bit of spice flavors with a surprising and pleasing touch of tannins. Long mineral driven finish. 13% alcohol. Great QPR at $16! Will buy more!
This was my first taste of Vernaccia di San Gimignano, a rare tannic white grape variety, but it won't be my last.  The wine was outstanding and it was great pairing with the Caccuicco!
Our Tuscan journey doesn't stop here.  Join all of our other bloggers as they share with you their experience through the region of Tuscany.
Join us next month on Saturday March 7th as we travel to the region of Trentino-Alto Adige in the northeastern part of Italy in the Dolomite mountains.  For additional Italian related blogs on the food, wine and travel of Italy stay tuned to #ItalianFWT on Twitter throughout the month.  Ciao Ciao!
_________________________________________________________________
Martin Redmond is a Financial Executive by day, and a certified wine geek with latent foodie tendencies the rest of the time. In addition to the wine lifestyle and food he enjoys family, fitness and traveling. He likes to get thoughts of wine off his mind by sharing experiences on his ENOFYLZ Wine blog, which features wine reviews, wine country travel, and wine and food pairings.
Follow me on Twitter @martindredmond for all things wine, and since I'm a wino, with latent foodie tendencies, you'll also find food and wine pairings, and food related stuff! Become a fan and join ENOFYLZ Wine Blog on Facebook. Cheers! This article is original to ENOFYLZ Wine Blog.com. Copyright 2015 ENOFYLZ Wine Blog. All rights reserved.