I can barely believe it, but the Pacific Pointe Wine Tasting Club ("PPWTC") is 5 years old!  When my wife and I started the community-based wine-tasting club in 2010, there were only 3 folks who showed up for our first tasting – a neighborhood couple and a friend. The PPWTC has since blossomed into vibrant community of wine-loving friends with a strong core of 20, and probably another 20 folks who attend from time to time.
We celebrated our 5 year anniversary by choosing Merlot for the tasting, since that was the theme for our very first meeting!
Here's how our tasting went down:
Merlot priced between $10-$35
All wines are tasted blind
Tasters are required to score all wines
The wines are scored based on 4 criteria (aroma, body, taste, and finish) – each on a scale of 1-5 (1-low; 5-high). Therefore minimum score = 4 points and maximum = 20 points
Both average and median scores are calculated.  The winner determined by highest average score.  The median score used as tie breaker.
We tasted a total of 18 Merlots  Most (11) were from California, with France (4) and Washington State (3) rounding out the lineup.
This was our biggest tasting yet! There were 30 tasters.  Since a bottle of wine only holds 25 ounces, we split the tasters into two groups.  Each group tasted 9 bottles of wine.
Group 1 included 18 tasters with a diverse blend of "newbies", sporadic tasters and "hardcore" tasters.
Group 2 included 12 tasters, and was heavily skewed toward more "hardcore" experienced tasters.
 The Group 1 winner was...
1. 2010 Guardian Cellars Confidential Source – $35
Guardian Cellars is a Washington State based winery owned by the husband and wife team of Jerry Riener and Jennifer Sullivan, a police-officer and reporter respectively.  The winery is based in Woodinville. Most of the wines have law enforcement inspired names like Confidential Source, Entrapment and Gun Metal. 

Here are the runner's up….
2. 2011 Wente Vineyards Merlot Sandstone – $14
3. 2012 Markham Merlot>Napa Valley – $24
4. 2011 L'Ecole No. 41 Merlot Columbia Valley – $24
5. 2010 Hall Merlot – $20
6. 2009 Château Arnauton – $19
7. 2010 Mauvais Garçon (Bad Boy) – $14
8. 2010 Château Haut-Mazeris – $20
9. 2010 Jean-Louis Denois "Chloé" Limoux – $14
  The Group 2 winner was..
1. 2011 Cafaro Merlot – $35
Cafaro Cellars is located in St. Helena in the Napa Valley.  It was  founded in 1986 and is owned and run by Joe Cafaro. He has a long history in Napa Valley (since 1969) of making wine at select well-known wineries including Chappellet, Keenan & Dalla Valle, among others. Initially he made wine from purchased fruit but in the mid 90's he acquired a 15-acre hillside vineyard right next to the southern boundary of the famous Stag's Leap District. All fruit for Cafaro's wines come from this vineyard. It is in a beautiful location slightly elevated over the valley floor set among rolling hills. He planted this with several varietals and manages all aspects of the growing and winemaking. His total production is about 3000 cases.(Source)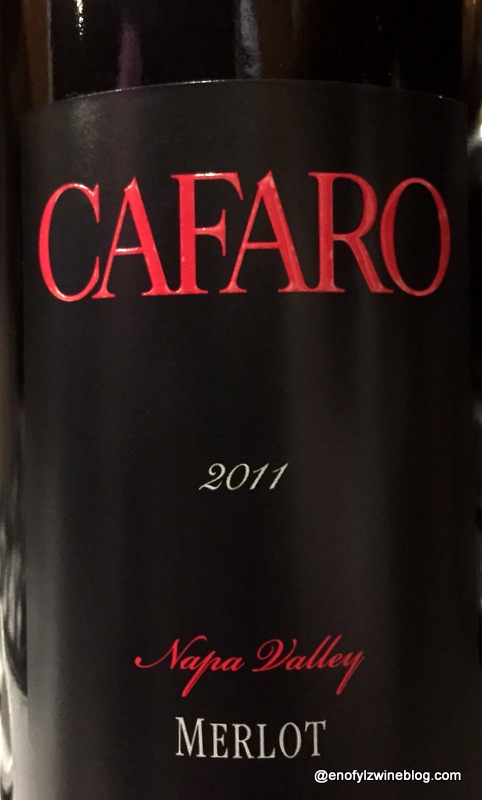 Here are the runner's up….
2. 2012 Francis Ford Coppola Merlot Director's Cut – $27
3. 2006 Turning Leaf Merlot Reserve – N/A
4. 2000 Markham Merlot Reserve – N/A
5. 2013 Hobo Wine Company Merlot Camp – $16
6. 2012 Charles Smith Merlot The Velvet Devil – $10
7. 2010 Curvare Merlot Carneros – $17
8. 2012 Chateau Ste. Michelle Merlot – $15
9. 2012 Duckhorn Vineyards Merlot Decoy Sonoma County – $35
The tasting was was a rare victory (well actually double victory) for the most expensive wine in each group.  That's the exception rather than the rule for our blind-tastings.  The winner of Group 1 – Guardian Confidential Source edged the 2nd place wine, Wente Sandstone Merlot, which offers very good value at $14.  One the other hand, the Cafaro Merlot scored a solid victory in Group 2.  There were two surprises in Group 2 for me.  The first was that the  2006 Turning Leaf Merlot Reserve came in third. Turning Leaf is a value brand and I was surprised it did as well as it did with the more experienced tasters. The other is that that Decoy Merlot came in last.
After the scores were tabulated and winners revealed each group had a chance to taste most of the wines from the other group. The Cafaro and Guardian didn't last long…
It was an exciting night full of fun, food, fellowship and a bit of wine education! And isn't that what a wine tasting club should be about!
Cheers!
_________________________________________________________________
Martin Redmond is a Financial Executive by day, and a certified wine geek with latent foodie tendencies the rest of the time. In addition to the wine lifestyle and food he enjoys family, fitness and traveling. He likes to get thoughts of wine off his mind by sharing experiences on his ENOFYLZ Wine blog, which features wine reviews, wine country travel, and wine and food pairings.
Follow me on Twitter @martindredmond for all things wine, and since I'm a wino, with latent foodie tendencies, you'll also find food and wine pairings, and food related stuff! Become a fan and join ENOFYLZ Wine Blog on Facebook. Cheers! This article is original to ENOFYLZ Wine Blog.com. Copyright 2015 ENOFYLZ Wine Blog. All rights reserved.