Every Thursday I feature a wine I particularly enjoy, whether it's something new and different, is a great value, or from a producer worth checking out.  This week's wine is the 2012 Vigneto San Vito – Orsi Pignoletto Colli Bolognesi Classico Vigna del Grotto.
The Winery
Federico Orsi & Carola Orsi Pallavicino founded Orsi – Vigneto San Vito in 2005 with the intent of revitalizing Bolognese wines. They found a site on the hills (200m above sea level) outside of Bologna  in Emilia Romagna.  They tend to 15 hectares of 50-year-old vines, with a focus on grapes and traditions that are indigenous to this area.
Their vineyards are certified organic and biodynamic.  They take that some "slow wine", minimal intervention approach in the cellar utilizing native yeast, and bottling their wine unfiltered and unfined.  They do so because they seek to elaborate wines indicative of their land and to highlight the region's unique style.
In addition to this wine, Orsi-San Vito also produces a sparkling Pignoletto, Barbera, Cabernet Sauvignon, and Grappa
The Wine
This was my first time trying Pignoletto, a Italian white grape variety indigenous Emilia-Romagna, which has has two DOCGs (Denominazione di Origine Controllata e Garantita – the highest classification for Italian wines), Albana di Romagna, and Colli Bolognesi Classico Pignoletto.
This wine is from the latter. It is 100 % Pignoletto.  Fermented in large oak cask.  After fermentation, the wine was aged 9 months sur lie with occasional battonage. Aging sur lie imparts some complexity and a wonderful creaminess to the wine.  It was aged in bottle for another 6 months before release.  Bottled unfiltered and unfined.
.13% alcohol; Retail – $22.99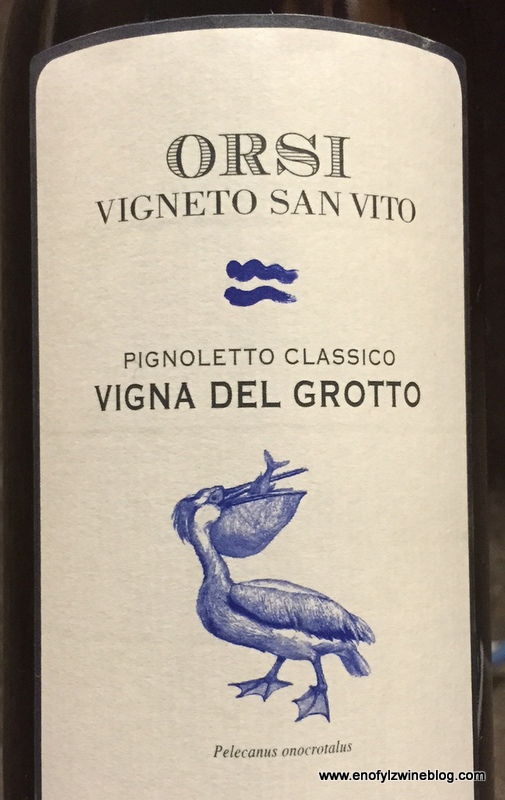 My tasting notes follow:
Slightly cloudy gold color (unfiltered) with lime zest, honeysuckle,and stone fruit aromas. On the palate, it's full-bodied, fresh, and very persistent with a wonderfully supple texture. Flavor-wise it shows white peach, lime, honey, and a suggestion of persimmon flavors with a long mineral laced finish. 
Rating: 

A-

;
I really enjoyed this wine!  It was a nice change of pace, and a great winter white wine!I  
Will buy more! >>Find this wine<<
Pair with: Pasta dishes prepared with fish, or chicken, mushroom risotto or Parmigiano-Reggiano.
Sample purchased for review
Ratings Key
(A+) – 95-100/Extraordinary
(A) – 92-95/Outstanding
(A-) – 89-91/Very Good to Outstanding
(B+) – 86-88/Very good
(B) – 80-85/Good
(C) – 70-79/Bleh
(D) – 50-69/#Fail
_________________________________________________________________
Martin Redmond is a Financial Executive by day, and a certified wine geek with latent foodie tendencies the rest of the time. In addition to the wine lifestyle and food he enjoys family, fitness and traveling. He likes to get thoughts of wine off his mind by sharing experiences on his ENOFYLZ Wine blog, which features wine reviews, wine country travel, and wine and food pairings. Follow me on Twitter @martindredmond for all things wine, and since I'm a wino, with latent foodie tendencies, you'll also find food and wine pairings, and food related stuff! Become a fan and join ENOFYLZ Wine Blog on Facebook. Cheers! This article is original to ENOFYLZ Wine Blog.com. Copyright 2015 ENOFYLZ Wine Blog. All rights reserved.