Every Thursday I feature a wine I particularly enjoy, whether it's something new and different, is a great value, or from a producer worth checking out.  This week's wine the 2012 Sandlands Chenin Blanc is all of the above.
From The Winery
Sandlands is the personal project of Tegan and Olivia Passalacqua. The line-up encompasses the forgotten classic California varieties, primarily grown in decomposed granite (sand), from regions and vineyards that have been farmed for many generations but have remained the outliers of California viticulture. 
Primarily head-trained, dry-farmed and own rooted, the vineyards we work with harken back to California's roots of exploration, wonder, and hard work.
"…Sandlands, which debuted to the sort of demand about which Napa viscounts only dream. For that, he focused on wines that offer other prisms into California: Carignane from Contra Costa County, Grenache from Placer County and his personal cause celebre, Chenin Blanc". – Jon Bonne
Passalacqua's "day job" is winemaker and viticulturist  for Turley Wine Cellars. He, along with Morgan Twain-Peterson of Bedrock Wine Co., were just honored as Winemakers of the Year by San Francisco Chronicle Wine Editor, Jon Bonné.  He was also featured prominently in Bonné'sThe New California Wine – A Guide to the Producers and Wines Behind a Revolution in Taste. 
Sandlands wines are available via a mailing list
The Wine
Planted in 1979 and grown at 1500 feet in a mixture of iron rich volcanic, quartz and decomposed granite soils, this vineyard is head-trained, dry-farmed and own rooted. The wine is barrel fermented with native yeasts in 3-5 year old Burgundy barrels and aged on its lees for 15 months with no stirring or racking prior to being bottled unfined and unfiltered.
12.8% alcohol; Retail – $24.00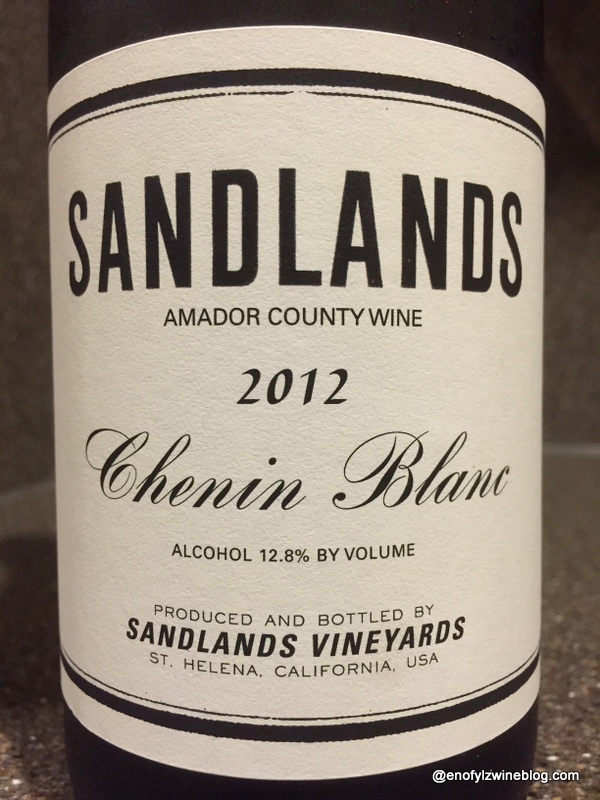 My tasting notes follow:
Pale yellow color. Initially opens with wet wool aromas that give way to white peach, apple, Meyer lemon and a bit of wet stone aromas. On the palate its medium-bodied, and dry with wonderful acidity and texture with green apple, white peach, baked apricot, citrus, and a hint of spice flavors. Lingering satisfying finish with a bit of minerality. 12.8% alcohol. Wonderful at the table!
Rating: 

A-

; 
This is a wonderful wine that's food friendly. 
Ratings Key
(A+) – 95-100/Extraordinary
(A) – 92-95/Outstanding
(A-) – 89-91/Very Good to Outstanding
(B+) – 86-88/Very good
(B) – 80-85/Good
(C) – 70-79/Bleh
(D) – 50-69/#Fail
_________________________________________________________________
Martin Redmond is a Financial Executive by day, and a certified wine geek with latent foodie tendencies the rest of the time. In addition to the wine lifestyle and food he enjoys family, fitness and traveling. He likes to get thoughts of wine off his mind by sharing experiences on his ENOFYLZ Wine blog, which features wine reviews, wine country travel, and wine and food pairings. Follow me on Twitter @martindredmond for all things wine, and since I'm a wino, with latent foodie tendencies, you'll also find food and wine pairings, and food related stuff! Become a fan and join ENOFYLZ Wine Blog on Facebook. Cheers! This article is original to ENOFYLZ Wine Blog.com. Copyright 2015 ENOFYLZ Wine Blog. All rights reserved.