Every Thursday I feature a wine I particularly enjoy, whether it's something new and different, is a great value, or from a producer worth checking out.  My 
Wine Of The Week
 is the
 2012 Castello di Amorosa Pinot Bianco
The Winery
Castello di Amorosa is Napa Valley's own slice of Tuscany.  It's a winery with its own authentic Tuscan castle (Approximately 121,000 sq. ft., including 107 rooms on 8 levels above and below ground), and one of Napa's premier "destination" wineries.  While I'm not a huge fan of destination wineries because the wines often take a back seat to whatever the attraction is (they don't call Napa Valley "adult Disneyland for nothing;-), Castello di Amorosa is an exception.  In addition to a great experience touring an authentic Tuscan castle (complete with a torture chamber), you'll find plenty of  "better" and "best" wines rather than simply " good" wine.
The story is how the castle came to be is fascinating (click here for history of the project). When Dario Sattui who also owns and operates the V. Sattui Winery, conceived the idea his thought was…
 I would specialize in making small lots of primarily Italian-style wines, showcase them in an authentic, medieval castle setting and sell them directly to the public, not in stores or restaurants.
Castello di Amorosa offers a wide array of wines.  In addition to the wines one would expect to find at a Napa Valley winery, (Chardonnay, Cabernet Sauvignon, Merlot, and Zinfandel) they also offer three Gewüztraminers (dry, slightly sweet, and late harvest), various Red, Rosé, and White Italian varietals, Muscato Canelli port, and a slightly sweet, sparkling Rosé!
Castello di Amorosa produces about 8,000 cases a year.  The wines are only available at the winery, through its wine club, or online (www.castellodiamorosa.com).
The Wine
Pinot Bianco (Pinot Blanc) is a member of the Pinot family that includes Pinot Noir, Pinot Gris, and Pinot Meunier.  It is a crisp, dry white wine originally from France's Burgundy region. Today, it has found an important place in Alsace, Northeastern Italy as well as California.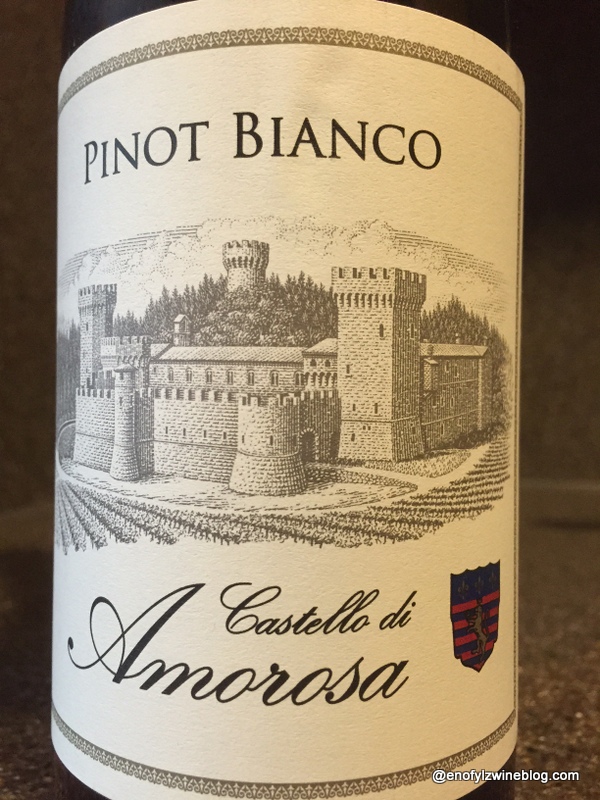 My tasting notes follow:
Pale yellow green color with melon, subtle pineapple, apricot, and citrus aromas. On the palate, it's medium-bodied, dry and clean with vibrant acidity, and melon, pineapple, lemon, orange rind, apricot and bit of spice baking spice flavors Lingering finish. 13.9% alcohol
Wines provided as a samples for review.  Many thanks to Castello di Amorosa and Julie Ann Kodmur
Ratings Key:
(A+) – 95-100/Extraordinary
(A) – 92-95/Outstanding
(A-) – 89-91/Very Good to Outstanding
(B+) – 86-88/Very good
(B) – 80-85/Good
(C) – 70-79/Bleh
(D) – 50-69/#Fail
_________________________________________________________________
Martin Redmond is a Financial Executive by day, and a certified wine geek with latent foodie tendencies the rest of the time. In addition to the wine lifestyle and food he enjoys family, fitness and traveling. He likes to get thoughts of wine off his mind by sharing experiences on his ENOFYLZ Wine blog, which features wine reviews, wine country travel, and wine and food pairings.
Follow me on Twitter @martindredmond for all things wine, and since I'm a wino, with latent foodie tendencies, you'll also find food and wine pairings, and food related stuff! Become a fan and join ENOFYLZ Wine Blog on Facebook. Cheers! This article is original to ENOFYLZ Wine Blog.com. Copyright 2015 ENOFYLZ Wine Blog. All rights reserved.