Our families Christmas tradition is that my wife and I host Christmas Eve Dinner.  On the menu this year was Prime Rib, Mashed Potatoes, Brussels Sprouts with Pancetta
Sweet Potato Bourbon Pecan Cheesecake with Graham-Pecan Crust
In years past I've made Cook's Illustrated Pumpkin-Bourbon Cheesecake with Graham-Pecan Crust.  Last year, I made a Sweet Potato Pie.
This year I got the idea to mash-up the cheesecake and sweet potato cheesecake and came up with this…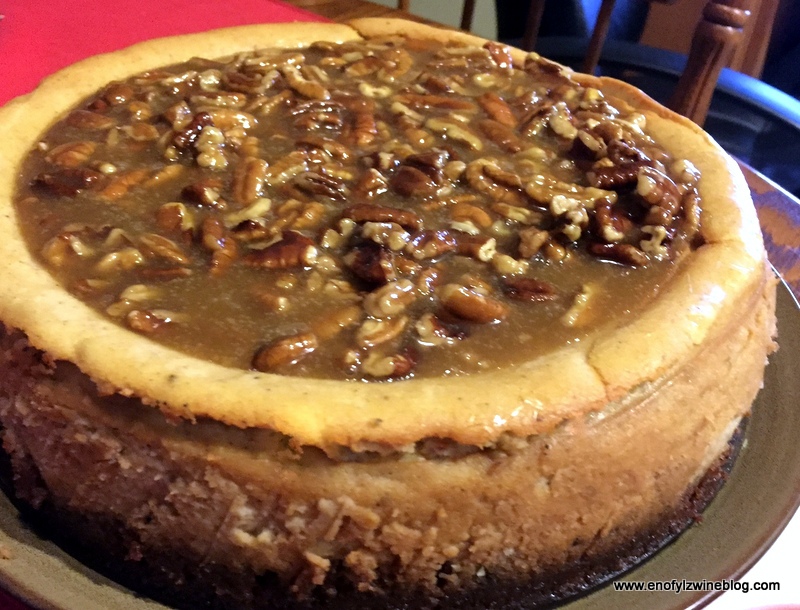 I posted a few pics on Facebook and several friends requested the recipe.  As I sat down to do that today, I realized it would be actually easier to post a blog about rather than explain it in detail on FB.

Sweet Potato Bourbon Pecan Cheesecake
Serves:
MAKES ONE 9-INCH CAKE, SERVING 12 TO 16
A fabulous mash-up of cheesecake and pecan pie! Inspired by a the Cook's Illustrated's "Pumpkin-Bourbon Cheesecake With Graham-Pecan Crust", I substituted sweet potatoes for the pumpkin, and topped with a caramel pecan glaze. Baking the cake in a water bath in a moderate oven also gives the cheesecake its velvety texture.
Ingredients
Crust
3 ounces graham crackers (5 whole crackers), broken into large pieces
3 tablespoons granulated sugar
2 ounces pecans,chopped (about ½ cup)
½ teaspoon ground ginger
½ teaspoon ground cinnamon
¼ teaspoon ground cloves
4 tablespoons unsalted butter, melted
Filling
1⅓ cups granulated sugar
1 teaspoon ground cinnamon
½ teaspoon ground ginger
¼ teaspoon ground cloves
¼ teaspoon ground nutmeg
¼ teaspoon allspice
½ teaspoon table salt
1½ cup of roasted sweet potatoes (about 1.5 lb sweet potatoes)
1½ pounds cream cheese, cut into 1-inch chunks and left to soften at room temperature, about 30 minutes
1 teaspoon vanilla extract
5 large eggs, left at room temperature, about 30 minutes
1 cup heavy cream
¼ cup bourbon
Glaze
¾ cup packed brown sugar
¼ cup butter
¼ cup heavy whipping cream
1 cup chopped pecans
Instructions
FOR THE CRUST: Adjust oven rack to lower-middle position and heat oven to 325 degrees. Spray bottom and sides of 9-inch springform pan evenly with nonstick cooking spray. Pulse crackers, nuts, sugar, and spices in food processor until evenly and finely ground, about fifteen 2-second pulses. Transfer crumbs to medium bowl, drizzle melted butter over, and mix with rubber spatula until evenly moistened. Turn crumbs into prepared springform pan and, using hand, spread crumbs into even layer. Using flat-bottomed ramekin or drinking glass, press crumbs evenly into pan bottom, then use a soup spoon to press and smooth crumbs into edges of pan. Bake until fragrant and browned about the edges, about 15 minutes. Cool on wire rack while making filling.
FOR THE FILLING: Bring about 4 quarts water to simmer in stockpot. Whisk sugar, spices, and salt in small bowl; set aside. Roast sweet potatoes. Cool and peel. Puree in a food processor.
In standing mixer fitted with flat beater, beat cream cheese at medium speed to break up and soften slightly, about 1 minute. Scrape beater and bottom and sides of bowl well with rubber spatula. Add about one third of sugar mixture and beat at medium-low speed until combined, about 1 minute; scrape bowl and add remaining sugar in two additions, scraping bowl after each addition. Add sweet potato puree and vanilla and beat at medium speed until combined, about 45 seconds; scrape bowl. Add 3 eggs and beat at medium-low until incorporated, about 1 minute; scrape bowl. Add remaining 2 eggs and beat at medium-low until incorporated, about 45 seconds; scrape bowl. Add heavy cream and bourbon and beat at low speed until combined, about 45 seconds. Using rubber spatula, scrape bottom and sides of bowl and give final stir by hand.
Set springform pan with cooled crust on 18-inch-square doubled layer heavy-duty foil and wrap bottom and sides with foil; set wrapped springform pan in roasting pan. Pour filling into springform pan and smooth surface; set roasting pan in oven and pour enough boiling water to come about halfway up side of springform pan. Bake until center of cake is slightly wobbly when pan is shaken, and center of cake registers 145 to 150 degrees on instant-read thermometer, about 1½ hours (see note). Set roasting pan on wire rack and use paring knife to loosen cake from sides of pan. Cool until water is just warm, about 45 minutes. Remove springform pan from water bath, discard foil, and set on wire rack; continue to cool until barely warm, about 3 hours. Wrap with plastic wrap and refrigerate until chilled, at least 4 hours or up to 3 days.
FOR THE CARAMEL PECAN GLAZE: Combine brown sugar and ¼ cup butter or margarine in a heavy small saucepan. Stir over low heat until sugar dissolves. Increase heat, and bring to a boil. Mix in ¼ cup cream, then nuts. Pour hot topping over chilled cheesecake.
TO SERVE: Slide thin metal spatula between crust and pan bottom to loosen, then slide cake onto serving platter. Let cheesecake stand at room temperature about 30 minutes, then cut into wedges and serve.
Notes
The source of the caramel pecan glaze recipe may be found
here
Putting this together take some effort, but it totally worth it…especially for the holidays!
Quite simply put…
It's "Make me wanna slap my Momma" good!
The cheesecake has a velvety texture.  And combined with the Caramel Pecan Glaze?
O-M-G!
Forget about moderation, and your diet…you'll be craving seconds on this one!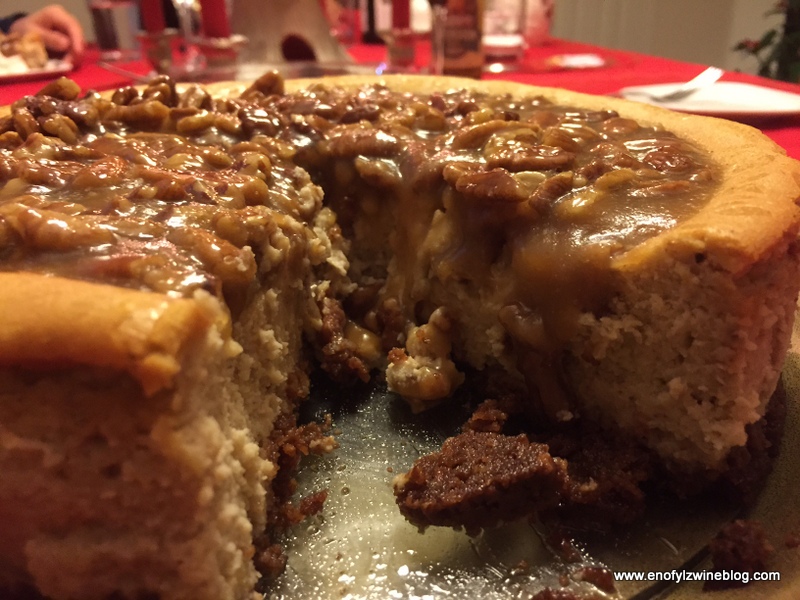 The cheesecake is good on its own, but the Brown Sugar and Bourbon Cream (recipe follows) is a grand addition that put it over the top!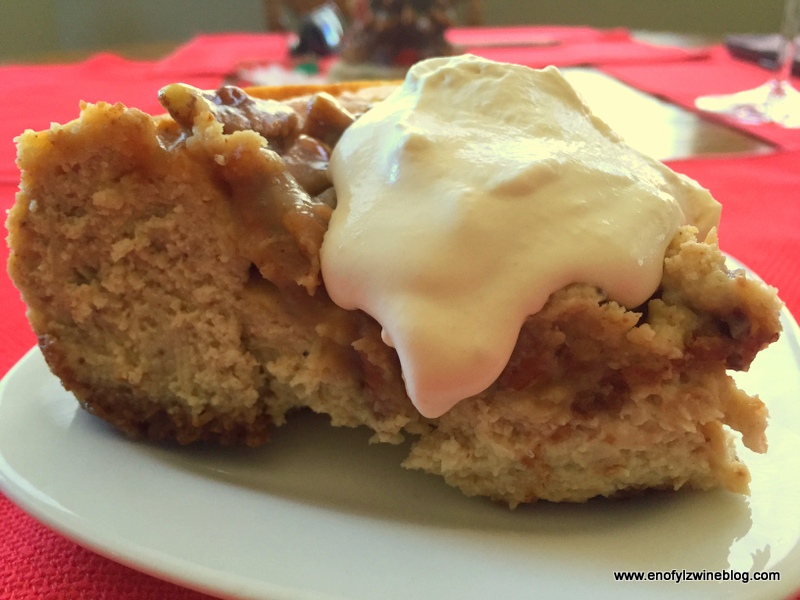 INGREDIENTS
1cup heavy cream
1/2cup sour cream
1/2cup packed light brown sugar
1/8teaspoon table salt
2teaspoons bourbon
INSTRUCTIONS
1. In bowl of standing mixer, whisk heavy cream, sour cream, brown sugar, and salt until combined. Cover with plastic wrap and refrigerate until ready to serve cheesecake, at least 4 hours or up to 24, stirring once or twice during chilling to ensure that sugar dissolves.
2. When ready to serve cheesecake, add bourbon and beat mixture with whisk attachment at medium speed until small bubbles form around edges, about 40 seconds; increase speed to high and continue to beat until fluffy and doubled in volume, about 1 minute longer. Spoon cream on individual slices of cheesecake.
Enjoy!  Merry Christmas and Happy Holidays!
_________________________________________________________________
Martin Redmond is a Financial Executive by day, and a certified wine geek with latent foodie tendencies the rest of the time. In addition to the wine lifestyle and food he enjoys family, fitness and traveling. He likes to get thoughts of wine off his mind by sharing experiences on his ENOFYLZ Wine blog, which features wine reviews, wine country travel, and wine and food pairings. Follow me on Twitter @martindredmond for all things wine, and since I'm a wino, with latent foodie tendencies, you'll also find food and wine pairings, and food related stuff! Become a fan and join ENOFYLZ Wine Blog on Facebook. Cheers! This article is original to ENOFYLZ Wine Blog.com. Copyright 2014 ENOFYLZ Wine Blog. All rights reserved.