Saké paired with cheese? Now that's a combination that's not likely to have crossed your mind.
At least it hadn't crossed mine.
That is until I was invited to participate in a virtual tasting  of sake and cheese with sakés from Oregon based craft producer and importer, SakéOne along with cheeses from Marin French Cheese, and Laura Chenel Chevre. The tasting was hosted by Charles Communications Associates.
SakéOne is an importer of Japan's finest saké as well as America's premium saké company. For more than a decade, SakéOne has been crafting junmai ginjo (premium) quality saké at its state-of- the-art kura (brewery) in Forest Grove, the heart of the Willamette Valley: Oregon's craft beer-brewing and wine-making mecca.  SakéOne is focused on producing and importing saké that suits the American palate.
Marin French Cheese and Laura Chenel's Chevre and  are sister companies, located in Sonoma and Petaluma, California respectively, with distinctly original and authentic styles of cheese.
Why Saké Pairs Well with Cheese
After I signed up for the tasting, I did a bit of research on saké and cheese pairings. As it turns out, saké naturally pairs well with cheese because both contain lactic acid.  The lactic in cheese contributes to its aromas and flavors. In saké, lactic acid adds a distinct creamy, buttery feel, and yogurt, or custard-like aromas.
More and more foodies are becoming aware of the synergy of cheese and sake, particularly when you consider the element of pairing in which like meets like – Charles Communication
The other thing that saké has going for it is umami – a pleasant savory (also described as meaty or earthy) taste imparted by (it's about to get all geeky!) glutamate, a type of amino acid and ribonucleotides, which occur naturally in many foods including meat, fish, vegetables and dairy products.  Saké contains twenty different types of amino acids, giving it lots of umami, and thereby enhancing it's affinity for pairing with cheese.
The combination of lactic acid, and umami, together with saké's sweetness give it fantastic combination of cheese-ready potential.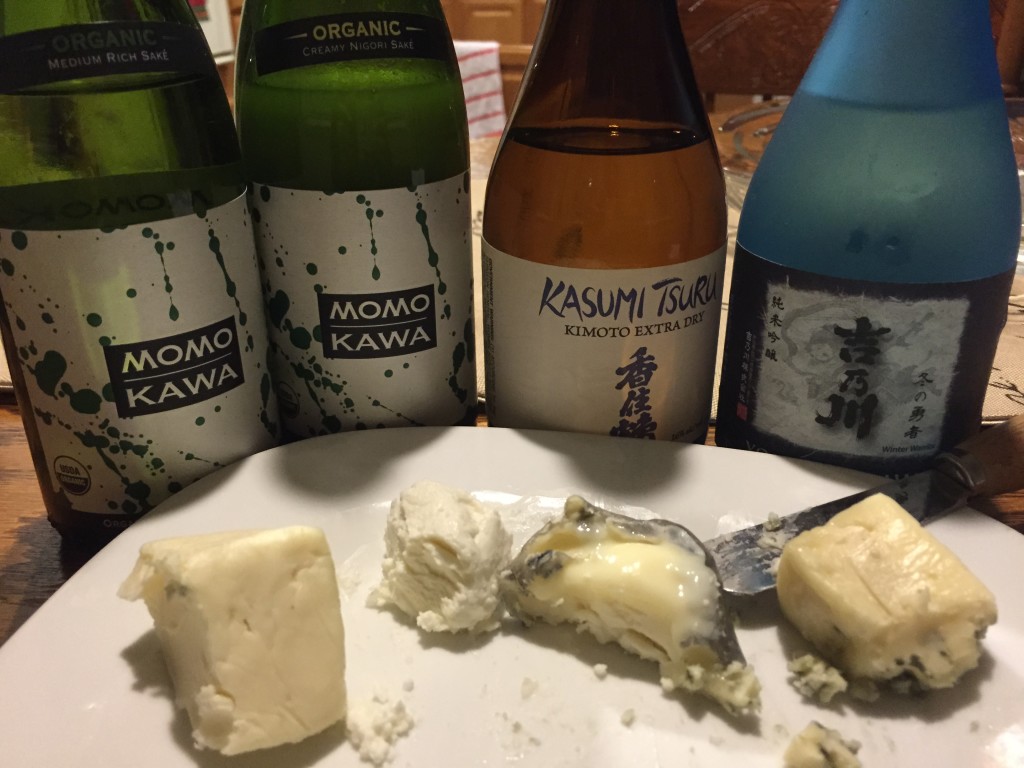 The tasting featured the following sakés (You may find my detailed tasting note on the saké here)  & cheese:
Marin French Petite Breakfast Brie with Momokawa Organic Junmai Ginjo
This was my first experience with "fresh" brie.  Wow!  It's mild, buttery and slightly tangy with a dense chalky texture. The saké, which is medium-bodied, broad on the palate, and with "weight" that was a fantastic complement to the dense character of the cheese. The cheese tasted less tart with saké, while the cheese played up the tropical fruit notes of the saké.  abv:14.5%; Price:$14/750ml
Laura Chenel's Chévre with Momokawa Organic Nigori
The chévre  is clean-tasting, smooth, light, tangy with a mild lemony taste.   This was a good pairing for me.  Although, the weight and full-bodied character of the cheese overwhelmed the cheese a bit, the saké definitely made the cheese taste less tangy. At the same time, the creamy, off-dry, full-bodied, fruity character of the saké was amplified in a favorable manner by the cheese.  abv:16% alcohol; Price: $14/750ml
Laura Chenel's Ash-rinded Buchette with Kasumi Tsuru Kimoto Extra Dry
A 'buchette' is a small log of aged goat cheese.  This one has edible, tender rind that is at once a lightly salty, lemony, and tangy.  The center is at once full-bodied, creamy, a bit chalky, and with a citrusy tangy character.  We were asked to taste the cheese by itself and then with the rind. On its own the cheese is delicious. But, I preferred it with the rind because it saltiness of the rind was a great complement to the creamy nature of the cheese. This was the best of the four pairings for me, the saké's fresh, dry, supple texture and  melon, pear, anise and mineral character played up the strong flavors of the cheese while standing its ground.
This is a great example of the difference between pairing cheese with saké, as opposed to wine. A classic wine pairing for an aged goat cheese would be Sauviginon Blanc. And what makes it work is the acidity of the wine cutting through the richness of the cheese. Saké is different, but just as pleasurable.  While saké lacks the acidity of wine, the texture, and umami make for a richness that plays of the richness of the cheese rather than cutting through it. Killer pairing!  abv: 13%; Price: $27.00/720ml
Rogue River Blue Cheese  with Yoshinogawa Winter Warrior Junmai Ginjo 
The Rogue River Blue Cheese is a relatively mild blue cheese that is wrapped in grape leaves macerated in pear brandy. Its forward, well-aged flavor tastes of brandy, fruit and a bit of smokiness.  The layered, tropical fruit, pear,and melon character of saké was a wonderful pairing. The weight of the saké and cheese were perfectly matched and the saké made the blue cheese taste less salty in a favorable way.  While the other pairing were more complementary in nature this one offered more of contrast.  abv:14%;Price: $27.00/750ml
The tasting was a fantastic experience!  It opened by eyes to the myriad of pairing possibilities for saké beyond Japanese food.  Quality saké has such a broad range of flavors and style that it can pair well a range of foods.  And pairing it with cheese is a great place to start!