Every Thursday I feature a wine I particularly enjoy, whether it's something new and different, is a great value, or from a producer worth checking out.  My Wine Of The Week is the 2010 Cantele Salice Salentino Riserva.
The Winery
Cantele is a family run winery founded by Giovanni ("Gianni") Battista Cantele, and his two sons Augusto and Domenico in 1979.  The winery is located between the villages of Fra Guagnano and Salice Salentino.
Today, the Cantele family owns 50 hectares planted to vine and the family's current winemaker Gianni (one of Augusto's sons) and agronomist Cataldo Ferrari manage another 150 hectares owned by other growers. Augusto's other son Paolo is the winery's brand manager and Domenico's son Umberto is head of sales. Domenico's daughter Luisa also works in the estate's corporate offices together with Gianni's wife Gabriella. The business remains to this day a true "family affair."
Cantele produces about 2 million bottles/year, including indigenous Pugliese grapes such as Primitive and Negroamaro, along with international grape varieties like Chardonnay, Merlot and Syrah.
The Wine
Cantele produces wine in Salice Salentino DOC of Puglia, which is located in "the heel" of the boot in peninsular Italy.  Puglia has had a reputation for producing mostly low-quality bulk wines (a.k.a. "plonk").  In the 21st century though, a growing number of winemakers are more focused on quality rather than quantity.  For example, Puglia is the second largest producer (after Sicily) of organic wines.  And there have been substantial investments by the iconic Italian producer Antinori.
The flagship red grape of the Salice Salentino DOC is Negroamaro , which translated to English means dark (negro), and bitter (amaro).
This wine is made from 100% Negroamaro fermented in stainless steel and aged in 1-2 year old barrique for 6 months.
13% alcohol Retail – $9.99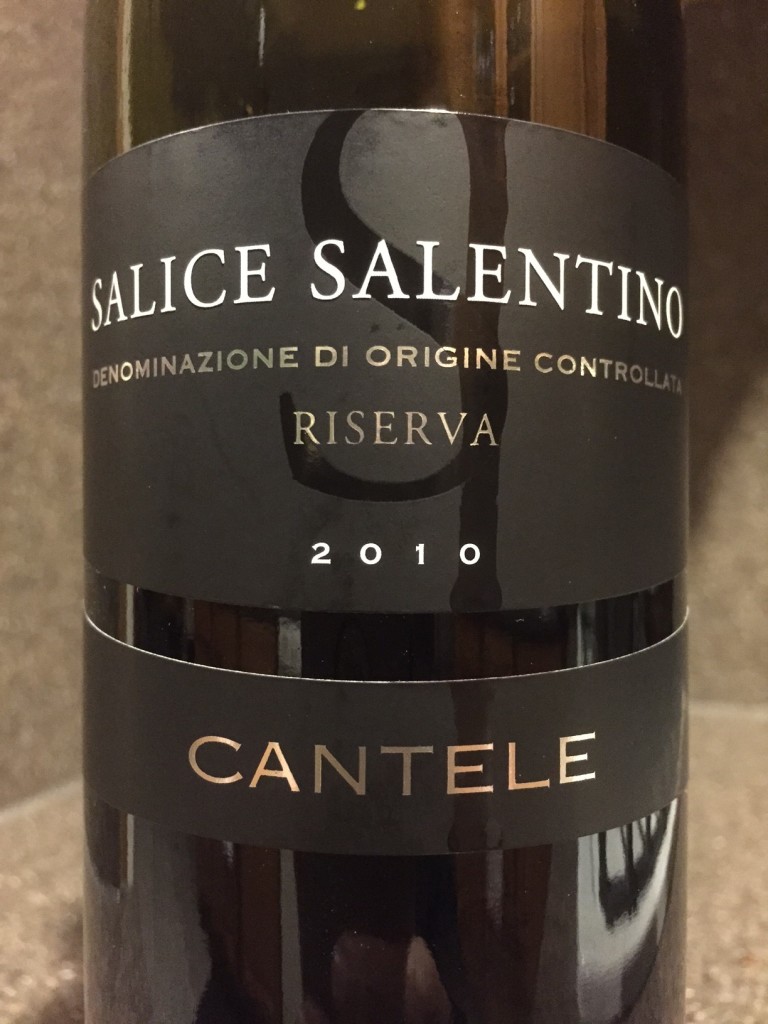 My tasting notes follow:
Ruby color with inviting black and red fruits, bramble, and spice aromas. On the palate, it's medium-bodied, vibrant, and deliciously spicy with plum, dried cherry, black raspberry flavors, dusty tannins and a supple texture. Medium+ finish. >>Find this wine<<
Rating: A-; Fabulous QPR on this wine!  And if you're looking to try a different grape variety – give Negroamaro a try!
Pair with: Carne alla pizzaiola, meat lovers pizza, roast veal and beef, game, lamb, and ripe aged cheeses.
Sample purchased for review
Related post you might enjoy:
Ratings Key:
(A+) – 95-100/Extraordinary
(A) – 92-95/Outstanding
(A-) – 89-91/Very Good to Outstanding
(B+) – 86-88/Very good
(B) – 80-85/Good
(C) – 70-79/Bleh
(D) – 50-69/#Fail
_________________________________________________________________
Martin Redmond is a Financial Executive by day, and a certified wine geek with latent foodie tendencies the rest of the time. In addition to the wine lifestyle and food he enjoys family, fitness and traveling. He likes to get thoughts of wine off his mind by sharing experiences on his ENOFYLZ Wine blog, which features wine reviews, wine country travel, and wine and food pairings. Follow me on Twitter @martindredmond for all things wine, and since I'm a wino, with latent foodie tendencies, you'll also find food and wine pairings, and food related stuff! Become a fan and join ENOFYLZ Wine Blog on Facebook. Cheers! This article is original to ENOFYLZ Wine Blog.com. Copyright 2014 ENOFYLZ Wine Blog. All rights reserved.