Wine Pairing Weekend is a monthly collaborative event for wine/food bloggers started by David Crowley of Cooking Chat.  It's a great way to find food and wine pairings that work; along with tips on how to create your own food and wine pairing magic. The theme for this month's Wine Pairing Weekend is "Sparkling Wines and Appetizers"
The Appetizer
I love the holiday's, but I don't enjoy the stress and frenzied pace that so often accompany the holidays.  The last couple of weeks, especially, have been that way for me. Things have been hectic at work since Thanksgiving. So much so that as much as I enjoy participating in #winePW, I was ready to bow out this week because I simply didn't have time to put together the appetizer I chose last weekend (I had to work!).
Then our host, Jeff of FoodWineClick suggested something simple – Potato Chips and Champagne!
Simple!  And perhaps more importantly, fast (I'm talking less than 10 minutes)!
Who couldn't use a quick but oh so tasty appetizer recipe this time of year?
Inspired by this recipe, I whipped up:
Smoked Salmon and Potato Chip Appetizer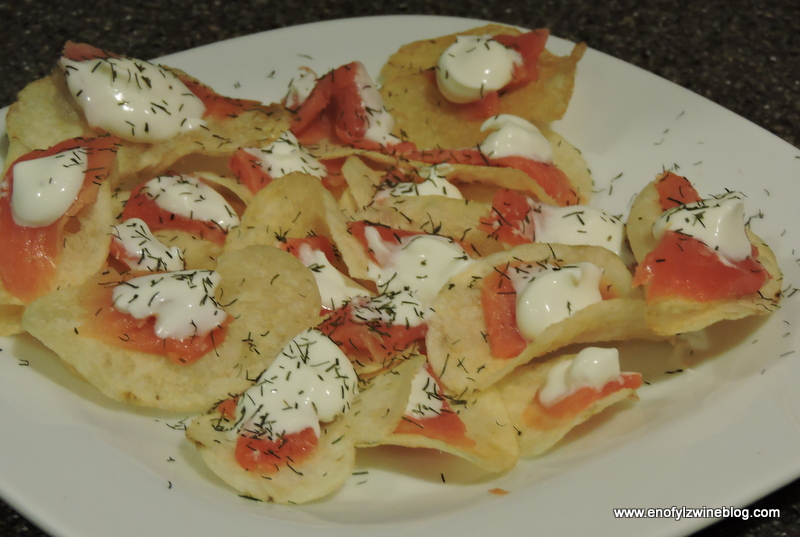 INGREDIENTS:
1 bag of quality potato chips of your choice
1 package of smoked salmon cut into small pieces(to place on chips)
crème fraîche
Dill weed (for garnish)
DIRECTIONS:
Sort chips in a single file on a platter or plate.  Top with a small piece of salmon.  Place a tiny dollop (about a 1/2 teaspoon) of crème fraîche on top of salmon.  Finish with a pinch of dried dill on top.  Serve immediately.
Notes: Any kind of smoked fish will work on this really.  Also you may substitute fresh herb such as chives, or dill.  I tried both Trader Joe's Sea Salt Kettle Potato Chips and Classic Lays Potato Chips.  I slightly preferred the Classic Lays. They had a lighter texture and a tad more salt.
The Wine
I drink more bubbly than most folks.  I enjoy sparkling wine at least 3 or 4 times a month. That's because I've learned that sparkling wines have are one of the most food friendly wines and because I don't limit my consumption of sparkling wines to holiday celebrations.
While it's true that sparkling wines are the wine of choice for most celebrations, for me Champagne is the ultimate sparkling wine for a celebration.
With that in mind and a bottle of Louis Roederer Brut Premier I've had in my refrigerator for a couple of month, my wife and I celebrated the monthly anniversary of our first date (we celebrate one way or another the 10th every month)!
This wine delivers a lot of value for an entry-level Champagne.
It's a multi-vintage blend of  40% Pinot Noir, 40% Chardonnay, and 20% Pinot Meunier sourced from only grand and premier cru sites.  And It includes a significant amount of reserve wines that are over 10 years old that add depth and nuance to this affordable bottle of bubbles ($40).  The wines are matured in oak casks.  It is aged three years on the lees and another six months after disgorgement.
While this wine is the perfect aperitif, it has enough body to continue drinking into the main course as well.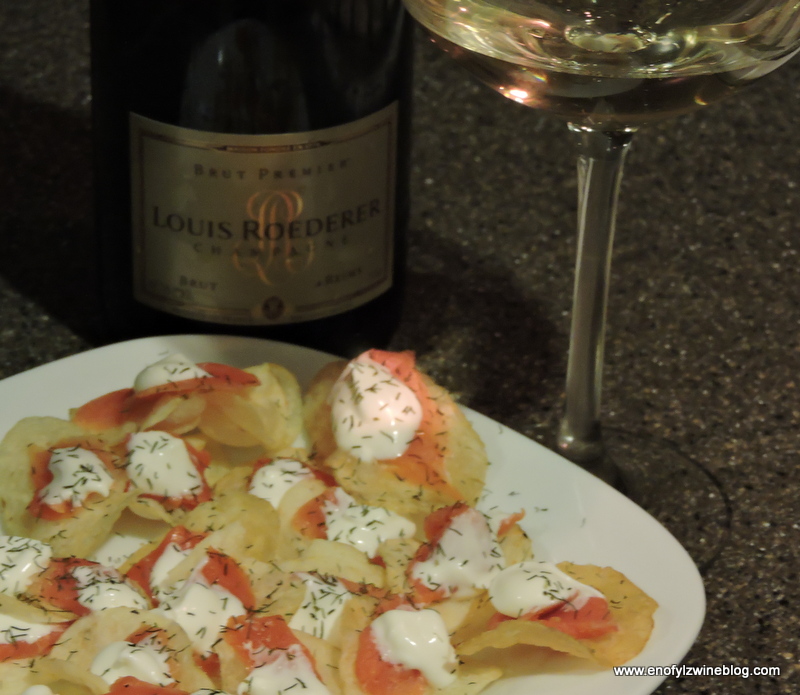 My tasting notes on the wine follow:
Pale yellow color with plentiful active tiny bubbles and yeasty, almond, apple, subtle grapefruit and a hint of smoke aromas. On the palate, it's refined, lively and fresh with a delicate creamy mousse. Mixed tart apples, pear and lemon curd flavors dominate but hints of grapefruit, black currant and an appealing smoky minerality play in the background. Long finish.
The Pairing
The beauty of sparkling wines is their versatility with food.  That's because it's high-acidity and effervescence give it a wonderful palate-cleansing ability(think scrubbing bubbles!) that get your palate ready for the next bite of whatever deliciousness is before you.
Sparkling wines work especially well as a counter-balance to salty foods, rich and creamy foods, fried  and crunchy foods and raw fish.
Well what do you know?  My appetizer is all of the above!
The pairing of Champagne with this appetizer is a great example of a food and wine pairing guideline that I follow most of the time –  let either the wine or the dish take center stage.  If you want to show off a special bottle of wine, then the dish should play a supporting role.  If you want to showcase a spectacular dish, then choose a lower-key wine.
Much like two people in a conversation, in the wine and food partnership one mus listen while the other speaks or the results is a muddle – Evan Goldstein;Perfect Pairings
When you bite into the appetizer, it's a party in your mouth.  Y ou get a nice combination of crunchy from the potato chips, a bit of salt, and the smokiness of the salmon, and the cool creaminess of the creme fraiche.
Ah, but when you eat one of these one-bite wonders followed by a sip of the Champagne, the wine makes the salmon taste a bit sweeter, and the smoky minerality of the Champagne also complements the smokiness of the salmon.  While at the same time, the appetizer elevates the taste of the wine, and make the wine taste less tart!
And that's a winning combination!
Ready to try something new this year? Check out these great ideas from my fellow #winePW bloggers for Sparkling Wine and Appetizers:
Remember our Twitter chat today, December 13th at 8 a.m. Pacific Time. We'll be talking about our tips and tricks for the best holiday wine pairings. We'd love to have you join us!
And, be sure to mark your calendars for January's Wine Pairing Weekend, hosted by Christy at Confessions of a Culinary Diva. We'll be sharing "New Wine Resolutions – Wine or Region you want to explore in 2015. Join in the #WinePW 8 conversation on Saturday January 10!
You can also visit our group Pinterest board to pin some great pairing ideas for later!
__________________________________________________________________
Martin Redmond is a Financial Executive by day, and a certified wine geek with latent foodie tendencies the rest of the time. In addition to the wine lifestyle and food he enjoys family, fitness and traveling. He likes to get thoughts of wine off his mind by sharing experiences on his ENOFYLZ Wine blog, which features wine reviews, wine country travel, and wine and food pairings.
Follow me on Twitter @martindredmond for all things wine, and since I'm a wino, with latent foodie tendencies, you'll also find food and wine pairings, and food related stuff! Become a fan and join ENOFYLZ Wine Blog on Facebook. Cheers!
This article is original to ENOFYLZ Wine Blog.com. Copyright 2014 ENOFYLZ Wine Blog. All rights reserved.