Every Thursday I feature a wine I particularly enjoy, whether it's something new and different, is a great value, or from a producer worth checking out.  My Wine Of The Week is the Daniel Ginsburg Grande Reserve Sous Bois Brut.
The Winery
Daniel Ginsburg (1956-2009) was the majority owner of Champagne de Meric.  For a time, it was the only American-owned winery in Champagne (Sports and music mogul Jay Z recently purchased Champagne Armand de Brignac)
Ginsburg was a man of diverse interests. He was a graduate of Northwestern University and made his professional mark in advertising and marketing.  He was an avid wine collector, founding member of the Society for American Baseball Research (which he joined when he was 15!), author (The Fix Is In: A History of Baseball, Gambling and Game Fixing Scandals, and The Art and Business of Champagne), and part-owner of the Class AA Norwich Navigators.
Champagne De Méric was founded in 1843 by the Besserat family in the village of Aÿ. The Besserat family sold the House to Ginsburg in 1997.  The house has been managed since 2005 by Reynald Leclaire, wine broker and also owner of Champagne Leclaire-Thiefaine.
The Wine
I purchased this wine from K&L Wine Merchants.  According to K&L "This is the exact same wine as the De Meric "Grande Reserve Sous Bois" Brut Champagne, now being sold under the name of the late founder, Daniel Ginsburg."  It's a blend of 80% Pinot Noir from Ay, Mareuil-Sur-Ay and Mutigny, 15% Chardonnay from Cramant, Avize and Oger and 5% Meunier from Cumieres.
More from K&L..It is vinified half in old oak barrels and half in stainless steel tanks for the perfect balance of rounded richness and zesty refreshment. It is in a big style and has plenty of toasty complexity, but also an elegant, small-beaded texture."
12% alcohol Retail – $34.99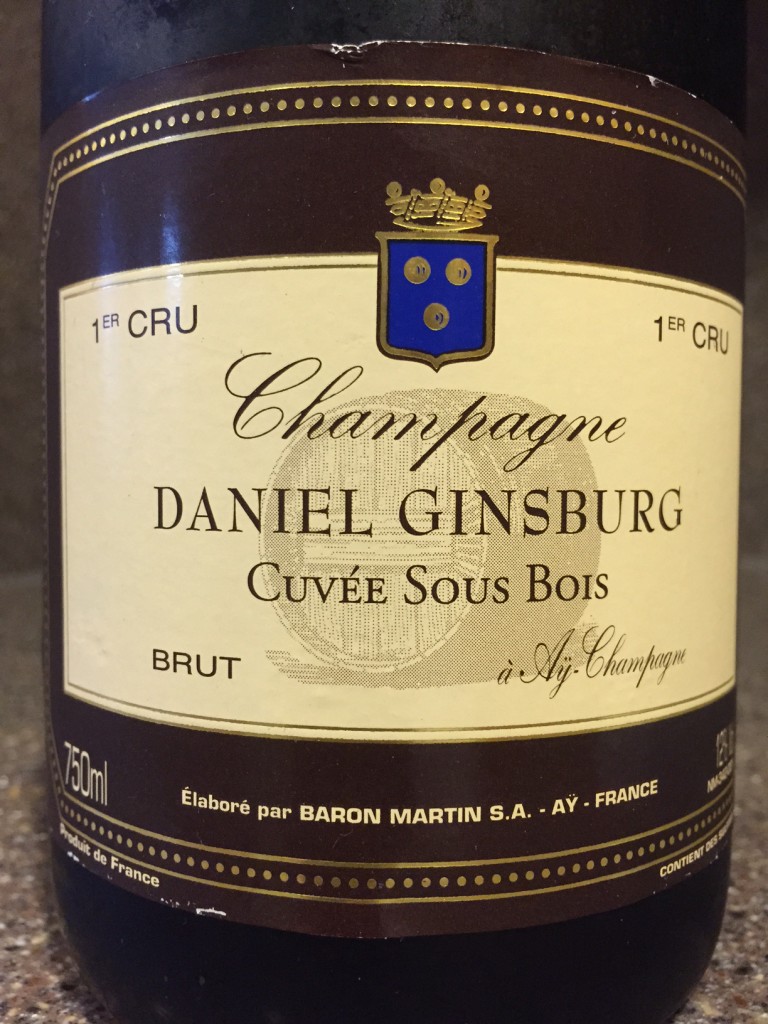 My tasting notes follow: 
Golden color with plentiful pin-prick sized bubbles and a  steady bead.  It aromatically exuberant with brioche, hazelnut, quince, and a bit of citrus aromas.  On the palate, it's full bodied and dense with a delicate creamy mousse  and a toasty baked apple, lemon and a hint of spice flavors.  It's moderately complex, well-balanced and delicious with a lingering finish.
Rating: A-; If you're looking for value in a full-bodied Champagne, this one is a winner!
Sample purchased for review
Ratings Key:
(A+) – 95-100/Extraordinary
(A) – 92-95/Outstanding
(A-) – 89-91/Very Good to Outstanding
(B+) – 86-88/Very good
(B) – 80-85/Good
(C) – 70-79/Bleh
(D) – 50-69/#Fail
_________________________________________________________________
Martin Redmond is a Financial Executive by day, and a certified wine geek with latent foodie tendencies the rest of the time. In addition to the wine lifestyle and food he enjoys family, fitness and traveling. He likes to get thoughts of wine off his mind by sharing experiences on his ENOFYLZ Wine blog, which features wine reviews, wine country travel, and wine and food pairings.
Follow me on Twitter @martindredmond for all things wine, and since I'm a wino, with latent foodie tendencies, you'll also find food and wine pairings, and food related stuff! Become a fan and join ENOFYLZ Wine Blog on Facebook. Cheers!
This article is original to ENOFYLZ Wine Blog.com. Copyright 2014 ENOFYLZ Wine Blog. All rights reserved.