Every Thursday I feature a wine I particularly enjoy, whether it's something new and different, is a great value, or from a producer worth checking out.  My Wine Of The Week is the 2001 La Rioja Alta "904" Gran Reserva
The Winery
La Rioja Alta, S.A. was founded in 1890 when five Riojan and Basque families who shared a passion for wine, founded the 'Sociedad Vinícola de La Rioja Alta'. According to importer Michael Skurnik, "Few dispute that La Rioja Alta S.A. is the leading quality orientated producer in the Rioja. With more than 50,000 casks and 6.4 million bottles stored at any one time, the equivalent of about 8 years sales, La Rioja Alta S.A. is unique in its ability to supply large quantities of fully mature wines of world-class quality".
La Rioja Alta rose to prominence at a time when vineyards in France were ravaged by phylloxera, and wine lovers were looking elsewhere for fine wine.  La Rioja Alta was one of the wineries in Rioja  that capitalized on the opportunity.
The Bodega's first winemaker was a Frenchman, Monsieur Vigier, and the first wine he produced was what is today known as "Gran Reserva 890", their flagship wine.
They will celebrate their 125th anniversary next year!
I was discovered La Rioja Alta a couple of years ago when I read some of the reviews about the 2001 Viña Ardanza.  I picked up a couple of bottles.
So often in a situation where a wine is hyped up, it's not unusual for one to be let down because expectations have been built up.
Not so for the 2001 Viña Ardanza.   It lived up to the hype and delivered for me.
My other experience with La Rioja Alta was when I traveled to Spain last year.  When we arrived at our hotel –  Los Augustinos Hotel, we were starving.  The first thing we did was grab a bite to eat.  They was a special on a combination cheese plate and a bottle of Viña Alberdi Crianza.  What a great introduction to the wine and cheese of Rioja!  It was such a memorable meal! The wine and the cheese were perfectly matched.
Fast forward to this year.  When I saw my favorite wine store, K&L Wine Merchants had a nice selection of wines from the 2001 vintage – one of the strongest vintages in Rioja in recent memory, it was a "no-brainer" for me to pick up a couple of bottles of this wine because I've had great experiences with other wines from La Rioja Alta.
The Wine
In 1904, La Rioja Alta absorbed Bodegas Ardanza, which was owned by Don Alfredo Ardanza.  This wine commemorates this important milestone in the company's development.  Originally referred to the "Reserva 1904", it is now known as the "904".
These wines offer a wonderfully complex bouquet, rich flavours, a seductively smooth texture, and are all ready to drink on release.
The "904" is a blend of Tempranillo and Graciano. The base grape is Tempranillo (90%) from vines over 40 years old grown in the municipalities of Briñas, Labastida and Villalba, perfectly complemented with 10% Graciano from our Melchorón I and II vineyards in Briones and Rodezno.
After fermentation, the wine was aged 4 years in custom-made American oak barrels, that were racked twice a year, and then further aging in bottle.
12.5% alcohol $50 Retail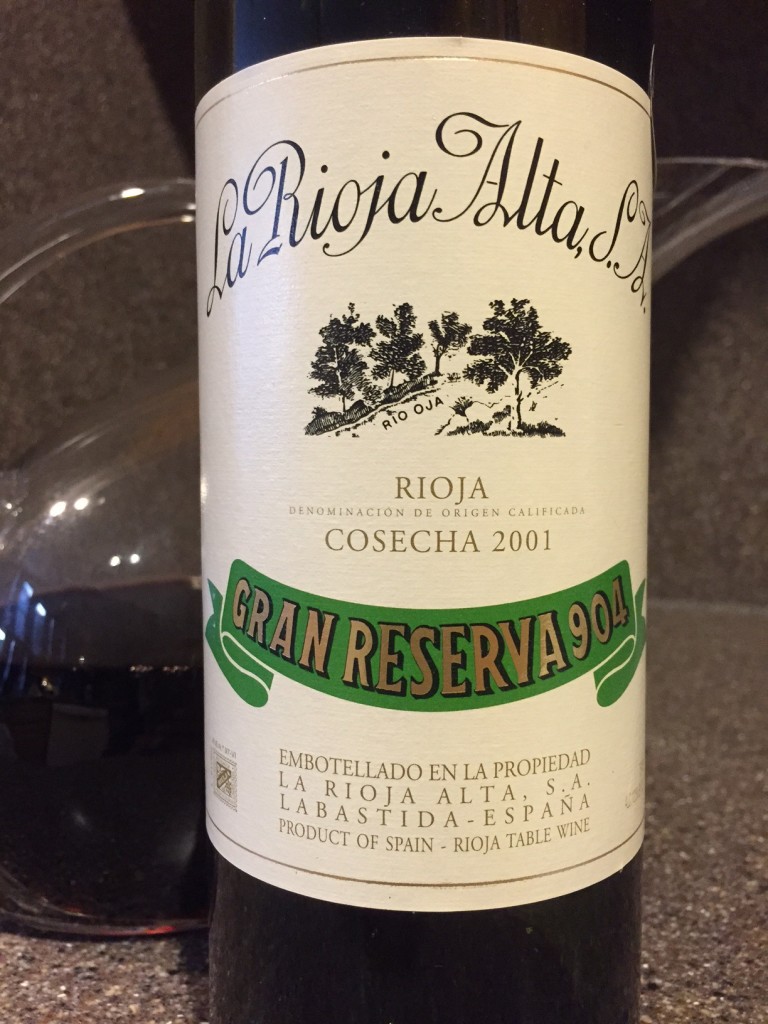 My tasting notes follow:
Slightly bricking tawny color with alluring baked cherry, balsamic, tobacco, vanilla, spice and sweet floral aromas. On the palate, light-medium-bodied with a freshness that belies its 13 years.  It's  shows great finesse, concentration and is impeccably balanced with tart raspberry, cherry, vanilla, spice and mineral flavors. Long finish. [Note: I aerated the wine for 90 minutes]  >>Find this wine<<
Rating: A; Highly recommended!
Pair with: Grilled lamb chops with Patatas a la Riojana, or Chorizo and lentil stew with Morcilla (Spanish blood sausage)
Sample purchased for review
Ratings Key:
(A+) – 95-100/Extraordinary
(A) – 92-95/Outstanding
(A-) – 89-91/Very Good to Outstanding
(B+) – 86-88/Very good
(B) – 80-85/Good
(C) – 70-79/Bleh
(D) – 50-69/#Fail
Other posts you might enjoy:
_________________________________________________________________
Martin Redmond is a Financial Executive by day, and a certified wine geek with latent foodie tendencies the rest of the time. In addition to the wine lifestyle and food he enjoys family, fitness and traveling. He likes to get thoughts of wine off his mind by sharing experiences on his ENOFYLZ Wine blog, which features wine reviews, wine country travel, and wine and food pairings.
Follow me on Twitter @martindredmond for all things wine, and since I'm a wino, with latent foodie tendencies, you'll also find food and wine pairings, and food related stuff! Become a fan and join ENOFYLZ Wine Blog on Facebook. Cheers!
This article is original to ENOFYLZ Wine Blog.com. Copyright 2014 ENOFYLZ Wine Blog. All rights reserved.