Wine Pairing Weekend is a monthly collaborative event for wine/food bloggers started by David Crowley of Cooking Chat.  It's a great way to find food and wine pairings that work; along with tips on how to create your own food and wine pairing magic.
The theme for this month's Wine Pairing Weekend is "Creative Thanksgiving-Inspired Dishes and Wine Pairings"
The Food
As a certified wine geek with latent foodie tendencies, I almost always decide which wine I want to try, then decide which dish to pair it with.
But this time was different.
All I knew is I wanted an atypical main dish.  I poked around the web and found this Butternut Squash and Cheddar Bread Pudding recipe.  What's atypical about it is that it's intended to be a vegetarian main dish – a dish that can command the table…
A delicious savory bread pudding that rivals the big roasted bird.
This dish does the trick! It capture the eye with a brilliant splash of fall color, and it smell even better.  And despite the name it includes a healthy dose of kale too!
I pretty much followed the recipe, except that I cut the recipe in half because the baguette I didn't yield enough torn bread pieces.  I also added a bit of Herbs de Provence to the custard used to soak the bread.
I was turned on to savory bread puddings a couple of years ago when I tried one as a side dish for Thanksgiving.  That turned out good. This one turned out great!
Beside presenting beautifully, it's hearty and it tastes sweet, and savory all at once!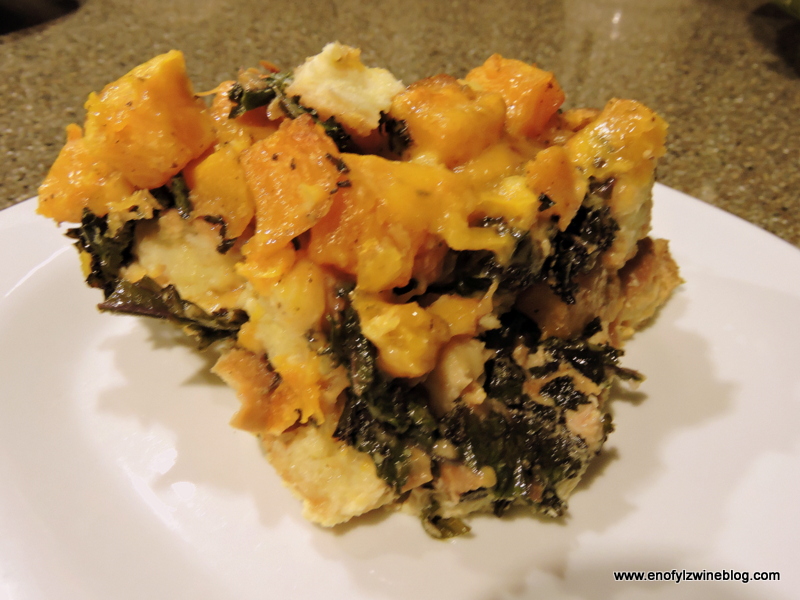 The Wine
For my wine, I went orange.  An orange wine that is!
For the uninitiated an orange wine, is essentially a wine made from white wine grape varieties (in this case Roussanne) that spends some time fermenting on grape skins (i.e. it's vinified like a red wine. It's the skins that give the wine its color).
This white (orange) wine will surprise as it spent 15 days on the skins in a 4 ton open top wood vat before we pressed off to complete fermentation in neutral oak barrels. Orange wines, as they are called, are fascinating for many reasons but most exciting for us is the incredible versatility at the table.
This one is from Donkey and Goat Winery, a family owned and operated urban winery located in Berkeley California.  They make food friendly wines from hand harvested, sustainably farmed grapes grown in Mendocino & the Sierra Foothills. The wines are vinified as naturally as possible with minimal intervention and minimal effective SO2.
I firsT tried this wine a couple of vintages ago, and I make sure I pick up a bottle of two each year (Doh! That reminds me I've got to get my '13 for this year's Thanksgiving!)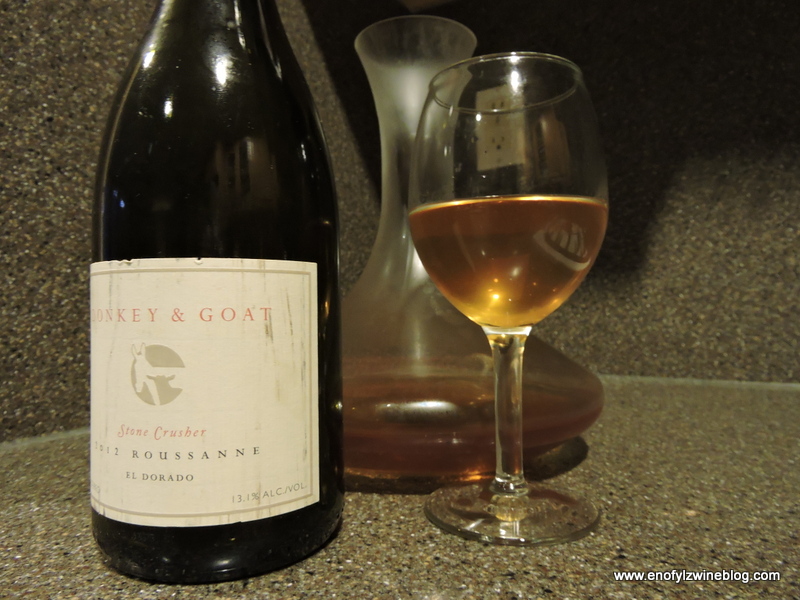 My tasting notes follow:
Slightly hazy golden-orange color with charming, exotic honeysuckle, baked apricot, spiced orange rind, and jasmine aromas. On the medium-bodied, dry and fresh with dusty tannins and baked apricot, nectarine, heirloom apple, mineral and spice flavors, and a lingering finish.
The Food and Wine Pairing
This was a great pairing on all levels for me.  The wine possesses a combination of very good acidity and just enough tannins to complement the full-bodied richness of the bread pudding.  The wine has ample exotic fruit flavors and those flavors are amplified with you take a bite of the bread pudding followed by a sip of the wine.  The bread pudding made the wine taste better and the wine made the bread pudding taste better.
And that's what food and wine pairing is all about!
Check out what my fellow #winePW bloggers have created for the November "Creative Thanksgiving-Inspired Dishes and Wine Pairings:
Sides
Turkey, Tempranillo and Sweet Potatoes by Cooking Chat
Thanksgiving from the Veneto: Turkey, Pomegranate Sauce & Valpolicella by foodwineclick
Norwegian Meatballs by Confessions of a Culinary Diva
Shepherds Pie Casserole with Barnard Griffin Syrah Port by Wild 4 Washington Wine
Sides
Purple Sweet Potato Soup with Roasted Lobster + Bonny Doon Vin Gris de Cigare by Culinary Adventures with Camilla
Arugula Pear Salad paired with Torrontes from Argentina by A Day in the Life on the Farm
Layered Sweet Potato and Apple Bake with Cranberry Blush by Curious Cuisiniere
Desserts
Walnut Tart with Sparkling Brachetto d'Acqui by Vino Travels — An Italian Wine Blog
Can we skip to dessert? by Pull That Cork
Don't Forget Leftovers!
Day After Turkey and Seafood Gumbo by It's Ok To Eat The Cupcake
Turkey Pot Pie and Boedecker Cellars Chardonnay by Tasting Pour
Don't forget to our Twitter chat today, November 8th at 11 a.m. Eastern Time! We'll be talking about our tips and tricks for the best Thanksgiving wine pairings. We'd love to have you join us!
And, be sure to mark your calendars for December's Wine Pairing Weekend, hosted by Jeff of foodwineclick. Just in time for Holiday parties, we'll be sharing sparkling wine and hors d'oeuvre pairings. Join in the #WinePW 7 conversation on Saturday Dec. 13!
You can also visit our group Pinterest board to pin some great pairing ideas for later!
__________________________________________________________________
Martin Redmond is a Financial Executive by day, and a certified wine geek with latent foodie tendencies the rest of the time. In addition to the wine lifestyle and food he enjoys family, fitness and traveling. He likes to get thoughts of wine off his mind by sharing experiences on his ENOFYLZ Wine blog, which features wine reviews, wine country travel, and wine and food pairings.
Follow me on Twitter @martindredmond for all things wine, and since I'm a wino, with latent foodie tendencies, you'll also find food and wine pairings, and food related stuff! Become a fan and join ENOFYLZ Wine Blog on Facebook. Cheers!
This article is original to ENOFYLZ Wine Blog.com. Copyright 2014 ENOFYLZ Wine Blog. All rights reserved.