Every Thursday I feature a wine I particularly enjoy, whether it's something new and different, is a great value, or from a producer worth checking out.  My Wine Of The Week is the 2010 Robert Craig Affinity.
The Winery
The eponymous Robert Craig Winery was founded in 1992; he has been involved in the wine industry for many years, most notably at The Hess Collection as their General Manager. In addition he helped develop 300 vineyard acres on Mt. Veeder and was instrumental in forming a sub appellation for the Mt. Veeder area. Bob has been focused on hillside vineyards since he became interested in wine in the 1960's. It's fair to say he spends a significant amount of time in some of the major hillside producing regions of Napa including at his house which is built on Mt. George. Robert Craig's wines are sourced from Mt. Veeder of course as well as the Spring Mountain and Howell Mountain AVA's.(Source)
The winery is located at an elevation of almost 2300 feet high up on Howell Mountain. .At this elevation they do occasionally see some snow in the winter.  Their estate vineyard is among the highest in the Napa Valley.  The location can be a challenge to get to, and their permitting limit them to a small number of visitors, so they maintain a tasting room in Downtown Napa.
That's where my wife and I first tasted Robert Craig wines.
We were hosted by Tia Simon, and since it was Valentine's weekend, she asked if we were interested in a chocolate and wine pairing.   I'm not crazy about pairing chocolate and wine, but it was a fantastic experience.  The pairing all worked, but more importantly, we loved the wines!
The Wine
Robert Craig has been bottling this Bordeaux style wine since 1993.  It's a blend of 84% Cabernet Sauvignon, 8% Petit Verdot, 4% Merlot, 2% Cabernet Franc and 2% Malbec.  The Cabernet Sauvignon is sourced from a hillside property.  The other four Bordeaux varieties are added to enhance the structure of the wine; giving it depth, dimension and layers.
The fruit is hand-picked and hand sorted, then kept in separate lots during fermentation and barrel aging. The wine was aged 18 months in French Oak.
14.5% alcohol; Retail – $51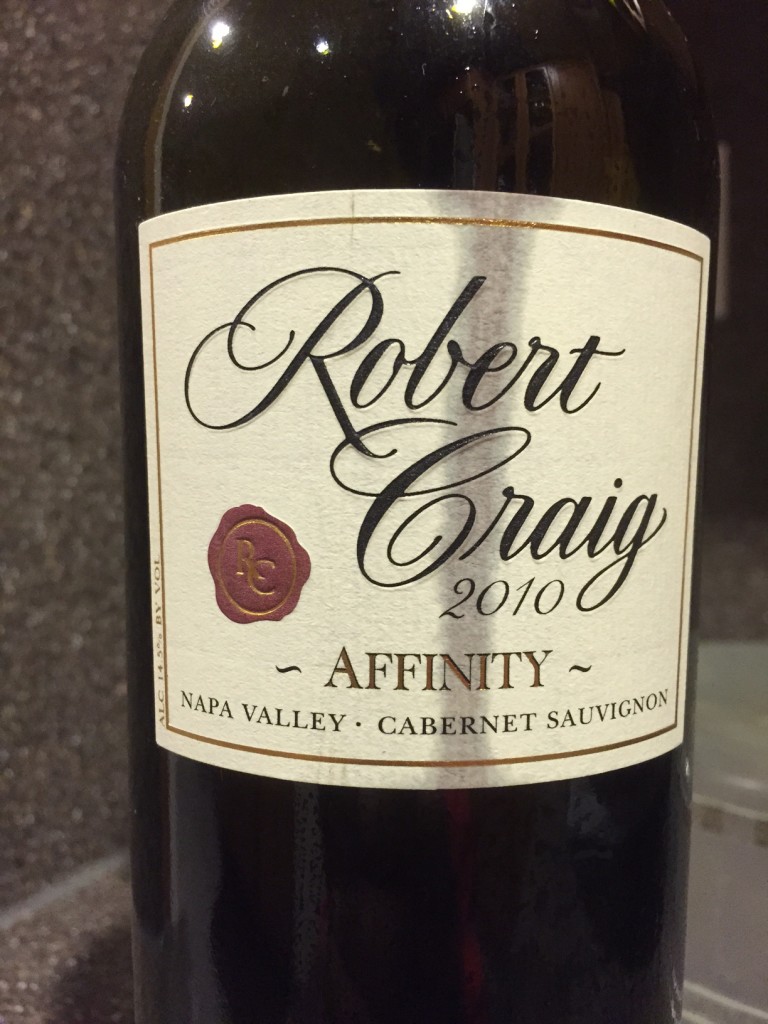 My tasting note follows:
Opaque dark ruby color with appealing cassis, black cherry, and roast espresso beans with hints of violet and mineral aromas. On the palate, it's elegant with a silky smooth texture and black cherry, cassis, vanilla and spice flavors with a long mineral accented finish.  >>Find this wine<<
Rating: A; Highly recommended!
Pair with: Lamp chops, or grilled tuna!
Sample purchased for review
Ratings Key:
(A+) – 95-100/Extraordinary
(A) – 92-95/Outstanding
(A-) – 89-91/Very Good to Outstanding
(B+) – 86-88/Very good
(B) – 80-85/Good
(C) – 70-79/Bleh
(D) – 50-69/#Fail
_________________________________________________________________
Martin Redmond is a Financial Executive by day, and a certified wine geek with latent foodie tendencies the rest of the time. In addition to the wine lifestyle and food he enjoys family, fitness and traveling. He likes to get thoughts of wine off his mind by sharing experiences on his ENOFYLZ Wine blog, which features wine reviews, wine country travel, and wine and food pairings.
Follow me on Twitter @martindredmond for all things wine, and since I'm a wino, with latent foodie tendencies, you'll also find food and wine pairings, and food related stuff! Become a fan and join ENOFYLZ Wine Blog on Facebook. Cheers!
This article is original to ENOFYLZ Wine Blog.com. Copyright 2014 ENOFYLZ Wine Blog. All rights reserved.