I attended the Champagne region's official annual United States tasting in San Francisco on Tuesday, October 21st.   The  tasting was held at the Westin St. Francis on Union Square.
The event celebrates Champagne: the sparkling wine produced in the French region of the same name. Only after strict appellation regulations are followed – from harvesting entirely by hand to how much juice may be extracted when grapes are pressed to minimum time in the wine spends aging in bottle on its lees before release– can a wine be labeled Champagne.
The event is part of an October full of festivities celebrating America's love of Champagne, concluding with the fifth annual Champagne Day on Friday, October 24.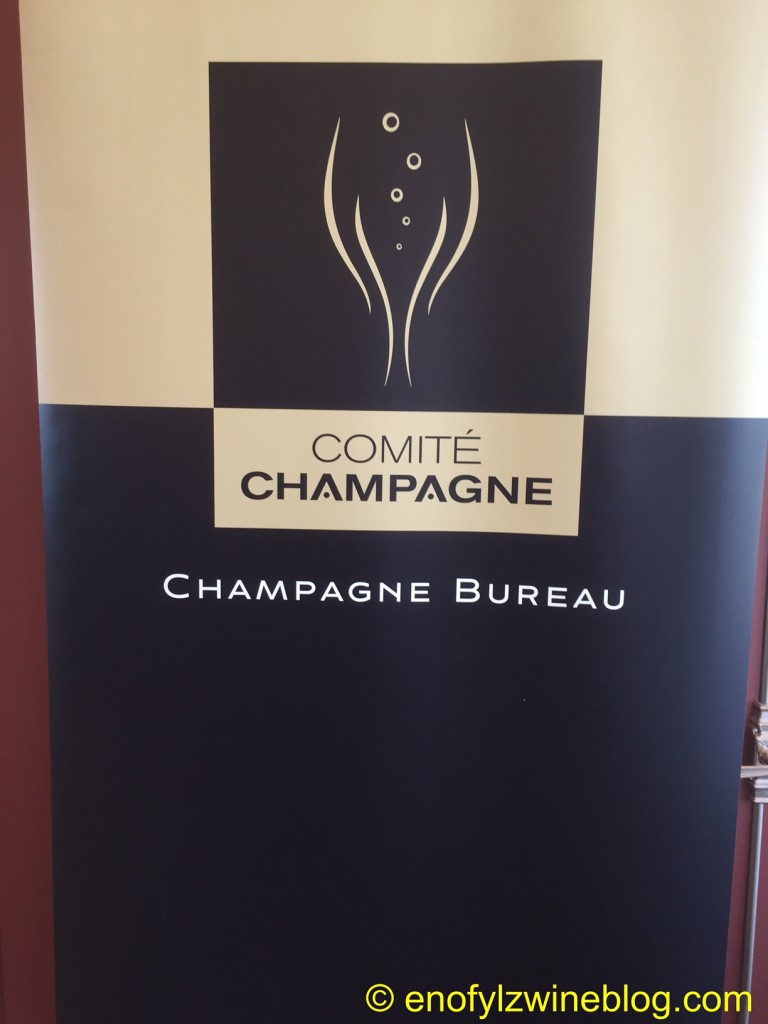 The event was organized by the Comité Champagne (Comité interprofessionnel du vin de Champagne – "C.I.V.C."), which represents all the grape growers and houses of Champagne. The C.I.V.C. promotes and supports the growers and producers through vineyard management and winemaking research and development, international protection of the Champagne name, and of course promoting Champagne
This was the fifth time the tasting was held in the United States, and the second time San Francisco was chosen to host the event.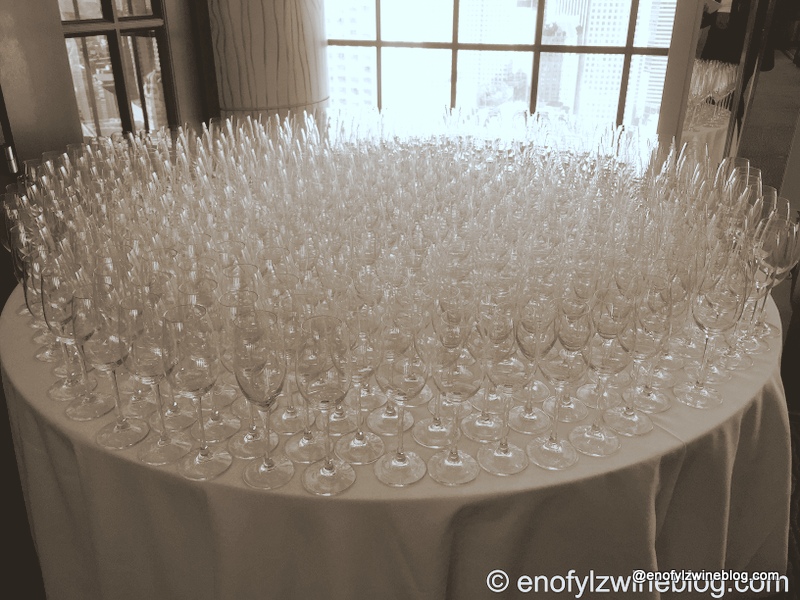 The Tasting
The event was held  in the Alexandra Ballroom on the 32nd floor of the Westin with breathtaking views of San Francisco and the Bay.  There were 37 brands represented and over 100 wines available for tasting.
It was a very well-organized event that included a comprehensive and accurate booklet of the wines being poured that had plenty of room for notes.
Each brand had a table around the perimeter of the ballroom. And each brand presented three wines – a Multi-vintage Brut, a Vintage, and a wine of their choice.
Additionally there was what I'd call "Champagne Island" in the middle of the room with a bunch of tables strung together to create what appeared to be two very long tables – One each for the multi-vintage wine and the vintage wine.
Perfect for the "power" tasters, and/or folks who wanted to avoid the marketing spiel.
Since I didn't know what to expect, I didn't have a tasting plan…but that didn't last long.
First, I decided to taste all the multi-vintage Brut wines on Champagne Island first because those are the most affordable, and the most widely available (multi-vintage wine represent about 80% of all Champagne sold).  Next, I tasted all the Rosé Champagne. Those were available at the tables of the producers who decided to show a Rosé. And finally, it was back to Champagne Island to taste as many of the Vintage wine as time and my, by then, tired palate would permit.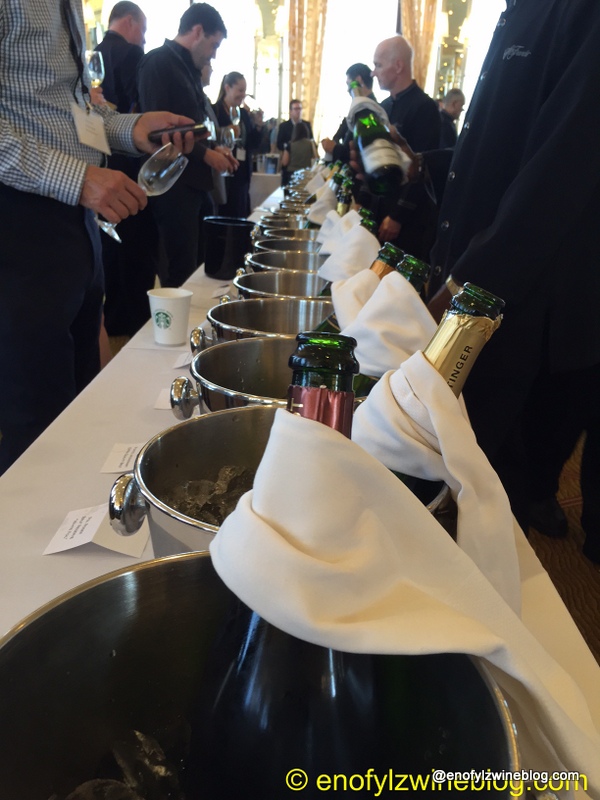 I used a simple scoring system – a scale of 1-5.
Okay, let's keep it real.  It is Champagne after all – it was more like 3.75 – 5 because there wasn't a dud in the bunch.
I ended up tasting 70 wines.  My favorites, which I scored at least 4 points are listed below by category: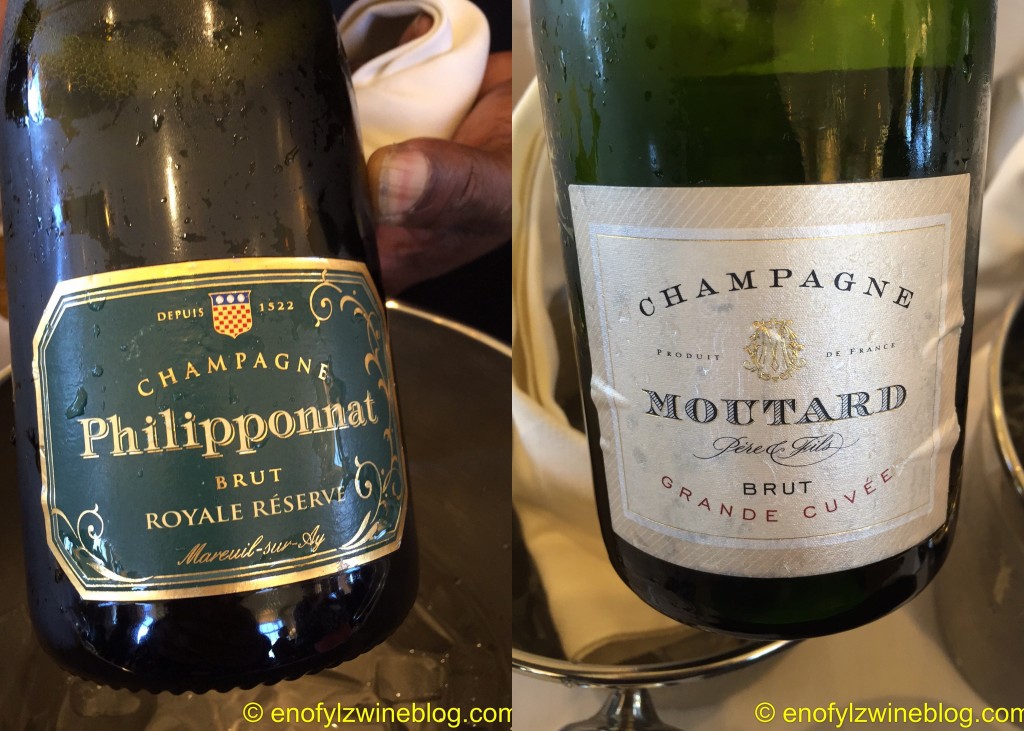 Multi-Vintage
Delamotte Champagne Brut Blanc de Blancs
J. Lassalle Champagne Brut Reserve Cachet d'Or
Louis Roederer Champagne Brut Premier
Michel Gonet Champagne Blanc de Blancs Grand Cru
Moutard Père et Fils Champagne Brut Grande Cuvée
Nicolas Maillart Champagne 1er Cru Brut Platine
Philipponnat Champagne Royale Réserve Brut
Pol Roger Champagne Brut Réserve
Taittinger Champagne Brut Réserve / La Française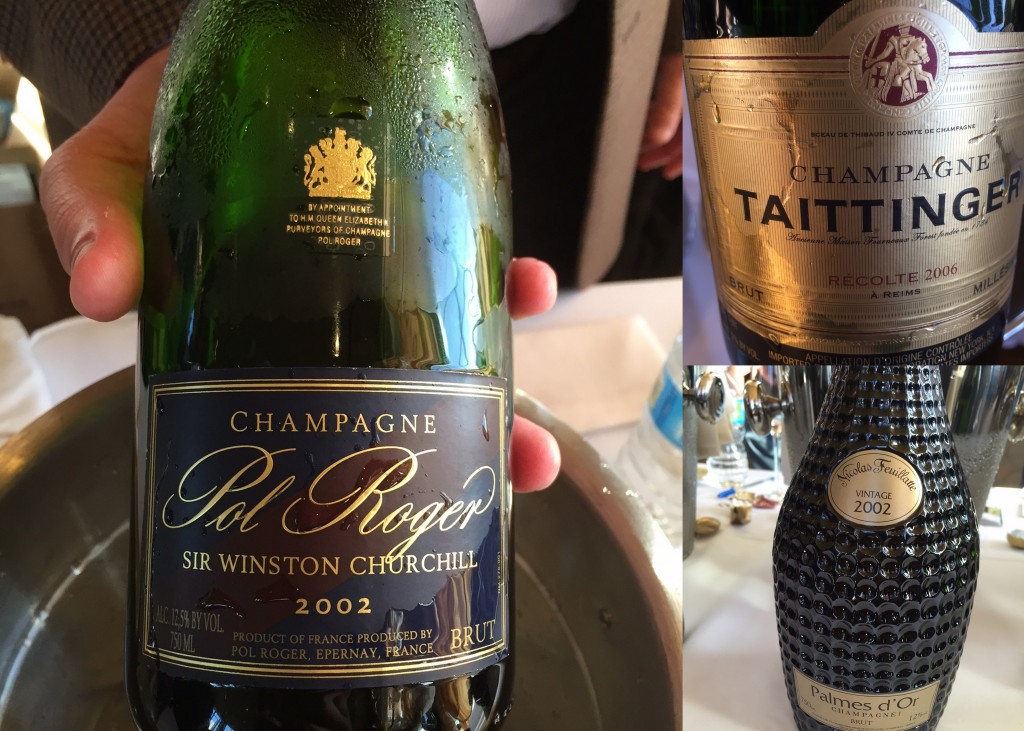 Vintage
2002 Charles Ellner Champagne Brut "Seduction" Millésimé
2002 Delamotte Champagne Blanc de Blancs Millésimé
2006 Drappier Champagne Grande Sendrée
2007 Louis Roederer Champagne Brut Vintage
2002 Nicolas Feuillatte Champagne Brut Cuvée Palmes d'Or
2004 Paul Goerg Champagne Cuvée Lady
2002 Pol Roger Champagne Cuvée Sir Winston Churchill
2006 Taittinger Champagne Brut Millésimé
Rose
Ayala Champagne Cuvée Rosé Nature

Bruno Paillard Champagne Rosé Brut Première Cuvée
Charles Heidsieck Champagne Brut Rosé Reserve
Duval-Leroy Champagne Brut Rose Prestige
Gosset Champagne Grand Rosé Brut
2008 Louis Roederer Champagne Rosé Brut
Michel Gonet Champagne Brut Réserve
Philipponnat Champagne Réserve Rosée
Pierre Paillard Champagne Brut Rosé Grand Cru
Taittinger Champagne Brut Prestige Rosé
Vollereaux Champagne Rosé de Saignée
Conclusion
This is the best time to a Champagne lover and consumer. There are more choices available then ever, and the quality of Champagne is the highest it's ever been across the board.
As I tasted through the wines, I couldn't help but wonder how individual wines would pair with food.  Champagne is one of the most food friendly wines you can drink. Don't limit your consumption of Champagne to a cocktail or aperitif.  Given a bit of thought you can pair it throughout a meal. While in Champagne last month (check out the links below ), I enjoyed several Champagne wine pairing meals. What a treat!
Happy #ChampagneDay!
Related posts you might enjoy:
_________________________________________________________________
Martin Redmond is a San Francisco Bay Area based Financial Executive by day, and a certified wine geek with latent foodie tendencies the rest of the time. In addition to the wine lifestyle and food he enjoys family, fitness and traveling. He likes to get thoughts of wine off his mind by sharing experiences on his ENOFYLZ Wine blog, which features wine reviews, wine country travel, and wine and food pairings.
Follow me on Twitter @martindredmond for all things wine, and since I'm a wino, with latent foodie tendencies, you'll also find food and wine pairings, and food related stuff! Become a fan and join ENOFYLZ Wine Blog on Facebook. Cheers!
This article is original to ENOFYLZ Wine Blog.com. Copyright 2014 ENOFYLZ Wine Blog. All rights reserved.