Every Thursday I feature a wine I particularly enjoy, whether it's something new and different, is a great value, or from a producer worth checking out.  My Wine Of The Week is the 2010 Kenneth Volk Touriga Nacional Pomar Junction Vineyard.
The Winery
 From Kenneth Volk Vineyards ("KVV")…"Proprietor Ken Volk has been making Santa Barbara and Central Coast wines for more than a quarter century. Perhaps best known as the founder of Wild Horse Winery, Ken has earned a reputation for crafting world-class wines, particularly Pinot Noir and Chardonnay from the Santa Maria Valley.
Kenneth Volk has mentored many winemakers including Neil Collins of Tablas Creek, Terry Culton of Adelaida Cellars, Jon Priest of Etude, Larry Gomez of Lockwood Vineyards, Scott Welcher of Opolo Vineyards, and Karl Wicka of Turley Wine Cellars and The Missing Leg. He is an active supporter of the viticulture, enology and wine marketing programs being developed at Cal Poly San Luis Obispo.
Volk has a keen interest in alternative or "heirloom" grape cultivars such as Malvasia and Cabernet Pferrer. He describes himself as an "innovating traditionalist" who likes to create multifaceted wines".
KVV has tasting rooms in both Santa Maria and Paso Robles
My wife and I have been to KVV in Paso Robles a few times.  It's always an interesting  and tasty visit.  We love that we get to try wine made from lesser know grape varieties like Aglianico, and Negrette.  Ken is a wonderful winemaker whose style we appreciate.
The Wine
Touriga Nacional is a red grape traditionally grown in Portugal's Douro and Dao wine-growing regions. It traditionally plays a big part in the blends used for Port,  but is increasingly being used for table wine in the Douro and Dão. 
In many ways, Touriga Nacional is Portugal's answer to France's Cabernet Sauvignon. Both varieties display bold dark-fruit flavors, often with hints of spice, leather and violet – winesearcher.com
The grapes for this wine were source from the Pomar Junction Vineyard, which is located in the newly delineated El Pomar District of the Paso Robles viticultural appellation.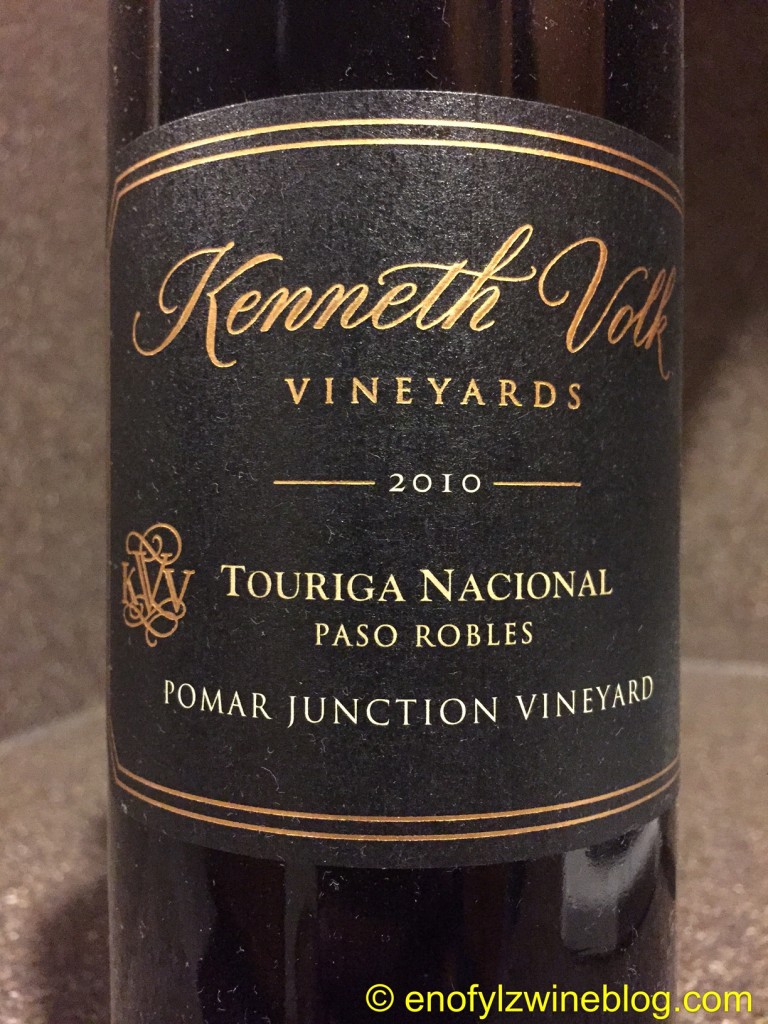 My tasting notes follow:
Violet color with plum, blueberry, violet and lavender aromas. On the palate, it's medium-bodied with prominent acidity and a soft texture with soft well-integrated tannins. It shows plum, ripe mixed black and red currant, vanilla and sweet spice flavors. Med long finish. 13.6% alcohol; Retail – $36;  Drink now
Rating: A-;  I love trying lesser know grape varieties, and this wine is a winner! Touriga Nacional FTW!
Sample purchased for review
Ratings Key:
(A+) – 95-100/Extraordinary
(A) – 92-95/Outstanding
(A-) – 89-91/Very Good to Outstanding
(B+) – 86-88/Very good
(B) – 80-85/Good
(C) – 70-79/Bleh
(D) – 50-69/#Fail
_________________________________________________________________
Martin Redmond is a Financial Executive by day, and a certified wine geek with latent foodie tendencies the rest of the time. In addition to the wine lifestyle and food he enjoys family, fitness and traveling. He likes to get thoughts of wine off his mind by sharing experiences on his ENOFYLZ Wine blog, which features wine reviews, wine country travel, and wine and food pairings.
Follow me on Twitter @martindredmond for all things wine, and since I'm a wino, with latent foodie tendencies, you'll also find food and wine pairings, and food related stuff! Become a fan and join ENOFYLZ Wine Blog on Facebook. Cheers!
This article is original to ENOFYLZ Wine Blog.com. Copyright 2014 ENOFYLZ Wine Blog. All rights reserved.