Every Thursday I feature a wine I particularly enjoy, whether it's something new and different, is a great value, or from a producer worth checking out.  My Wine Of The Week is the 2012 Tablas Creek Petit Manseng.
The Winery
Tablas Creek Vineyard ("TCV") is probably the best-known of all Paso Robles wineries specializing in Rhone style wines.  It is a partnership between Robert Haas, and the Perrin Family of Chateau de Beaucastel in the Chateauneuf du Pape region in France. What I find interesting about TCV is that they specifically chose to establish themselves in Paso Robles because of the similarities of the soil conditions and climate of Paso Robles to Chateauneuf du Pape.  They went as far as to import vines from Chateauneuf du Pape.  The vines were propagated and grafted in their on-site nursery and used to plant their 120 acre organic vineyard.  Check the full story here.
The Wine
Petit Manseng is a white grape traditional to France's southwest, where it has been used to produce the highly regarded, but not widely disseminated sweet wines of the Jurancon region for centuries. It's a grape with naturally high acidity that can achieve sufficient concentration and sugar content to make naturally sweet wines without botrytis, or being fortified.
Tablas Creek was the first in California to produce a wine from the Petit Manseng grape variety. The 2012 vintage is TCV's third bottling of Petit Manseng.
The wine is 100% Petit Manseng produced from grapes harvested at 30.2° Brix and a pH of 3.28.   Fermentation was stopped when it had about 42 grams/liter of sugar left and sat at an alcohol of 13.5%.  The high acidity makes it taste much drier than the sugar reading would suggest.  The wine was aged on its lees in barrel and bottled in November 2013
Because of its residual sugar and high acidity, the wine has tremendous aging potential.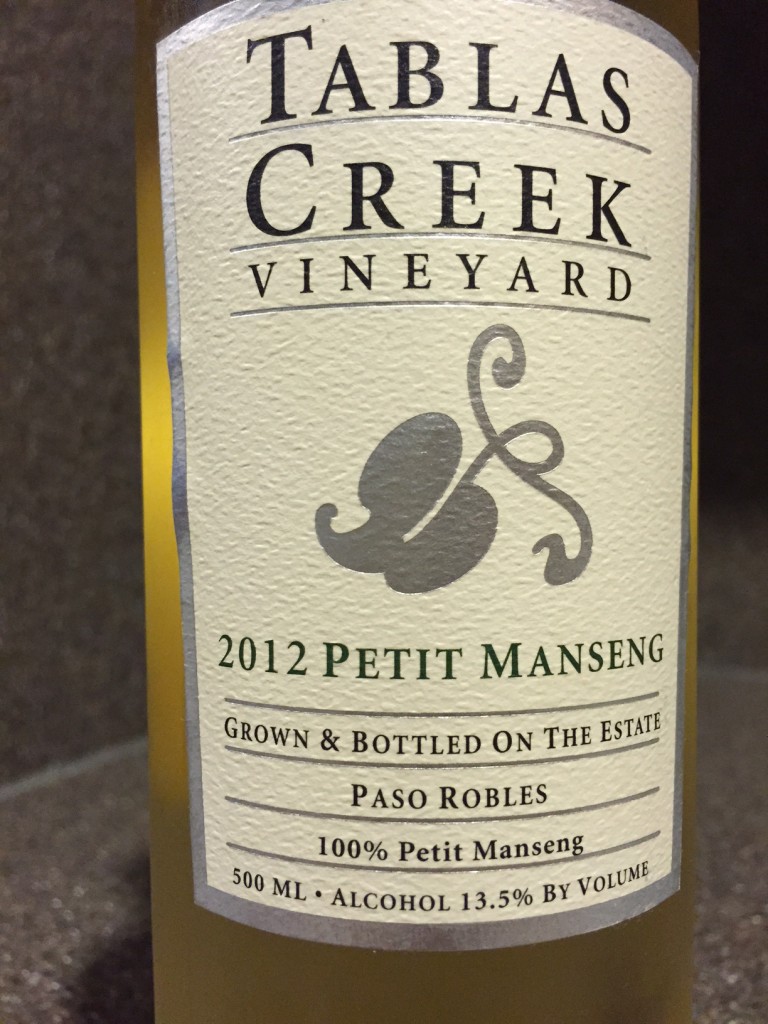 My tasting notes follow:
Pale gold color with appealing mango, pineapple, honey and hints of ginger, sweet spice and citrus aromas. On the palate it's medium bodied, and semi-sweet with a supple, smooth texture and very good acidity. The flavors follow the aromas with spiced sweet lemon zest joining the party. Clean lingering finish. Retail – $35 (500ml)
Rating: A-;  This was such an enjoyable wine for me!  
Pair with: I paired this with a Peach Ginger Cobbler I prepared for a food and wine pairing event (see link below), but its refreshing acidity and off-dry character make it pretty versatile, especially with spicy fare such as Spicy Thai Pumpkin Curry or Spicy Shrimp Curry.  It will also pair with salty cheeses (I loved it with 24 month aged Parmigiano Reggiano), or a variety of fruit-based desserts.
Sample purchased for review
Ratings Key:
(A+) – 95-100/Extraordinary
(A) – 92-95/Outstanding
(A-) – 89-91/Very Good to Outstanding
(B+) – 86-88/Very good
(B) – 80-85/Good
(C) – 70-79/Bleh
(D) – 50-69/#Fail
Other posts you might enjoy
Martin Redmond is a Financial Executive by day, and a certified wine geek with latent foodie tendencies the rest of the time. In addition to the wine lifestyle and food he enjoys family, fitness and traveling. He likes to get thoughts of wine off his mind by sharing experiences on his ENOFYLZ Wine blog, which features wine reviews, wine country travel, and wine and food pairings.
Follow me on Twitter @martindredmond for all things wine, and since I'm a wino, with latent foodie tendencies, you'll also find food and wine pairings, and food related stuff! Become a fan and join ENOFYLZ Wine Blog on Facebook. Cheers!
This article is original to ENOFYLZ Wine Blog.com. Copyright 2014 ENOFYLZ Wine Blog. All rights reserved.