Every Thursday I feature a wine I particularly enjoy, whether it's something new and different, is a great value, or from a producer worth checking out.  My Wine Of The Week is the 2005 Marqués de Riscal Rioja Reserva.

The Winery
Herederos de Marqués de Riscal, founded in 1858, is one of the oldest wineries in Rioja.  Over their long, and storied history they have been on the forefront of various innovations. They were the first winery in the Rioja to produce wines following the Bordeaux method and in 1972, it was the first winery to promote the Rueda Designation of Origin, where it produced its famous Marqués de Riscal white wines.
A benchmark winery in Rioja for more than 150 years, this producer's recent visionary moves changed how the wine world sees Spain – Wine Enthusiast 
Marqués de Riscal sells its products in over 100 countries and its wines have enjoyed the highest international distinctions as well as numerous awards including being named the 2013 European Winery of the Year by the Wine Enthusiast.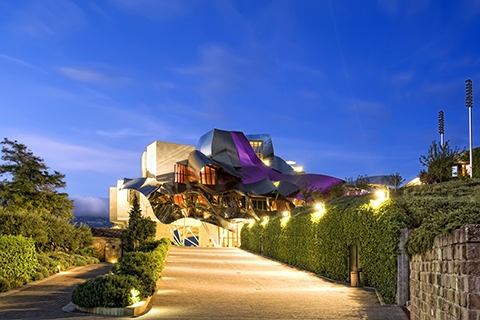 In addition to their world-class wine, they are also renown for their world-class hotel, and spa the Hotel Marques de Riscal (click here for a virtual tour). Designed by Frank O. Gehry, it's an architectural marvel at the heart of City of Wine.
The Wine
A blend of Tempranillo, Marzuelo and Graciano sourced from 70-year-old vines in Rioja Alavesa.  It was fermented in stainless steel tanks, then aged in American oak for 18 months.  It was aged in bottle another two years before being released.
13.5% alcohol; Retail – about $20 Drink: Now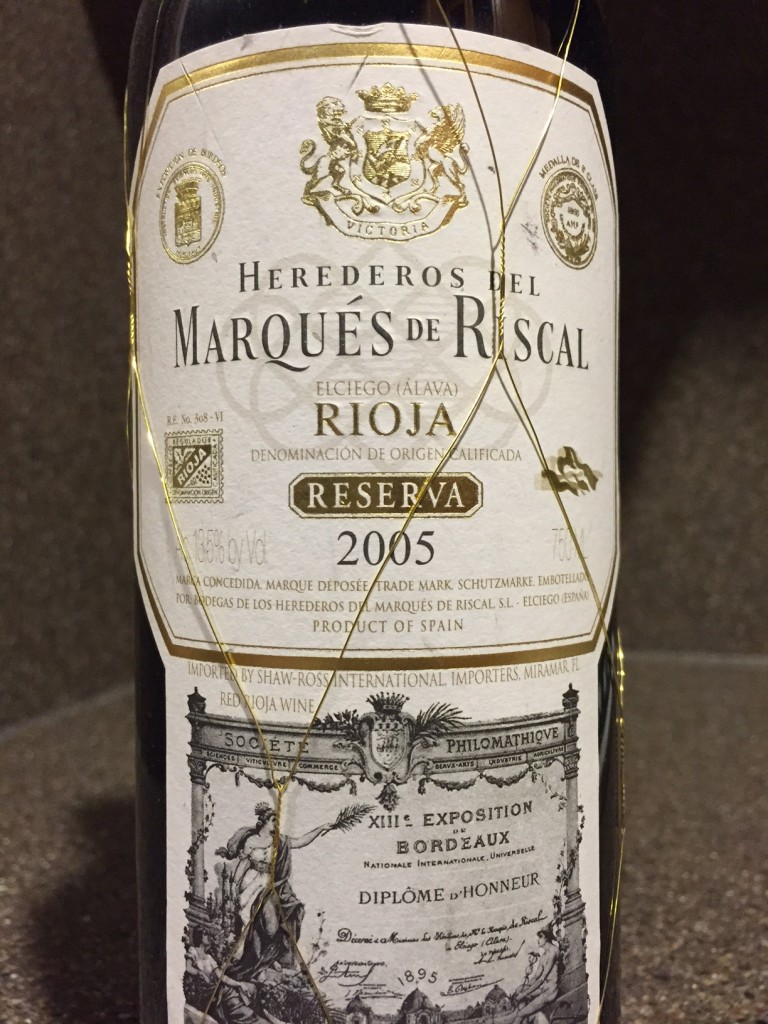 My tasting notes follow:
Dark brick color with appealing cherry, tobacco, vanilla, and spice. On the palate, it approaches medium-bodied, and is layered and fresh with polished tannins, and dark cherry, plum and spiced vanilla flavors. Medium + finish. This is a wine that was even better on Day 2. It picked up some earthy, savory notes and showed a hint red currant. 13.5% alcohol. >>Find this wine<<
Rating: A-: A Reserva with a bit of age on it like this one is a great introduction to traditional Rioja wines!
Pair with: Stews, Wild Mushroom Risotto, Leg of Lamb or Turkey Chili
Sample purchased for review
Ratings Key:
(A+) – 95-100/Extraordinary
(A) – 92-95/Outstanding
(A-) – 89-91/Very Good to Outstanding
(B+) – 86-88/Very good
(B) – 80-85/Good
(C) – 70-79/Bleh
(D) – 50-69/#Fail
__________________________________________________________________
Martin Redmond is a Financial Executive by day, and a certified wine geek with latent foodie tendencies the rest of the time. In addition to the wine lifestyle and food he enjoys family, fitness and traveling. He likes to get thoughts of wine off his mind by sharing experiences on his ENOFYLZ Wine blog, which features wine reviews, wine country travel, and wine and food pairings.
Follow me on Twitter @martindredmond for all things wine, and since I'm a wino, with latent foodie tendencies, you'll also find food and wine pairings, and food related stuff! Become a fan and join ENOFYLZ Wine Blog on Facebook. Cheers!
This article is original to ENOFYLZ Wine Blog.com. Copyright 2014 ENOFYLZ Wine Blog. All rights reserved.