This is the third in what will be a series of five posts about my visit to Champagne
Day 1 – Guided tour of Reims Cathedral and Champagne dinner

Day 2 – C.I.V.C., Roger Coulon, and Veuve Clicquot
______________________________________________________________________
Last month, I had the privilege of traveling to the Champagne region in France as a guest of the U.S. Champagne Bureau for the 2014 Champagne Harvest Media Trip.  Here's what they said about the trip…
The trip to Champagne will be an opportunity for you to learn more about the production of Champagne and its unique qualities, as well as what the region is doing to protect its name in the United States.  The week-long trip… will give you the opportunity to visit select producers – from large houses to cooperatives and small growers – and learn about the appellation as a whole…you will also experience firsthand the winemaking process, from picking and crushing grapes to exquisite Champagne pairing dinners.
Our itinerary for Day 3 included:
Champagne Louis Roederer
Louis Roederer is one of the last great independent and family run Champagne houses. The family has been managing the business since 1832.  Today it is managed by Frédéric Rouzaud, who represents the seventh generation of the Roederer lineage.
Their vineyards (all Chardonnay and Pinot Noir) cover about 70% of the company's needs, which is rare for large Champagne houses.  They produce about 3 million bottles annually.
The Roederer portfolio includes Champagne Deutz, Château Pichon Longueville Comtesse de Lalande, Ramos Pinto Port in Portugal, Domaines Ott in Provence, Roederer Estate and Scharffenberger in California.
Upon arrival, we were greeted by Jean-Baptiste Lécaillon, Chef de Cave, and Assistant General Director of Roederer.  After giving us an overview of the Roederer vineyards, he took us on tour of their cellars, and lead us through a tasting of a few vin clair.  It's obvious the man has a passion for wine.  We then adjourned to the beautiful Roederer tasting room to taste their current releases:
It just so happened I'd tasted the same wines a couple of weeks before my trip (click here for detailed notes)
After our tasting, it was time for lunch.  Much to my surprise and delight we were greeted by, and dined with the man in charge himself – Frédéric Rouzaud!
And lunch? It was a gastronomic and vinous delight!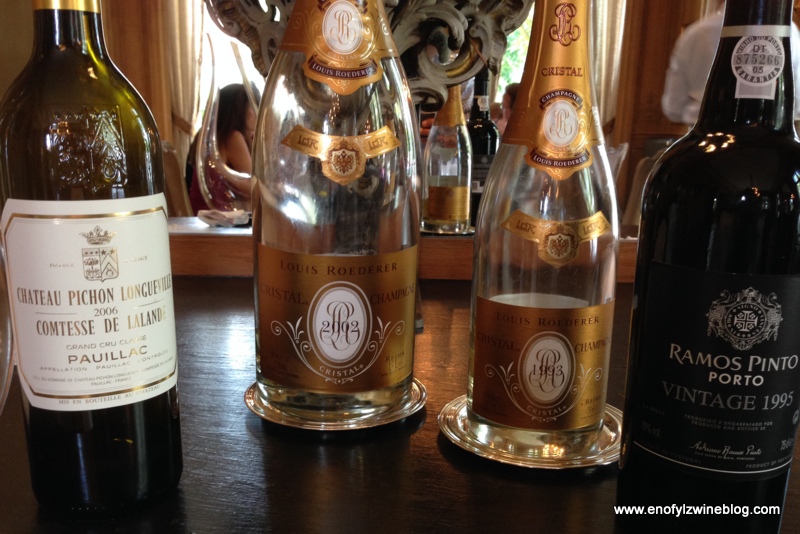 It's a tough call, but my favorite was the 1993 Louis Roederer Cristal Brut one the wines we had with lunch.  It's a beautifully mature, full-bodied Champagne with intense, complex, savory aromas and flavors including brioche, baked apples and peach, roast hazelnut, citrus, and a bit of caramel that harmoniously and seamlessly coalesce with energetic acidity and a smoky minerality. And it's such fantastic food wine! 

Learned about: Roederer is the largest organic grower in Champagne with 65 of their 240 hectares farmed biodynamically.  They began converting their vineyards to biodynamic in 2000. Between 60-70% of the fruit for Cristal is biodynamic.  In fact, the current release – 2006 is the first vintage they released with primarily biodynamic fruit.  The first 100% biodynamic Cristal will be the 2011 vintage. 

Insider's tip: Roederer will be launching their first Brut Nature (the driest style of sparkling wine – with less than 3g/L residual sugar) in the US this month! The 2006 Brut Nature cuvée, was developed by Louis Roederer and Philippe Starck.
Notable Quote: "The secret to Cristal is Pinot Noir and Chalk" – Jean-Baptiste Lécaillon
See below for gallery of Champagne Louis Roederer visit
This slideshow requires JavaScript.
Champagne René Geoffroy
"The Geoffroy family have been winemakers since the seventeenth century and the property has stayed in the family for almost 400 years, uninterrupted.  In addition to prime parcels in Cumières,  the family has holdings  in Damery, Hautvillers, and Dizy. They aim for the highest possible quality and ferment the wines in oak barrels for their Cuvée Sélectionnée [now called Cuvée Empreinte] and Brut Prestige [now called Cuvée Volupté].  The wines don't go through malolactic fermentation, which gives them the nerve and aging potential that most Cumières Champagnes lack.  When you talk to the well-educated young Jean-Baptiste Geoffroy, you understand that this is a family that cares passionately about wine." (Source)
Geoffroy is a grower that produces its own wines.  They are the No. 1 grower in Cumières, where they farm 14 hectares of  sustainably grown grapes.  Cumières is the most sun-drenched and earliest ripening village in Champagne, and is known primarily for its pinot noir.  They produce generous, vivacious Pinot Noir led wines that can age. Their production is about 140,000 bottles a year
We were greeted by fifth generation winemaker Jean-Baptist Geoffroy, who lead us on tour of the family's three-story gravity flow winery and cellar.
After the tour we tasted:
René Geoffroy  Expression Brut Premier Cru

2007 René Geoffroy  Empreinte Brut Premier Cru

René Geoffroy  Rosé de Saignée Brut 1er Cru

René Geoffroy  Blanc de Rose Extra Brut

2004 René Geoffroy  Millésimé
Geoffroy is doing my favorite was the 2007 Empreinte Brut Premier Cru. It's a blend of 76 % pinot noir, 13%chardonnay, and 11% Pinot Meunier that were all fermented in large oak foudres.  It's a well-balanced wine with apple, pear, and bread dough aromas, and apple, toasted almond, and mineral flavors and a long finish.  It'd be fantastic with seafood dishes!
Insiders tip: Look for the yet to be released "Houtrants" cuvée. It's an interesting multi-vintage, field blend, old vine (minimum age of 50 years) wine cuvée composed of five of the permitted grapes (rather than the typical three) with lovely aromatics, and a rich, creamy, slightly autolytic tart apple and mineral character and a long finish.
See below for gallery of Champagne René Geoffroy visit
This slideshow requires JavaScript.
Champagne Jacquesson
"Jacquesson is one of Champagne's most venerable houses, not only predating Krug, but giving birth to it, when in 1843 Johann-Joseph Krug left Jacquesson to form his own house.  But despite more than 200 years of history, Jacquesson has become a revolutionary among Champagne's established houses, under the leadership of brothers Laurent and Jean-Hervé Chiquet, who took over from their father in the 1980's.
Since then, the house has adopted a herbicide-free, terroir-based philosophy. It also retired, after 150 years, its non-vintage blend and replaced it with a groundbreaking single-vintage-based cuvée, which changes yearly. And next came its terroir-based cuvées, an unprecedented move for a traditional house." (Source)
They are based in the Dizy region of Champagne. They farm 28 hectares of grapes (10 are certified organic) located in the Grand Cru villages of Aÿ, Avize and Oiry and in the Premier Cru villages of Dizy, Hautvillers and Mareuil-sur-Aÿ.   They currently produce about 270,000 bottle annually with approximately 15% of the fruit sourced from growers in these villages as well as the Grand Cru village of Chouilly and the Premier Cru village Cumières.  The house makes the claim it is the oldest independent Champagne house.

We were greeted by Jean-Hervé Chiquet who lead us on a tour of the winery, cellars and guided our tasting.
It was a blowout tasting!
Jacquesson & Fils  Cuvée No. 733

Jacquesson & Fils  Cuvée No. 733 Dégorgement Tardif

Jacquesson & Fils  Cuvée No. 736

Jacquesson & Fils  Cuvée No. 737

Jacquesson & Fils  Cuvée No. 738

2008 Jacquesson & Fils Dizy Terres Rouges Rosé

2004 Jacquesson & Fils  Dizy Corne Bautray

2004 Jacquesson & Fils  Brut Avize Grand Cru Champ Caïn

2004 Jacquesson & Fils  Ay Vauzelle Terme
My favorite was the 2004 Ay Vauzelle Terme one of the "lieu-dit" (single-vineyard) wines.(all of which were outstanding). It's 100% Pinot Noir sourced from 2,500 vines planted in 1980 on 0.30 hectare that grow in limestone mixed with a little clay, on chalk bedrock. Aged 8 years on lees.  It's pale salmon color with intriguing cherry, raspberry, tangerine, roast nut, and floral aromas.  On the palate it It's medium-bodied, and superbly balanced with a creamy mousse and great finesse. It shows cherry, strawberry and a hint of tangerine flavors and lingering, satisfying finish
After our tasting made our way to the Jacquesson dining room on the second floor of their property another fantastic meal expertly paired with more wines awaited!
Learned: "Fils" means "son' in French, which is why you see it so often in the name of French wineries
Insiders tip: Look for the 2008 Terres Rouges Rosé.  It's among the best rosé Champagne I've tasted.  It has an exotic floral, berry, pomegranate, slightly earthy character.
Notable Quote: "We favor excellency over consistency" – Jean-Hervé Chiquet
See below for gallery of Champagne Jacquesson visit
This slideshow requires JavaScript.
What an awesome day!  As if the continued brilliance of Louis Roederer  and the revelations of Geoffroy and Jacquesson weren't enough. I was blown away by the superb lunch and dinner expertly paired with wonderous wines!
Stay tuned for Day 4, which featured visits to Bereche & Fils, Billecart-Salmon, and Bruno Paillard!