Every Thursday I feature a wine I particularly enjoy, whether it's something new and different, is a great value, or from a producer worth checking out.  My Wine Of The Week is the 2010 Stage Left Cellars – The Emcee.
The Winery
Stage Left Cellars is an urban winery located in Oakland, California not too far from Jack London Square. By urban winery I mean their winemaking facilities are located in an urban setting, rather than in a rural setting near the vineyard.
The winery is owned and operated by Melinda Doty and her husband, Rich Williams who is the winemaker.   Melinda and Rich both had corporate gigs before they decided to exit "Stage Left" and pursue their dream of opening a winery.  Like so many winemakers, they were making wine in their garage before taking the plunge into commercial winemaking.  Their first commercial effort was the 2004 "Day Job" a blend of Grenache, Cabernet Sauvignon, and Mourvèdre.
Stage Left is focused primarily on Rhone varietals and Rhone blends.  They source their grapes from throughout California and Oregon. Case production is about 1,200/year.  The wines are available by signing up for The List.
Stage Left is open the first Saturday of each month, and by appointment.  The tasting fee is $5.  Stage Left was voted the "Best San Francisco" area winery for 2011 on the ABC 7 "A" List.  I highly recommend visiting.  You'll enjoy the wine and they're great hosts!
The Wine
It is called The Emcee because it was the 1st time Stage Left made a stand alone Mourvedre (so it finally took the stage on its own). They typically use Mourvedre as a blending wine in other bottlings such as The Breadwinner, The Day Job, The Globetrotter, The ExPat, etc…
Don't let the alcohol % fool you. There's enough acidity here to keep this wine from being flabby or jammy….
100% Mourvedre – 14.9% Alcohol; Retail – $26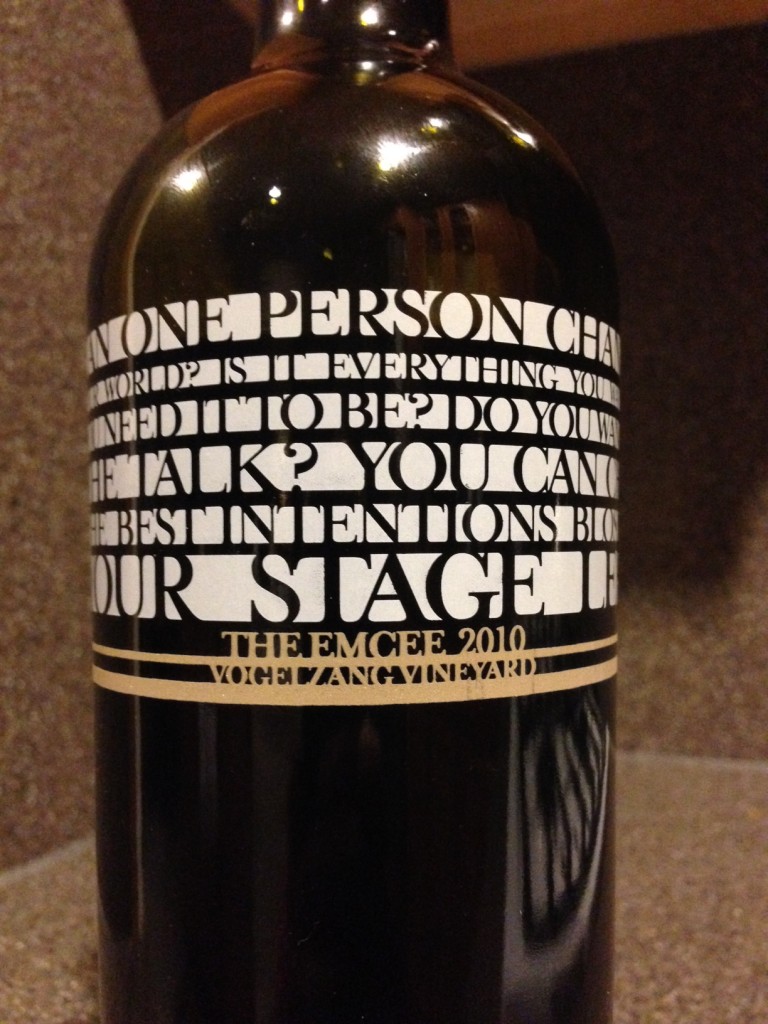 My tasting notes follow:
Nearly opaque black red color with very appealing mixed black and red fruit, eucalyptus, leather, spice and lavender aromas. On the palate,  it's medium bodied and well-balanced with very good acidity, a velvety mouthfeel and blackberry, red plum, red currant, and a bit of spice flavors that is underscored with an appealing minerality and earthiness.  Long satisfying finish. Drink now, but can age
Rating: A:  Every time I have a bottle of Stage Left Cellars, I ask myself why I don't have more of their wines. This is an outstanding example of a refined, nicely balanced Mourvedre.   Wish I had more!

Pair with: We enjoyed this with a weeknight burger, but as fall approaches this wine would pair well with grilled and roasted meats, stews, root vegetables, mushrooms and dark fowl such as duck.  Step away from the Cab and into Mourvedre!
Ratings Key:
(A+) – 95-100/Extraordinary
(A) – 92-95/Outstanding
(A-) – 89-91/Very Good to Outstanding
(B+) – 86-88/Very good
(B) – 80-85/Good
(C) – 70-79/Bleh
(D) – 50-69/#Fail
__________________________________________________________________
Martin Redmond is a Financial Executive by day, and a certified wine geek with latent foodie tendencies the rest of the time. In addition to the wine lifestyle and food he enjoys family, fitness and traveling. He likes to get thoughts of wine off his mind by sharing experiences on his ENOFYLZ Wine blog, which features wine reviews, wine country travel, and wine and food pairings.
Follow me on Twitter @martindredmond for all things wine, and since I'm a wino, with latent foodie tendencies, you'll also find food and wine pairings, and food related stuff! Become a fan and join ENOFYLZ Wine Blog on Facebook. Cheers!
This article is original to ENOFYLZ Wine Blog.com. Copyright 2014 ENOFYLZ Wine Blog. All rights reserved.