Every Thursday I feature a wine I particularly enjoy, whether it's something new and different, is a great value, or from a producer worth checking out.  My Wine Of The Week is the 2011 Kokomo Pinot Noir Gopher Hill Block Peters Vineyard.
From The Winery
Perched on 120 acres of prime Dry Creek Valley east benchland vineyards known as Timber Crest Farms, Kokomo Winery concentrates on small production, single-vineyard wines. Started in 2004 with the production of a single vineyard Cabernet Sauvignon, Kokomo Winery focuses their terroir-driven philosophy on Sonoma County and its distinct appellations. Owner and Winemaker Erik Miller named the winery after his hometown of Kokomo, IN, and decided on a Coastal Cypress Tree for the logo to signify his move out west. Joined by his best friend from Purdue, Josh Bartels, as Kokomo's assistant winemaker, Erik partnered with legendary grower Randy Peters, who has over forty years of wine grape growing experience under his belt. The three have formed quite the successful alliance, as Kokomo Winery has now joined the elite boutique wineries of Sonoma County, gaining more 90+ ratings and Gold Medals with each anticipated release. 
I know them more for their Zinfandel and Rose than Pinot Noir.  However, I picked up a bottle of this Pinot Noir when I visited for Passport To Dry Creek in April because I really enjoyed it.
The Wine
The fruit for this wine was sourced from a vineyard is located where a former Gravenstein apple orchard stood, 10 miles from the Pacific Coast.  It is 100% Pinot Noir – the Pommard clone.  It was aged in 100% French Oak, 30% new.
The 2011 Vintage of this wine retails for $42. 13.8% alcohol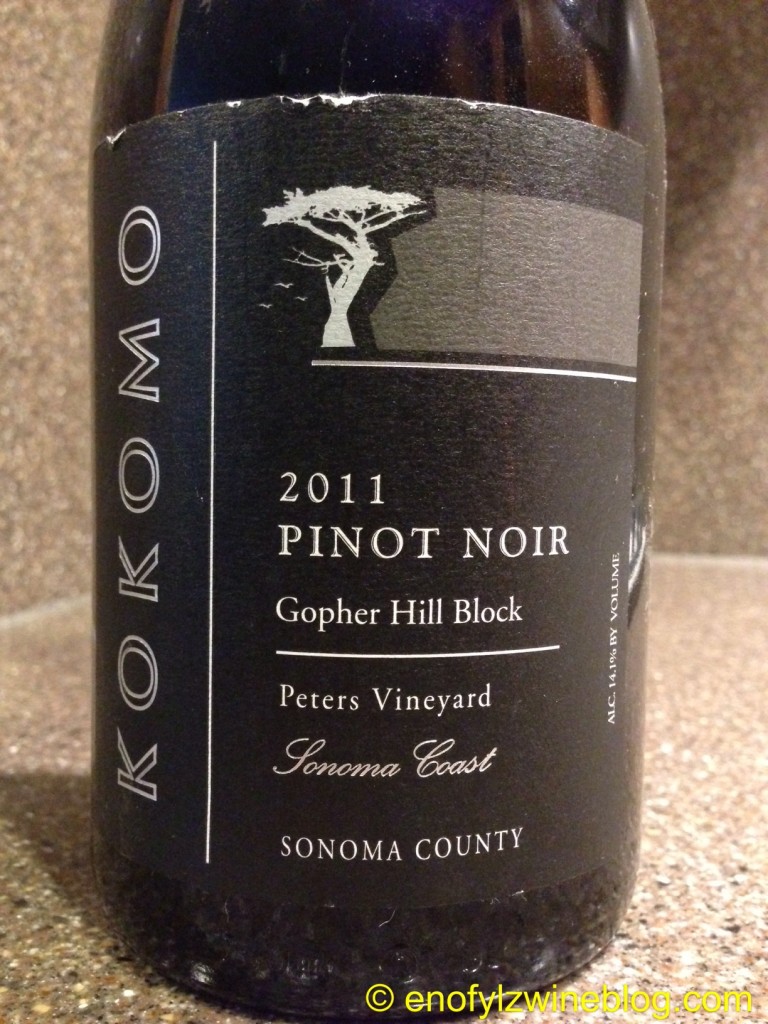 My tasting notes follow:
Garnet color with appealing rose petal, pomegranate,strawberry, damp earth and baking spice aromas. On the palate, it's medium-bodied with wonderful acidity, supple tannins and strawberry, pomegranate, a bit of caramel and spice flavors with a lingering finish
Rating: A-:  This wine was such a treat!

Pair with: We paired with grilled salmon and a homemade tomato salad.  It was a fantastic pairing.
Ratings Key:
(A+) – 95-100/Extraordinary
(A) – 92-95/Outstanding
(A-) – 89-91/Very Good to Outstanding
(B+) – 86-88/Very good
(B) – 80-85/Good
(C) – 70-79/Bleh
(D) – 50-69/#Fail
__________________________________________________________________
Martin Redmond is a Financial Executive by day, and a certified wine geek with latent foodie tendencies the rest of the time. In addition to the wine lifestyle and food he enjoys family, fitness and traveling. He likes to get thoughts of wine off his mind by sharing experiences on his ENOFYLZ Wine blog, which features wine reviews, wine country travel, and wine and food pairings.
Follow me on Twitter @martindredmond for all things wine, and since I'm a wino, with latent foodie tendencies, you'll also find food and wine pairings, and food related stuff! Become a fan and join ENOFYLZ Wine Blog on Facebook. Cheers!
This article is original to ENOFYLZ Wine Blog.com. Copyright 2014 ENOFYLZ Wine Blog. All rights reserved.