Dreams do come true. When I first got into the "wine thing", as I call it, I dived head first into the pool of knowledge. One of my resources was Karen MacNeil's The Wine Bible. And one of my favorite chapters in that tome is "Champagne".  Ever since then, the Champagne region has been on my bucket list of wine regions to visit.
Few wines captivate us to the extent Champagne does.  But then Champagne is not simply a wine; it is also a state of mind – Karen MacNeil
Imagine my surprise (shock really…slaw-jawed, I almost fell out of my chair!) and euphoria when I received an invitation from the U.S. Champagne Bureau for the 2014 Champagne Harvest Media Trip that read…
The trip to Champagne will be an opportunity for you to learn more about the production of Champagne and its unique qualities, as well as what the region is doing to protect its name in the United States.  The week-long trip is exclusively reserved for a small group of leading food and wine journalists from across the U.S., and will be scheduled for the first week of September, departing the US on August 31, and returning September 6. This trip will give you the opportunity to visit select Champagne producers – from large houses to cooperatives and small growers – and learn about the appellation as a whole. As a guest you will also experience firsthand the winemaking process, from picking and crushing grapes to exquisite Champagne pairing dinners.
This is the first in what will be a series of five posts about my visit to Champagne
After the 12 hour direct flight from San Francisco to Paris, I took the TGV (high-speed train) from Charles de Gaulle airport to Reims (click here for the tricky pronunciation).  It's a quick 30 minute ride that gives you a taste of the bucolic French countryside with its undulating hills, farmland, crops and trees.  And to my surprise – not a vineyard in sight!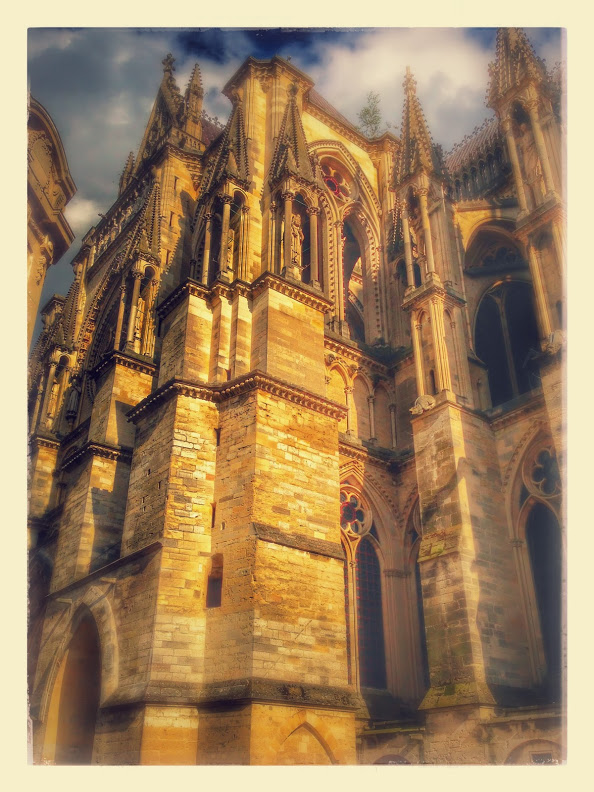 I arrived in Reims around 1:30 and got settled.  Our itinerary for Day 1 included a guided tour of the Reims Cathedral at 5:00p; followed by dinner.
After deciding against a nap, I decided take a walk to get acquainted with my surroundings, and see what I could see.
About Reims
Reims, the cultural capital of the Champagne region,  is a lovely town best known for its historical significance and its role in the production of Champagne.
Twenty-five French kings were crowned in its Cathedral, Notre-Dame de Reims  and celebrated in the adjacent Palais de Tau. These monuments, along with the  Abbey of Saint-Remi are included as UNESCO world heritage sites. Another historical site is the Porte de Mars, which dates back the third century AD, remains as the oldest artifact of Reims from the Gallo-Roman era.
The city was heavily bombed by the Germans during World War I.  At least 70% of the city was destroyed including The Cathedral which sustained heavy damage including the roof, hundreds of sculptures and the destruction of many of the arched stained-glass windows. The centenary of the World War I is being held this year.
Some of the most famous Champagne makers maintain their headquarters in Reims, including Taittinger, G.H. Mumm, Ruinart and Veuve Clicquot.
Photos from my walk about and visit to the Notre-Dame of Reims Cathedral are in the gallery that follow:
This slideshow requires JavaScript.
Dinner
Dinner was at Le Millénaire, a chic first rate restaurant a short walk from the Cathedral. One of the things I most looked forward to during this trip was the chance to experience Champagne served with each course of a meal.  And my experience at Le Millenaire exceeded my expectations!
"I have yet to discover a dish that will not come alive in the presence of Champagne." Anistatia R Miller, author of Champagne Cocktails 
Photos from my first Champagne pairing dinner!
This slideshow requires JavaScript.
Wine(s) of the Day:
Larmandier-Bernier Champagne Rosé de Saignée Premier Cru.  My tasting note follows:
Vivid dark pink color with rich cherry, strawberry, damp earth and mineral aromas that bring to mind a still wine. On the palate it shows ample body with rich cherry flavors and an appealing minerality.  100% Pinot Noir.  A unique expression of Rosé Champagne that I very much enjoyed with my dessert.
Insider's tip:
Reims is a great city where one can enjoy modern French culture in a sizeable city that isn't Paris. There are plenty of things to do, and I could have easily spent an entire day exploring the city.
If you do plan to visit the Champagne houses in the area, plan to make your reservations many weeks in advance!
What a way to start my time in Champagne!  And it only got better…Stay tuned!