I recently attended a private tasting of Louis Roederer Champagne at my favorite wine store – K&L Wine Merchants in Redwood City. It was my first taste of Louis Roederer Champagne.
The House
Louis Roederer Champagne is one of the last great independent and family run Champagne houses.  The family has been managing the business since 1833.  Today it is managed by Frédéric Rouzaud, who represents the seventh generation of the Roederer lineage.
According to Gary Westby, the Champagne buyer at K&L Wine Merchants…They are now the largest organic grower in Champagne with 162.5 of their 600 acres farmed bio. They farm these acres as 410 separate little farms, with three full-time vineyard managers and a huge team of workers.Each one of the vintage wines comes from plots that are farmed specifically to make that wine; they farm the plots destined for rose differently than the blanc de blancs and the regular vintage differently than the Cristal plots. Champagne Louis Roederer is doing some of the most serious work in Champagne, and are setting themselves apart from the more marketing driven big houses that they compete with.
Even though it was the first time I'd tasted Champagne Louis Roederer, I was familiar with the brand, primarily because of their prestige tête de cuvée "Cristal" bottling, which is legend in the hip-hop/rap community as a symbol of success.
The story behind Cristal is interesting.  Louis Roederer II, son of the founder, fashioned an exclusive champagne for the Tsar Alexander II of Russia, and launched a novel concept: the very first Cuvée de Prestige.  It was created in 1876 and named 'Cristal' because it was bottled in crystal at the request of the tsar.  It was strictly for the private consumption of the tsar, and wasn't was made publicly available with the 1945 vintage (for that reason some consider Moët & Chandon's Dom Pérignon, launched in 1936 with the 1921 vintage the first publicly available prestige cuvée). 
While no longer bottled in crystal, Cristal is still uniquely packaged.  It's bottled in a flat-bottomed clear, "crystal" bottle, with an anti-UV cellophane wrapper (to protect the wine which would actually age better in a darker bottle).
On the other hand,  I'm very familiar with their U.S. outpost Roederer Estate in Anderson Valley.  Their Anderson Valley property is a great place to visit, and their Estate Brut is a perennial favorite that made my Top 20 Wines Under $20.  And I have a few bottles of their "Tête de Cuvée – L'Ermitage.
The Wines
The tasting featured the Roederer Champagne entry-level multi-vintage (I prefer multi-vintage to non-vintage, it's more accurate and doesn't suggest inferiority to "vintage") wine, a few vintage dated bottling, along with their recently released prestige tête de cuvée, the 2006 "Cristal".
My tasting notes follow: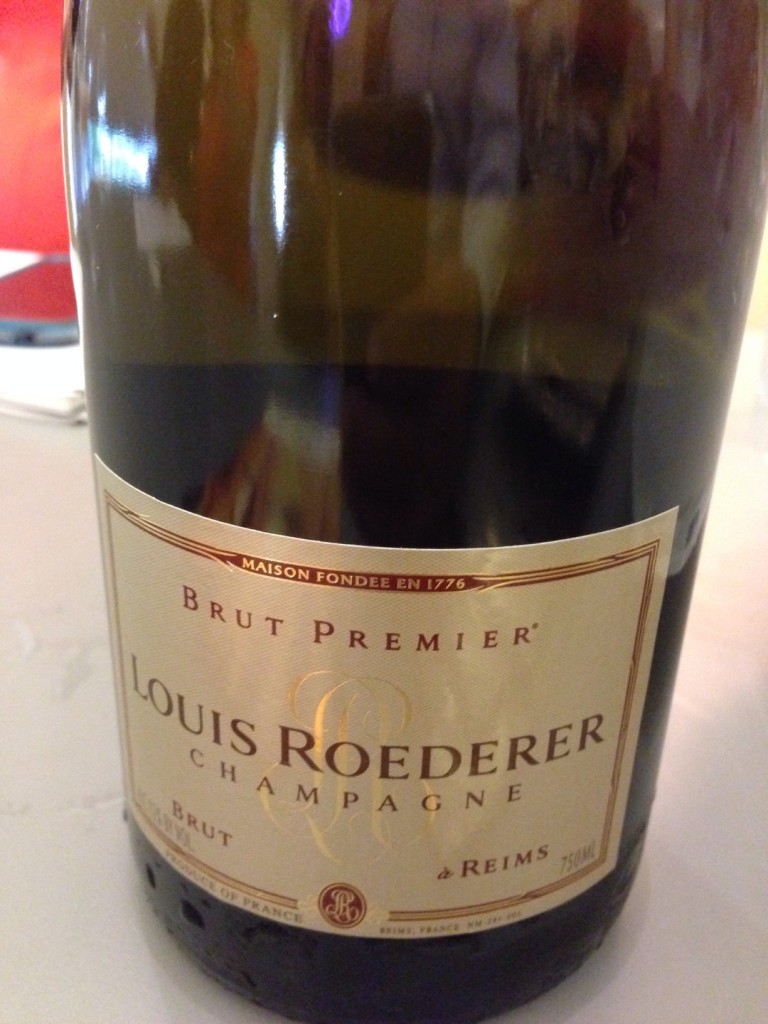 N.V. Louis Roederer Champagne Brut Premier – Pale yellow color with plentiful active tiny bubbles and yeasty, almond, apple, and a hint of smoke aromas. On the palate, it's refined, clean and fresh with a delicate creamy mousse, and mixed tart apple, and pear flavors with an appealing minerality, and a lingering finish. Rating: A-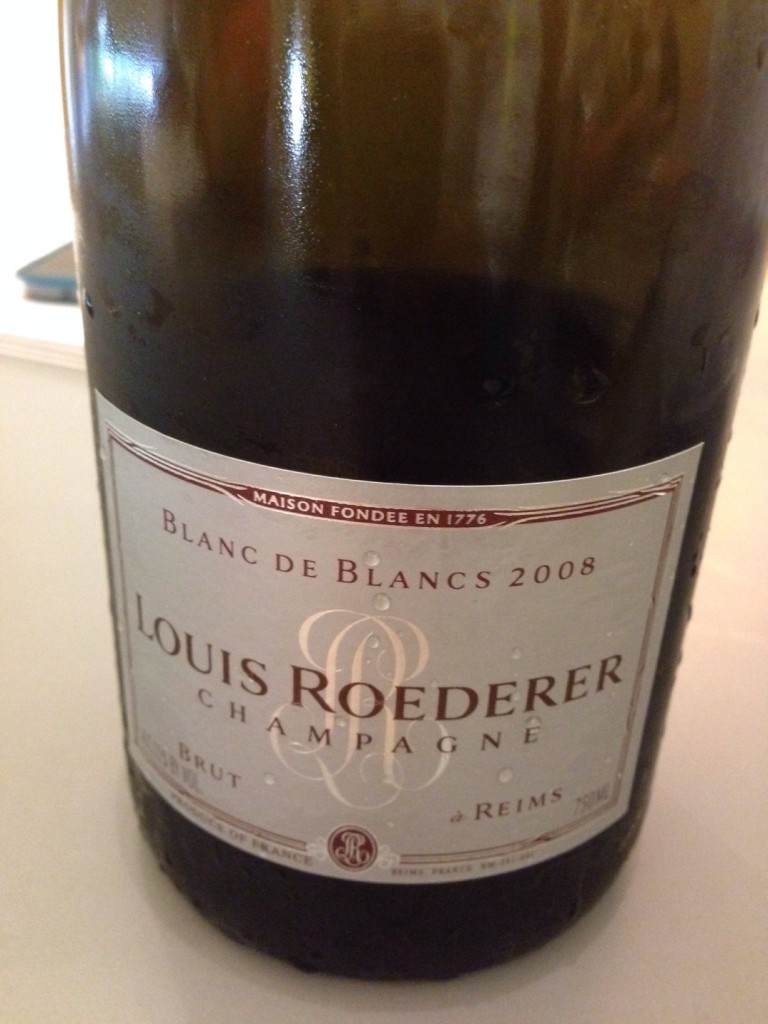 2008 Louis Roederer Champagne Blanc de Blancs – Pale yellow color with plentiful active tiny bubbles and appealing roasted nut, orchard fruits, citrus and white flower aromas. On the palate it elegant, and fresh with a very creamy texture and refined acidity with apple, lemon , and hazelnut flavors with a chalky minerality. Long finish. Made at a lower pressure, about 4 atmospheres than most Champagne. Rating: A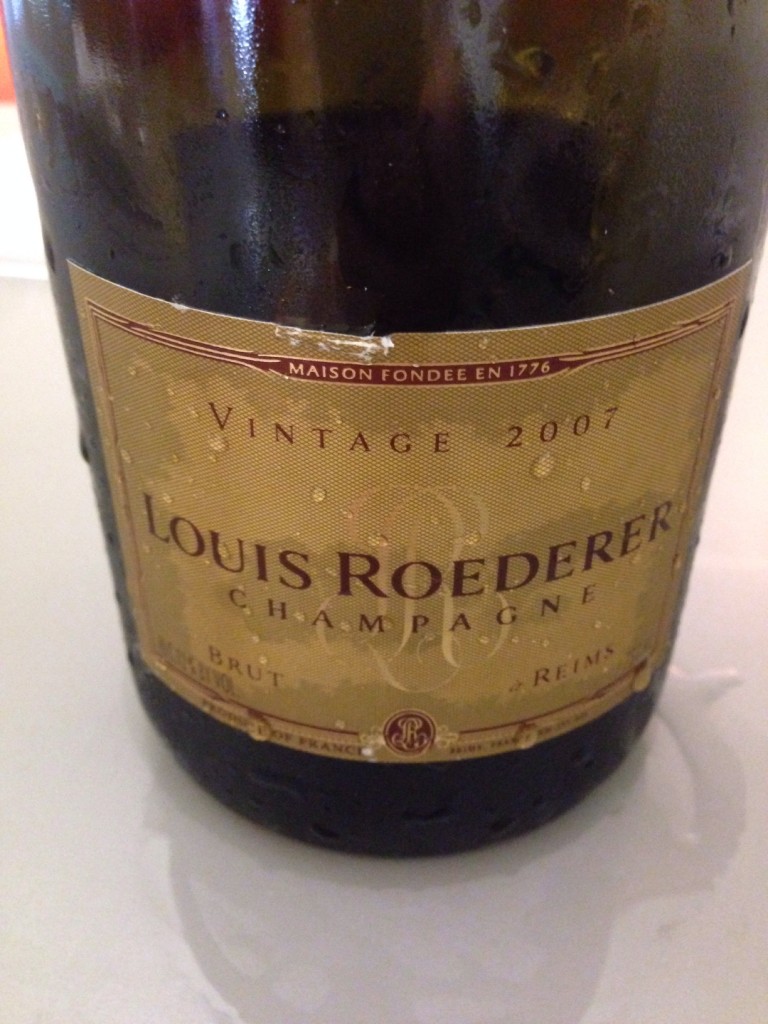 2007 Louis Roederer Champagne Brut Vintage – Pale gold color with plentiful active tiny bubbles and toasty, apple, pear, hazelnut, and vanilla aromas. On the palate, it's approaches full-bodied with a creamy mousse and apple, pear, subtle citrus, raspberry and vanilla flavors. Long finish. Blend of 70% Pinot Noir and 30% Chardonnay, 30% of which is wine matured in oak without malolactic fermentation. Rating: A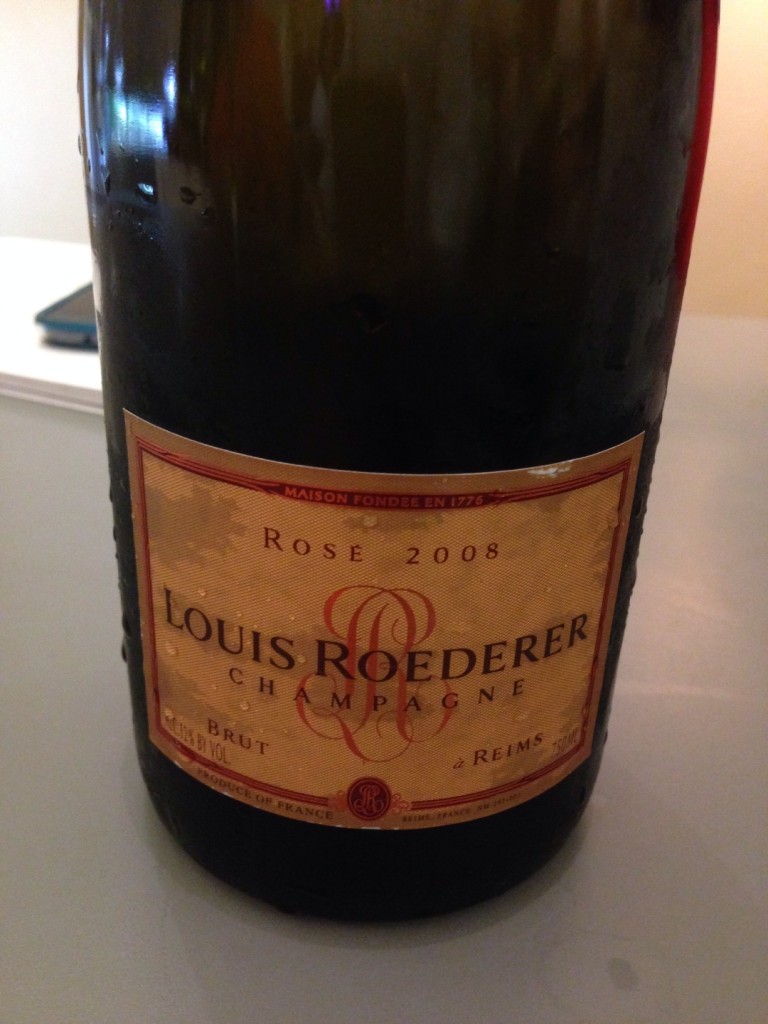 2008 Louis Roederer Champagne Rosé Brut – Beautiful salmon color with plentiful active tiny bubbles and intriguing complex red fruits, orange peel, subtle spice, floral and chalk aromas. On the palate, it's full-bodied, creamy, well structured, and charming with tart cherry, raspberry, orange peel, a bit of spice flavors complemented by a savory minerality. Long finish. 67% Pinot Noir – colored via saignee method. Rating: A
2006 Louis Roederer Champagne Cristal Brut – Very pale gold color with plentiful, active, pin prick sized bubbles. On the nose it shows layered aromas. Initially there is lemon, orange and roasted nut aromas, followed by apple, peach, ginger and mineral aromas. On the palate, it's focused, and suave with an exceedingly creamy delicate mousse and pear, apple, citrus zest flavors with spicy top note, and an alluring chalky minerality. Long finish.  It's a baby now is will only get better! Blend: 55% Pinot Noir, 45% Chardonnay Rating: A
All the wines were fabulous (the Brut Premier offers damn fine value for $40).  The tasting certainly piqued my interest Champagne Roederer.  I'm looking forward to visiting the House of Champagne Louis Roederer in person as part of 2014 Champagne Harvest Media trip tomorrow!
Ratings Key:
(A+) – 95-100/Extraordinary
(A) – 92-95/Outstanding
(A-) – 89-91/Very Good to Outstanding
(B+) – 86-88/Very good
(B) – 80-85/Good
(C) – 70-79/Bleh
(D) – 50-69/#Fail
__________________________________________________________________
Martin Redmond is a Financial Executive by day, and a certified wine geek with latent foodie tendencies the rest of the time. In addition to the wine lifestyle and food he enjoys family, fitness and traveling. He likes to get thoughts of wine off his mind by sharing experiences on his ENOFYLZ Wine blog, which features wine reviews, wine country travel, and wine and food pairings. Follow me on Twitter @martindredmond for all things wine, and since I'm a wino, with latent foodie tendencies, you'll also find food and wine pairings, and food related stuff! Become a fan and join ENOFYLZ Wine Blog on Facebook. Cheers! This article is original to ENOFYLZ Wine Blog.com. Copyright 2014 ENOFYLZ Wine Blog. All rights reserved.