Every Thursday I feature a wine I particularly enjoy, whether it's something new and different, is a great value, or from a producer worth checking out.  For this week, since today is #CabernetDay my Wine Of The Week is the 2005 Caymus Cabernet Sauvignon Special Selection.
The Winery
Caymus Vineyards is a part of the Wagner Family of Wine along with Mer Soleil, Conundrum, Belle Glos and the newest label, Emmolo.
The Wagner family has a long history in the Napa Valley that dates back to 1906 when Carl Wagner, an immigrant from Alsace, and grandfather of Chuck Wagner, purchased farmland in Rutherford in the Napa Valley.
Chuck was just 19 when he joined his parents in 1972 to create Caymus Vineyards, and they produced their first Cabernet Sauvignon.  In 1975, the Wagners produced their first Special Selection Cabernet Sauvignon (click here for the Caymus timeline).
The Wagners are serious about the 'family" in the Wagner Family of Wine moniker. Chuck's children, Charlie II, Joseph, and Jenny perpetuate a proud family tradition of farming and winemaking.
The Wine
This bottle of wine was a gift from my most generous boss – Phil.  Prior to opening the wine last week, it had been in my "cellar" for about 3 years waiting for the right time.  We opened it and it enjoyed it with a friend who is convalescing from knee surgery.
Caymus Special Selection Cabernet Sauvignon is the only wine in the world twice honored as "Number one wine in the world" by Wine Spectator Magazine….In addition, this wine was honored with the highest average score rating by the same magazine over the last 15 years. – Caymus Vineyards
One of the most allocated and collectible Cabernet Sauvignon in the world, Caymus Vineyards Special Selection is crafted from the outstanding barrels of the vintage. Special Selection is produced only in vintages that proprietor Chuck Wagner feels are suitable for this designation. >>Find this wine<<
The 2011 Vintage of this wine retails for $130. 15.2% alcohol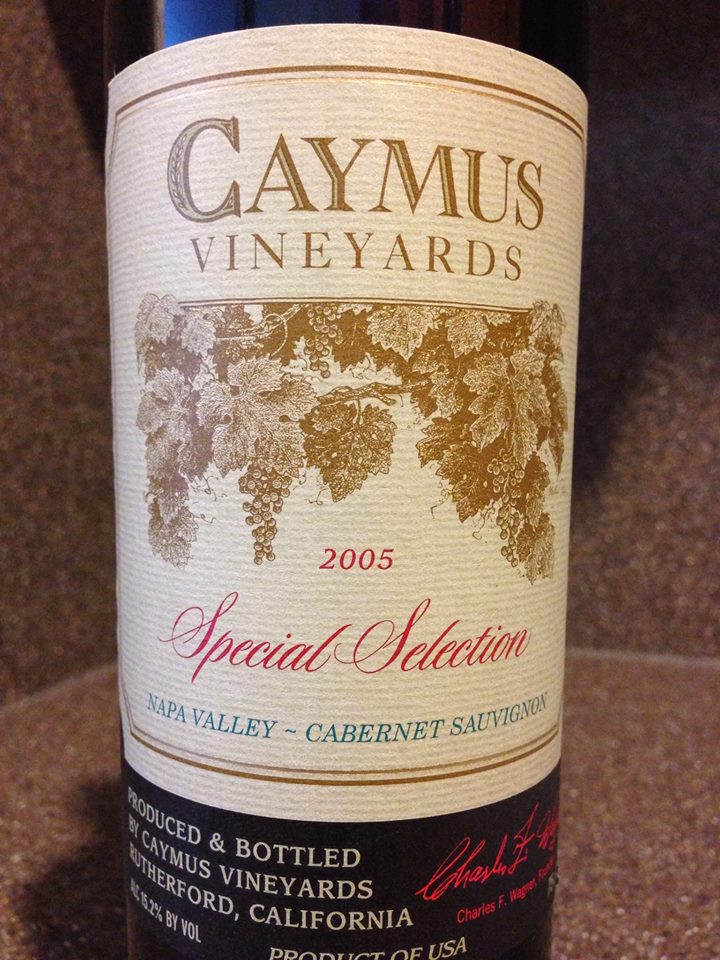 My tasting notes follow:
Garnet color with very appealing plum, cassis, blueberry, a hint of leather, and sweet oak aromas. On the palate, it's medium-bodied, focused, intense and refined with a lush texture and well-integrated oak, and soft sweet tannins. It shows plum, blackberry, mineral and a bit of vanillin spice flavors. Long finish.
Rating: A:  This wine is drinking beautifully now, but it has plenty of years ahead of it! Beautiful now with plenty of years ahead of it.

Pair with: Of course a nice rib-eye comes to mind with a Cab, but other options include Slow-braised beef – or venison, a great burger (Gott's anyone?), lamb or mushroom stroganoff!
Ratings Key:
(A+) – 95-100/Extraordinary
(A) – 92-95/Outstanding
(A-) – 89-91/Very Good to Outstanding
(B+) – 86-88/Very good
(B) – 80-85/Good
(C) – 70-79/Bleh
(D) – 50-69/#Fail
__________________________________________________________________
Martin Redmond is a Financial Executive by day, and a certified wine geek with latent foodie tendencies the rest of the time. In addition to the wine lifestyle and food he enjoys family, fitness and traveling. He likes to get thoughts of wine off his mind by sharing experiences on his ENOFYLZ Wine blog, which features wine reviews, wine country travel, and wine and food pairings.
Follow me on Twitter @martindredmond for all things wine, and since I'm a wino, with latent foodie tendencies, you'll also find food and wine pairings, and food related stuff! Become a fan and join ENOFYLZ Wine Blog on Facebook. Cheers!
This article is original to ENOFYLZ Wine Blog.com. Copyright 2014 ENOFYLZ Wine Blog. All rights reserved.