Every Thursday I feature a wine I particularly enjoy, whether it's something new and different, is a great value, or from a producer worth checking out.  For this week, my Wine Of The Week is the 2012 Zudugarai "Amats" Getariako Txakolina.
The Winery
Bodegas Zudugarai  is a winery located in the Basque region in northern Spain, less than 20 miles from the French border.  It was founded in 1989, the same year the Denominación de Origen (DO)  of Getariako Txakolina was founded.  Getariako Txakoli is the oldest, largest, and most important of the three DOs that produced Txakoli.  The others are Arabako Txakolina and Bizkaiko Txakolina.
The Errasti family has been growing grapes and making wine from the region's vineyards for over 40 years, working with the local varieties of Hondarrabi Zuri and Hondarrabi Beltza. The vineyards and winery are near the coast line among rolling hills at about 90 meters above sea level.  The sunniest and windiest slopes are the ones planted to vines so that the grapes can get ripe and also remain dry and avoid fungal and rot issues. All work in the vineyards is done by hand including harvest.
The winery produces Txakoli, (pronounced chock-oh-lee) or Txakolina (as far as I can tell the terms are used interchangeably).   Txakoli is a delicious, dry, very fresh, slightly petillant (fizzy), low alcohol wine that is consumed like water in Basque Country.
The Wine
This wine is made with 100% Hondarrabi Zuri, the native grape that dominates plantings in the Basque region. Most of the Txakoli produced is consumed by the local Basque people.
After hand-harvesting the grapes are fermented naturally in stainless steel tanks, then bottled young to retain its natural effervescence.
Amats is both the brand name of the Txakoli as well as one of Zudugarai's vineyards.
I was introduced to Txacoli by Joe Manekin, the Spanish wine buyer at K&L Wine Merchants a few years ago.  I purchase a few bottles every year because it such a great summer sipper!
I also had the pleasure of spending a few days in San Sebastian last year, and you better believe I had at least one glass of Txakoli daily with a wide variety of pintxos.
10.5% alcohol. Retail – $13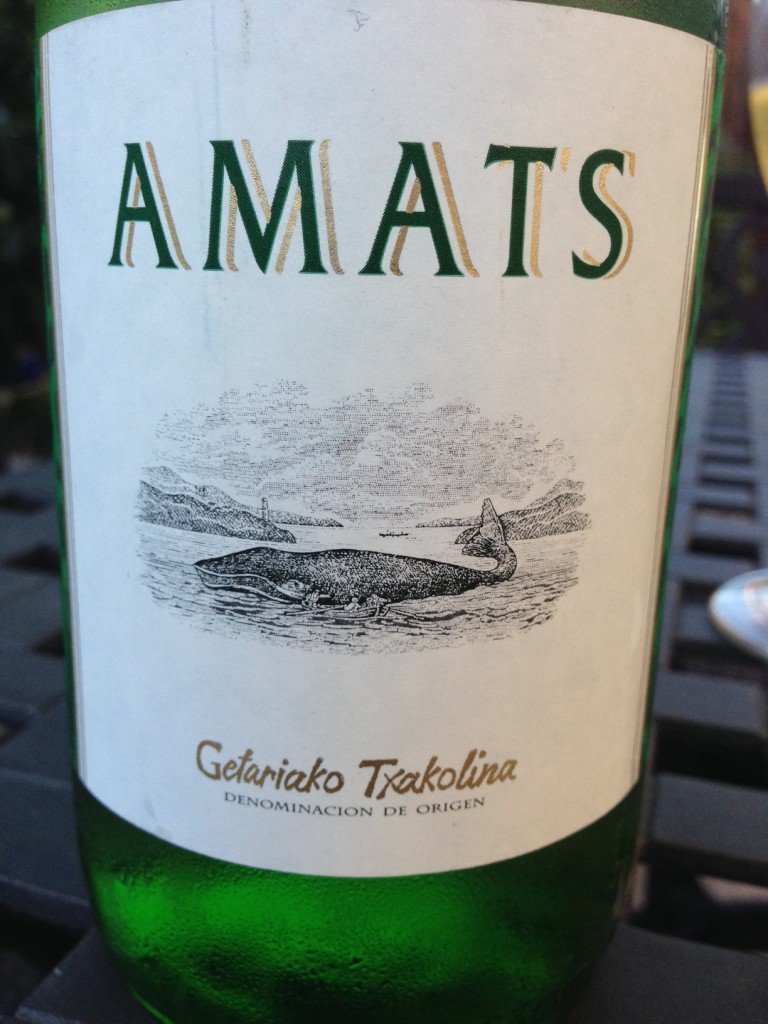 My tasting notes follow:
Very pale green color with green apple, lime rind and a bit of mineral aromas.  On the palate, it's light-bodied, dry and slightly fizzy with easy tart green apple, and lime rind flavors underscored by an appealing minerality. A serving note: The tiny, fleeting bubbles disappear quickly if you let your Txakoli sit out too long – which is why small, frequent pours is how this wine should be served. 
Rating: B+: This hard to pronounce, but easy drinking wine is a fabulous summer sipper – dry,fresh, fizzy, and low in alcohol.  It could be a challenge to find, but it's definitely worth seeking out! 

Pair with: A classic pairing in Spain is marinated white anchovies (boquerones), we had it with a dish called Kokotxas (the cheeks of hake). What a great pairing!  Enjoy with raw oysters, grilled seafood, hard cheeses, or deep fried bites!
Sample purchased for review
Ratings Key:
(A+) – 95-100/Extraordinary
(A) – 92-95/Outstanding
(A-) – 89-91/Very Good to Outstanding
(B+) – 86-88/Very good
(B) – 80-85/Good
(C) – 70-79/Bleh
(D) – 50-69/#Fail
__________________________________________________________________
Martin Redmond is a Financial Executive by day, and a certified wine geek with latent foodie tendencies the rest of the time. In addition to the wine lifestyle and food he enjoys family, fitness and traveling. He likes to get thoughts of wine off his mind by sharing experiences on his ENOFYLZ Wine blog, which features wine reviews, wine country travel, and wine and food pairings.
Follow me on Twitter @martindredmond for all things wine, and since I'm a wino, with latent foodie tendencies, you'll also find food and wine pairings, and food related stuff! Become a fan and join ENOFYLZ Wine Blog on Facebook. Cheers!
This article is original to ENOFYLZ Wine Blog.com. Copyright 2014 ENOFYLZ Wine Blog. All rights reserved.