Every Thursday I feature a wine I particularly enjoy, whether it's something new and different, is a great value, or from a producer worth checking out.  For this week, my Wine Of The Week is the 2012 Vrinioti Iama White

Vrinioti Wines, located on the island of Evia.  The business was founded in 2002 on family lands that Konstantinos Vrinioti's ancestors planted to grapes in the area, and upon which they built an old traditional stone winery.  The old stone wine press from that winery was incorporated into a new facility whose construction started in 2007 and completed in 2008.
Their 45 acre estate vineyard is farmed organically and planted to Syrah, the Greek red Vradiano and the white grapes –  Roditis, Savvatiano, Assyrtiko and Malagouzia.
The Wine
Iama stands for something that fosters good health and metaphorically, something special.  That it is.  It's a a fascinating blend of two distinctly different native Greek wine grapes – 60% Malagouzia and 40% Assyrtiko.  
Malagouzia is an ancient grape variety indigenous to Greece that  has only been identified in recent decades.  It produces a wine with floral and stone fruit aromatics and a slight honeyed character on the palate.
Assyrtiko, which I'd had before and really enjoyed, is the renown grape of the island of Santorini, where it usually makes bracing, dry whites with mouth-watering acidity and pronounced minerality.
The interplay of the two grape varieties is almost sequential, with the aromatics and fruit of the Malagouzia dominating the palate initially, and with the acidity and the minerality of the of the Assyrtiko providing the frame.  
As a point of reference for more well-known grape varieties, the wine reminded me of the combination of the aromatic and fruit profile of  both Viognier and   Gewürztraminer with the acidity of a Riesling.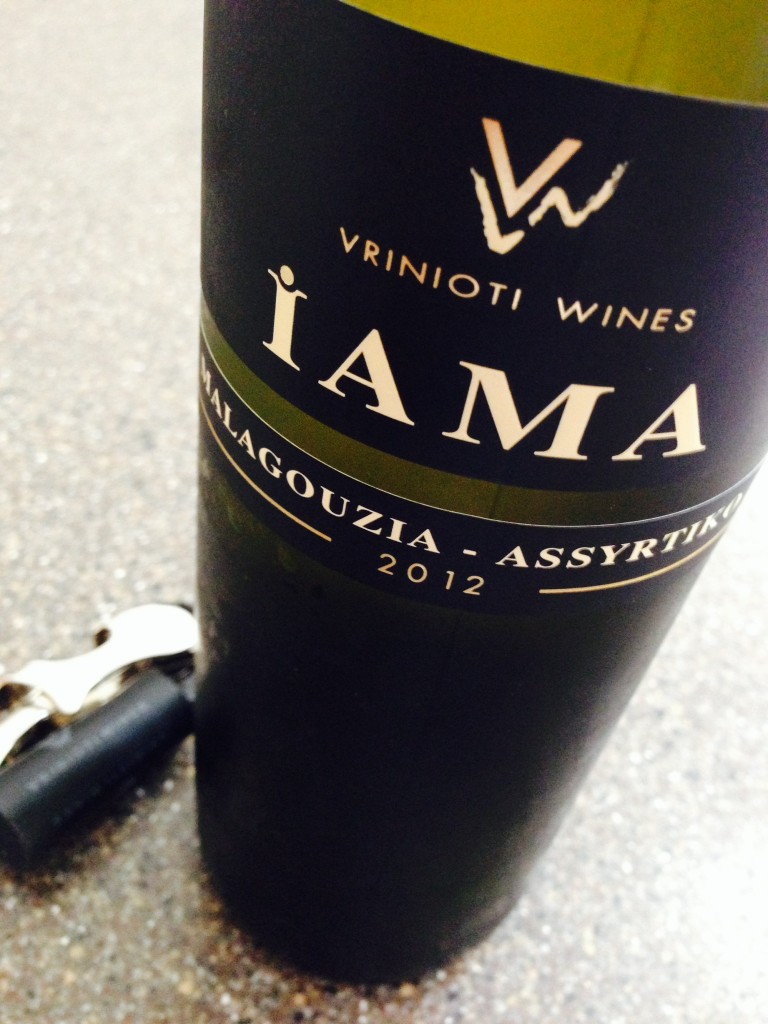 My tasting notes follow:
Rich yellow gold color with appealing stone fruit, bergamot, honey, spice, wet stone and citrus blossom aromas. On the palate it's medium-bodied, and approaches off-dry on the front palate with vibrant acidity and peach, apricot, a bit of fresh melon, spice, honey followed by a refreshing, bright lemony acidity on the back palate all underscored with wonderful Chablis-like minerality. Lingering finish. >>Find this wine<<
Rating: A-: The acidity in this wine make it a terrific partner at the table.  It's the most enjoyable white wine I've had this summer!

Pair with: Grilled Paiche, Salads featuring Feta cheese, Chile Rellenos, Grilled Octopus, Fried Calamari, or Herb-crusted lamb or port or Tuna Tartare.
Sample purchased for review
Ratings Key:
(A+) – 95-100/Extraordinary
(A) – 92-95/Outstanding
(A-) – 89-91/Very Good to Outstanding
(B+) – 86-88/Very good
(B) – 80-85/Good
(C) – 70-79/Bleh
(D) – 50-69/#Fail
__________________________________________________________________
Martin Redmond is a Financial Executive by day, and a certified wine geek with latent foodie tendencies the rest of the time. In addition to the wine lifestyle and food he enjoys family, fitness and traveling. He likes to get thoughts of wine off his mind by sharing experiences on his ENOFYLZ Wine blog, which features wine reviews, wine country travel, and wine and food pairings.
Follow me on Twitter @martindredmond for all things wine, and since I'm a wino, with latent foodie tendencies, you'll also find food and wine pairings, and food related stuff! Become a fan and join ENOFYLZ Wine Blog on Facebook. Cheers!
This article is original to ENOFYLZ Wine Blog.com. Copyright 2014 ENOFYLZ Wine Blog. All rights reserved.