Wine Pairing Weekend is a monthly collaborative event for wine/food bloggers started by David Crowley of Cooking Chat.  It's a great way to find food and wine pairings that work; along with tips on how to create your own food and wine pairing magic.
The theme for this month's Wine Pairing Weekend is "Wine for Summer's Bounty", and it's all about taking advantage of the season's best vegetables and fruits which are peaking right about now.
With the tried, tested, and found true food and wine pairing tenet of "What grows together, goes together" in mind, I knew I wanted to grill some fish since I had a wine from Greece in mind.
The Food
Taking inspiration from a Tilapia with Fresh Corn and Hatch Pepper recipe featuring a couple of the season's bounty – fresh corn and hatch chiles, I decided to substitute Paiche, for tilapia  And off to my local Whole Paycheck..er Foods I went.  Alas, there wasn't a hatch chile anywhere to be found.  I decided to substitute a Poblano pepper for the hatch chile.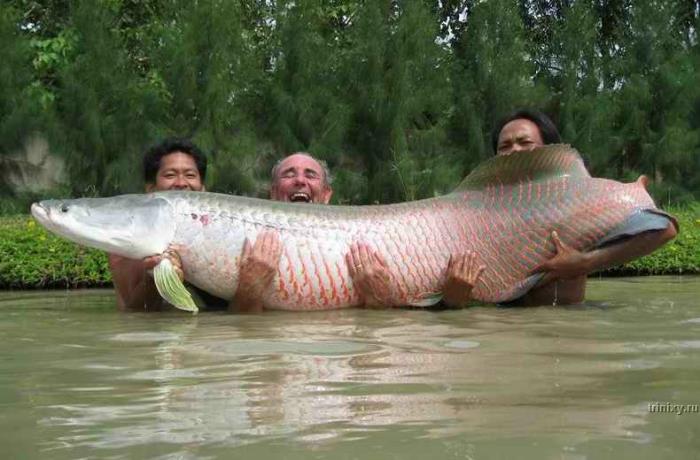 Image courtesy of divebuddy.com
For the uninitiated, Paiche (PIE-chay) which is also known as the arapaima or pirarucu, is a one of the largest freshwater fish in the world and can grow to almost 500 lbs. in size
It's native to the Amazonian regions of Brazil and Peru in South American where it's considered a delicacy ,and was almost fished to extinction.
In 2006 a group of Peruvian businessmen began The Amazone Project to develop the sustainable farming of paiche, and in 2011 it began to appear on the menus of adventurous chefs in the United States.
Some consider it an Amazonian "superfood".  It packs an amazing 20 grams of protein per 100 grams of fish,is high in Omega-3s, low in fat, and free of antibiotics or mercury. It has firm white fleshed white-fish that has the meatiness of halibut for gently sweet flavor of sea bass or dover sole.  It's perfect for grilling, pan-searing, roasting or smoking.
To date, I've only seen it a Whole Foods.  It's farm-raised, but responsibly so.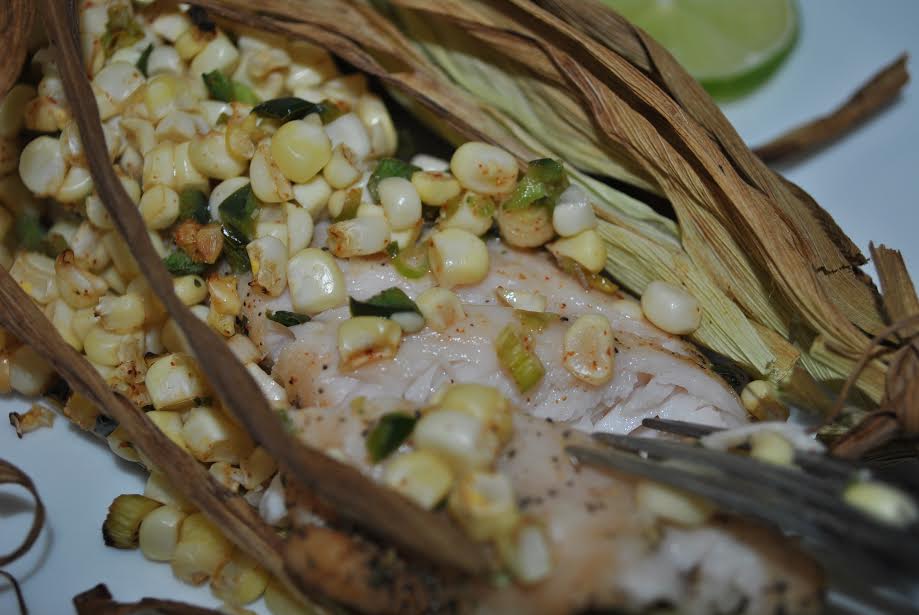 Despite the challenge of getting the paiche into the corn husk (I can see how a thinner fish like tilapia would be easier to work with and cook faster), the dish turn out well given my shall we say "unsophisicated" cooking skills!

Grilled Paiche with Fresh Corn and Poblano Peppers
Prep time:
Cook time:
Total time:
Ingredients
2 ears of fresh corn
¼ cup poblano chiles, chopped (more or less, depending on your desired heat level)
¼ cup green onions, sliced
½ lime
2 Paiche fillets
Chipotle powder, to garnish
Instructions
Prepare the grill for direct cooking over medium heat (350 to 450 degrees)
Carefully peel back the husk from each corn cob. You will use it for roasting the fish on the grill.
Cut the ear of corn off the stem just above the end of the cob, leaving the husk intact. Set the husk aside. Cut the corn off the cob and combine with poblano chiles, green onions and the juice of a quarter of a lime and a dash of chipotle chili powder.
Rinse the fish and pat dry. Place one fillet inside each of the corn husks. Top each with one-half of the corn mixture and close the husks over the fish, overlapping slightly.
Place on the heated grill with the lid closed for 25-35 minutes, or until the fish flakes easily or reaches an internal temperature of 145 degrees. Cut the remaining lime lengthwise into 2 wedges. Serve the fish in the husk with a lime wedge on top.
 The Wine
My wine choice for this dish is the 2012 Vrinioti Iama White.  It's a fascinating blend of two distinctly different native Greek wine grapes – 60% Malagouzia and 40% Assyrtiko from the island of Evia.
Malagouzia is an ancient grape variety indigenous to Greece that  has only been identified in recent decades.  It produces a wine with floral and stone fruit aromatics and a slight honeyed character on the palate.  Assyrtiko, which I'd had before and really enjoyed, is the renown grape of the island of Santorini, where it usually makes bracing, dry whites with mouth-watering acidity and pronounced minerality.
The interplay of the two grape varieties is almost sequential, with the aromatics and fruit of the Malagouzia dominating the palate initially, and with the acidity and the minerality of the of the Assyrtiko providing the frame.  
As a point of reference for more well-known grape varieties, the wine reminded me of the combination of the aromatic and fruit profile of  both Viognier and   Gewürztraminer with the acidity of a Riesling.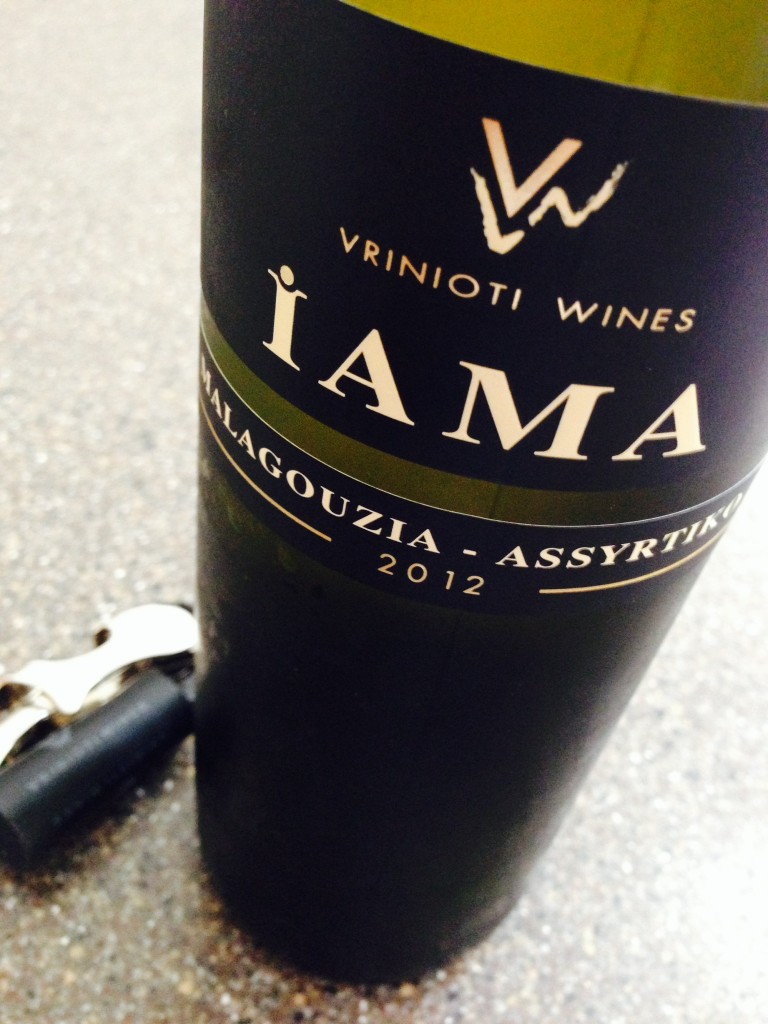 My tasting notes follow:
Rich yellow gold color with appealing stone fruit, bergamot, honey, spice, wet stone and citrus blossom aromas. On the palate it's medium-bodied, and approaches off-dry on the front palate with vibrant acidity and peach, apricot, a bit of fresh melon, spice, honey followed by a refreshing, bright lemony acidity on the back palate all underscored with wonderful Chablis-like minerality. Lingering finish.
The mouth-watering acidity of this wine makes it a versatile wine at table. Consider pairing it with salads featuring Feta cheese, Chile Rellenos, Grilled Octopus, Fried Calamari, or Herb-crusted lamb or port or Tuna Tartare.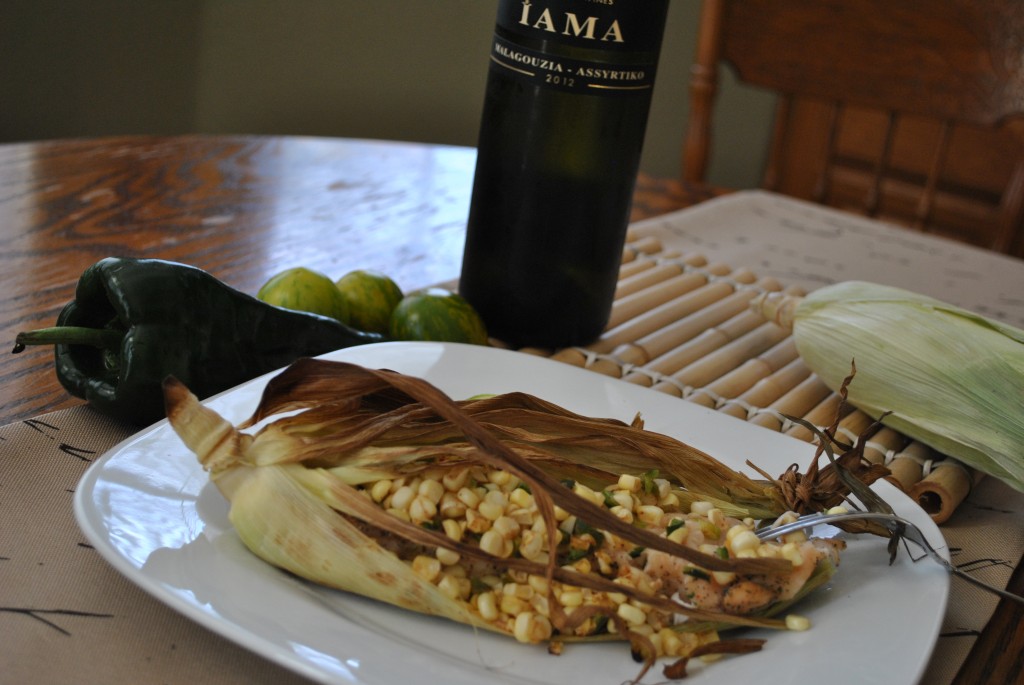 The Food and Wine Pairing
It was a fantastic pairing!  The the combination of spice and minerality of the wine was a great complement the spice of the corn/pepper mixture, and the slightly sweet, ever so slightly smoky flavor profile of the dish. And the great acidity of the wine cleansed the palate and prepared it for the next bite of deliciousness!
Wine Pairing Weekend # 3 Bloggers: Be sure to check out what my fellow bloggers have come up with for the August Wine Pairing Weekend!
Pull That Cork shared "Wine for Summer's Bounty. Will Garnacha Do the Trick?"
Meal Diva paired "Summer Vegetable Red Sauce with Amarone"
Culinary Adventures with Camilla posted "Pan-Seared Padròns with DeRose Vineyards' Négrette"
Vino Travels — An Italian Wine Blog shared "Tomato, toe-mah-toe: Summer's bounty with Sicilian wine Donnafugata"
Grape Experiences paired "Cecchi Chianti Classico 2010 and Vegetable Lasagna"
Curious Cuisiniere shared "Chipotle Garden Salsa with Wild Hare Petite Sirah"
ENOFYLZ Wine Blog posted "Grilled Paiche with a White Greek Blend"
Take a Bite Out of Boca shared "Quinoa-Crusted Eggplant and Heirloom Tomato Stacks paired with Monrosso Chianti"
foodwineclick shared "Summers' Bounty or Attack of the Killer Turnips?"
Confessions of a Culinary Diva blogged about "Lobster Paella and Albarino"
Tasting Pour shared "Summertime and the Cooking is Easy"
Cooking Chat paired "Linguine with Pesto, Fresh Tomatoes and a Sauvignon Blanc"

Join the #winePW conversation: Follow the #winePW conversation on Twitter throughout the weekend and beyond. If you're reading this early enough, you can join us for a live Twitter chat on our theme "Wine for Summer's Bounty" on Saturday, August 9, from 11 a.m. to noon Eastern Time. Questions for the chat are posted here on the #winePW site. You can also visit our group Pinterest board to pin some great pairing ideas for later! Stay tuned for the September Wine Pairing Weekend, which will focus on "Regional Food and Wine Pairings" on Saturday, September 13.
__________________________________________________________________
Martin Redmond is a Financial Executive by day, and a certified wine geek with latent foodie tendencies the rest of the time. In addition to the wine lifestyle and food he enjoys family, fitness and traveling. He likes to get thoughts of wine off his mind by sharing experiences on his ENOFYLZ Wine blog, which features wine reviews, wine country travel, and wine and food pairings.
Follow me on Twitter @martindredmond for all things wine, and since I'm a wino, with latent foodie tendencies, you'll also find food and wine pairings, and food related stuff! Become a fan and join ENOFYLZ Wine Blog on Facebook. Cheers!
This article is original to ENOFYLZ Wine Blog.com. Copyright 2014 ENOFYLZ Wine Blog. All rights reserved.