Summer is officially here!  Rosé season is in full bloom, although truth be told, it's Rosé season for me pretty much year-round for me!  With that in mind, I'm cranking up my annual series of weekly "Drink Pink!" Rosé tastings.  It's my quest for the best Pink Porch Pounders! This week's rosé is the 2013 Waterkloof Circumstance Cape Coral.
The Winery
Waterkloof Wines is a winery based in the Helderberg wine-producing area, a sub-region in the Western Cape of South Africa, just south of Stellenbosch.  Paul Boutinot, an Englishmen of French descent is the "Custodian".  He learned the wine trade from the ground up, and launched his own successful wine import business in 1980.  It evolved into one of the UK's biggest and most important wine distribution companies, which he subsequently sold in 2013.  In 1993 he commenced a search for a vineyard site that had the potential to produce truly fine with a defining sense of place.   It took ten years to narrow the search down to a small area on the south-facing slopes of the Schapenberg, overlooking False Bay in the Cape. As soon as he was led up a steep ravine opening out into a hidden amphitheatre of potential, all his experience and intuition told him: THIS IS IT! Waterkloof was born.  He took over the property just before the 2004 harvest.  The first vintage bottled under the Waterkloof name was from the 2005 harvest.
In 2009 a state-of-the-art gravitational cellar, tasting room and The Restaurant at Waterkloof were constructed
Waterkloof's wines are shaped by an amphitheatre of select, high-altitude vineyards, famed as one of the finest cool climate vineyard sites in South Africa.
The Wine
The wine is made from 100% Mourvedre.  The  grapes were hand harvested and whole cluster pressed.  No further maceration of the juice with the skins was allowed.
Following in the footsteps of the great rosés of Bandol, the Waterkloof's Circumstance Cape Coral rosé is made entirely from Mourvedre sourced from some incredible old vines in Stellenbosch
The juice was fermented on native yeast at temperatures of 16 to 18 degrees Celsius, which took 5 months to complete. The wine was then left on the primary lees for another 2 months to add further complexity before bottling. 13.5% alcohol.  Retail – $16.99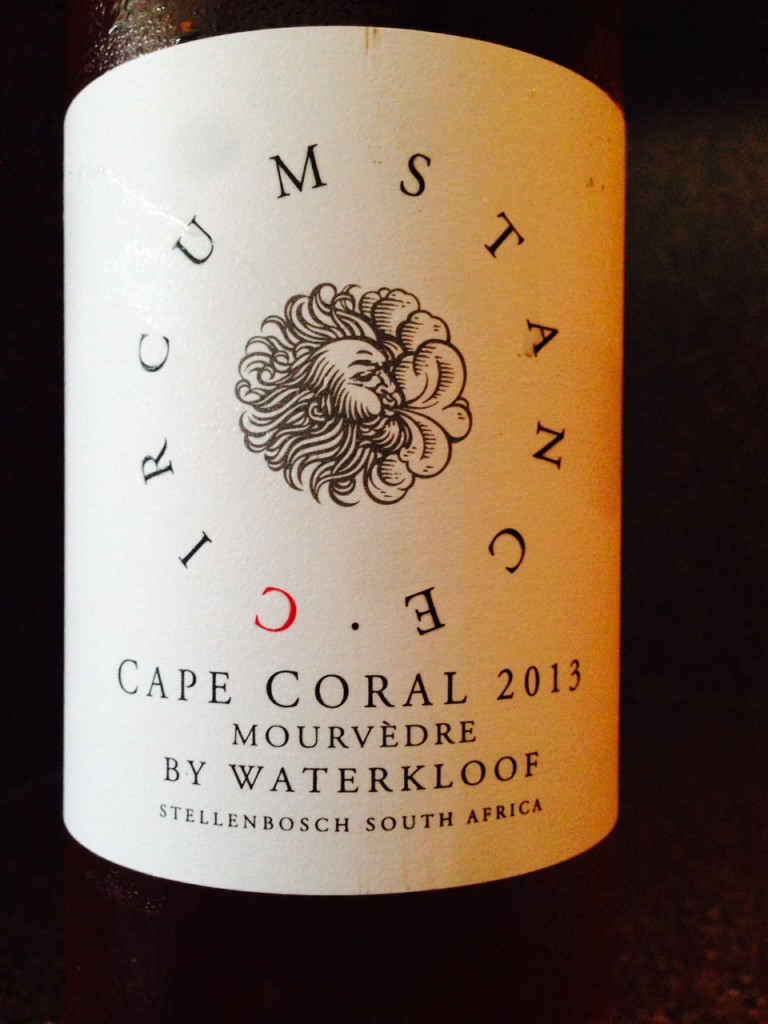 My tasting notes follow:
Pale salmon color with damp earth, peach and spice aromas. On the palate it's medium-bodied, and fresh with a great mouth feel, and strawberry, peach and spice flavors. Lingering finish
Rating: A-:  This is a very good rosé! It can be a challenge to find a 100% Mourvedre-based rosé for under $20 and this one offers a very good quality to price ratio!
Pair with: What I like about Mourvedre dominant rosés is that they, unlike many light-bodied rosé, can be paired with more substantial fare.  Consider Pulled Pork sandwiches, or Barbecue Chicken Sloppy Joes!

Sample purchased for review
Ratings Key:
(A+) – 95-100/Extraordinary
(A) – 92-95/Outstanding
(A-) – 89-91/Very Good to Outstanding
(B+) – 86-88/Very good
(B) – 80-85/Good
(C) – 70-79/Bleh
(D) – 50-69/#Fail
__________________________________________________________________
Martin Redmond is a Financial Executive by day, and a certified wine geek with latent foodie tendencies the rest of the time. In addition to the wine lifestyle and food he enjoys family, fitness and traveling. He likes to get thoughts of wine off his mind by sharing experiences on his ENOFYLZ Wine blog, which features wine reviews, wine country travel, and wine and food pairings.
Follow me on Twitter @martindredmond for all things wine, and since I'm a wino, with latent foodie tendencies, you'll also find food and wine pairings, and food related stuff! Become a fan and join ENOFYLZ Wine Blog on Facebook. Cheers!
This article is original to ENOFYLZ Wine Blog.com. Copyright 2014 ENOFYLZ Wine Blog. All rights reserved.