Every Thursday I feature a wine I particularly enjoy, whether it's something new and different, is a great value, or from a producer worth checking out.  For this week, my Wine Of The Week is the 2012 Michel Gassier Cercius Blanc.
The Winery
Michel Gassier is the fourth generation of his family to make wine.  He organically farms his 70-hectare vineyard, Château de Nage, located on the southern edge of the Rhone Valley in the Costieres de Nimes near the ancient city of Nimes.
We do not inherit the Earth from our ancestors; we borrow it from our children.
They are one of the leading estate in the region, and have been one of Wine Spectator's Top 10 French Wineries for Value every year since 2007, and nominee for the 2014 European Winery of the Year Wine Enthusiast Star Award.
The Wine
I picked up this wine from K&L Wine Merchants a couple of weeks ago.  The wine is a project of partners Michel  Gassier, Philippe Cambie and importer Eric Solomon bottled under the name Michel Gassier.
The wine is named for the legendary mistral winds of Provence  that sweep over the vines and out to the Mediterranean Sea. The Latin name for these north-northwest winds is Cercius.
It's a blend of 70% Grenache Blanc and 30% Sauvignon Blanc from vines with an average age of 25 years.  It was aged on lees in concrete to maintain freshness.
This is the fifth (see "Related Posts" below) such custom cuvee put together for Solomon that's been a winner in my book.  I don't think that's a coincidence – Solomon has a knack for wonderful every day wines that dramatically over deliver for the price.
12.5% alcohol; Retail – $12.99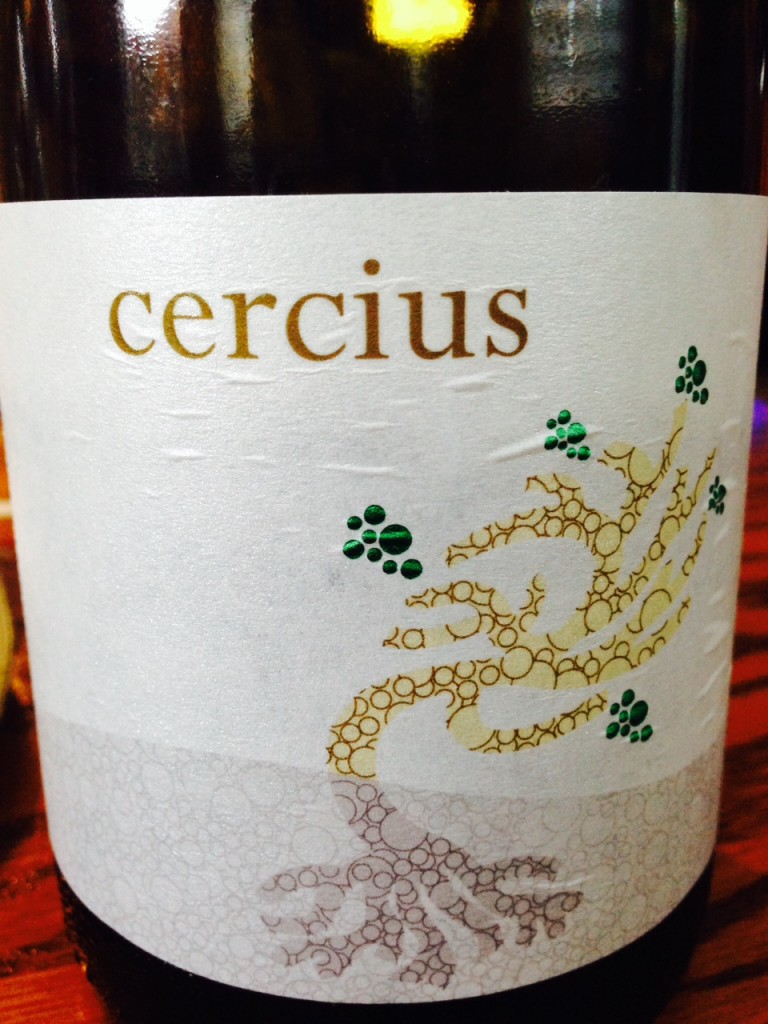 My tasting notes follow:
Straw yellow color with appealing white peach, lychee and citrus aromas. It's between medium and full-bodied, fresh and focused with a lovely texture. It shows stone fruits, mandarin orange, lime and a bit of spice flavors underscored by an alluring minerality, and a clean lingering finish.
Rating: A-  A refreshing summer time porch pounder! It's a stunning value at 12.99!  Will buy more! >>Find this wine<<
Pair with: Roasted paiche or monkfish, paprika grilled game hen, or goat cheeses.
Sample purchased for review
Related posts:
Value Alert! – Outstanding Spanish Wine For $11!
Ratings Key:
(A+) – 95-100/Extraordinary
(A) – 92-95/Outstanding
(A-) – 89-91/Very Good to Outstanding
(B+) – 86-88/Very good
(B) – 80-85/Good
(C) – 70-79/Bleh
(D) – 50-69/#Fail
__________________________________________________________________
Martin Redmond is a Financial Executive by day, and a certified wine geek with latent foodie tendencies the rest of the time. In addition to the wine lifestyle and food he enjoys family, fitness and traveling. He likes to get thoughts of wine off his mind by sharing experiences on his ENOFYLZ Wine blog, which features wine reviews, wine country travel, and wine and food pairings.
Follow me on Twitter @martindredmond for all things wine, and since I'm a wino, with latent foodie tendencies, you'll also find food and wine pairings, and food related stuff! Become a fan and join ENOFYLZ Wine Blog on Facebook. Cheers!
This article is original to ENOFYLZ Wine Blog.com. Copyright 2014 ENOFYLZ Wine Blog. All rights reserved.